'Fortnite' Destroy Gatherer & Gatherer Remains Locations Week 4 Guide
Fortnite Week 4 Challenges ask players to destroy 30 Gatherers while also dealing 10,000 damage with a Gatherer's remains. In this guide we'll explain what a Gatherer is, how to find one and how to deal damage with it.
How to locate a Gatherer in Fortnite
In Fortnite Season 4, Gatherers are little drones that always spawn near Gorgers on the Battle Royale map. So, in order to locate Gatherers, you must find a Gorger first. Doing so can be pretty tricky, but we've found a few methods that might lessen your frustration.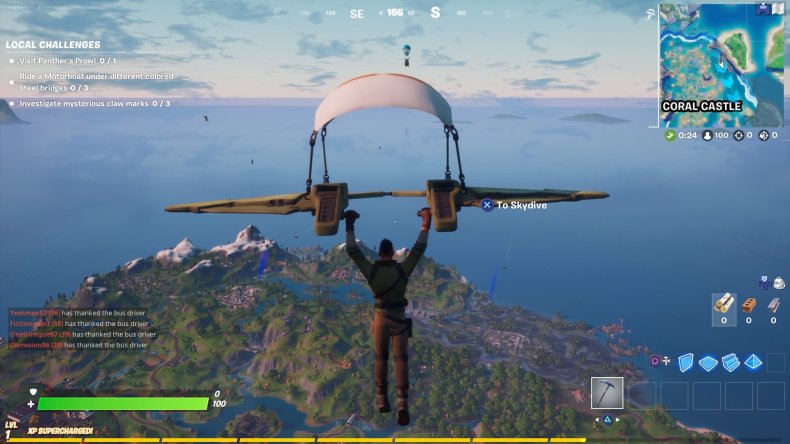 Our favorite tactic is to eject from the Battle Bus fairly early and just hang there without diving. As you do that, wait for the first Storm Circle to close and then start spinning your camera around. Keep looking around the map till you see a red laser shoot up into the sky, burn brightly for a second and then burn out. It looks like a sniper laser that briefly shines upward. This tells you where a Gorger has spawned. If you don't see one, try entering a different match or just wait and see if you encounter one. Gorgers tend to spawn late in matches, which means you may be able to snag a Choppa and eventually spot the signal.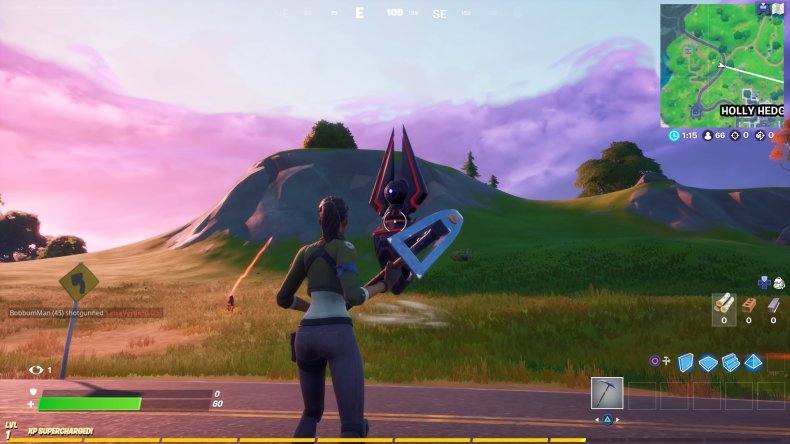 Once you know where a Gorger is, land nearby without being spotted and grab some decent loot. You'll need it to get the battle started. As you approach the Gorger and start shooting at its eye, several little hover drones will spawn to help it out. These are Gatherers, and you must take down a whopping 20 of them to get credit for this challenge. They only take one or two shots to dispatch, and they'll keep coming as long as the Gorger is alive. So essentially what you want to do to complete the destroy portion of this challenge is avoid the big blasts of the Gorger while taking down as many Gatherers as you can possibly stand.
As you start taking care of Gatherers you can also pick them up and start shooting red laser beams yourself. Each shot does huge damage when aimed at other players, and a Gatherer also has unlimited ammo. At this point your main target should be the eye of the Gorger, so just keep hitting that to quickly progress toward your 10,000 damage threshold. This one may take a couple matches to get done, but it won't be that difficult to find a use for a Gatherer once there's one in your inventory.
Fortnite Week 4 Challenges
Destroying and dealing damage with Gatherers are just some of the new tasks to debut during Week 4 of Season 4. Here's the full list of challenges for those who've yet to see it at the in-game Challenge Table.
Search Chests at Slurpy Swamp (seven)
Eliminations at Weeping Woods (three)
Deal damage within 10 seconds of bouncing off an Umbrella at Sweaty Sands (100)
Destroy Collector Cases at The Collection (three)
Hack Stark Robots at Stark Industries (five)
Destroy Gatherers (20)
Deal damage with a Gatherer's remains (10,000)
Deal damage to opponents at Steamy Stacks (100)
Deal damage to opponents at The Authority (100)
Launch off all Sentinel Hands without touching the ground [Wolverine Challenge]
That's all you need to know about finding and damaging with Gatherers in Fortnite.
Fortnite is available now on PS4, Xbox One, Switch, PC and Android.
How long did it take for you to destroy 30 Gatherers? Is this the hardest Week 4 Challenge of the bunch? Tell us in the comments section!