'Fortnite' Different Colored Steel Bridge Locations Week 2 Challenge Guide
Fortnite Week 2 Challenges have just gone live, and one its toughest objectives tasks players with riding a Motorboat under different colored Steel Bridges. Below we outline all three Steel Bridge locations you can use to get this challenge done quickly and easily.
Fortnite colored Steel Bridge locations
Before getting to the Steel Bridges themselves, it's worth noting that one of the many spots you can grab a boat is on the river mouth heading into Misty Meadows, northwest of the first colored bridge. You'll find a shack by the water with a Motorboat nearby.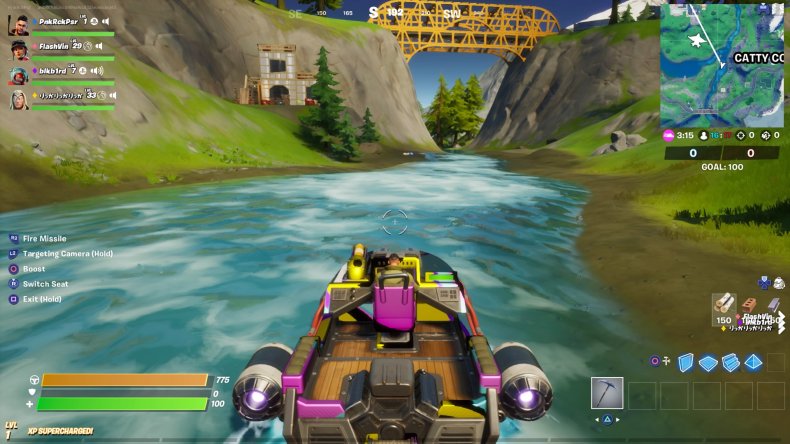 Obviously there are many spots to find a Motorboat on the map, but you can use that one if you're having trouble locating a spawn. Also, Motorboats spawn in Team Rumble now, which makes Rumble a great queue to get this challenge done with minimal distraction. With that tiny pointer out of the way, let's get to the bridges.
Yellow Bridge: As shown above, the Yellow Steel Bridge is located between Misty Meadows, Lazy Lake and Catty Corner.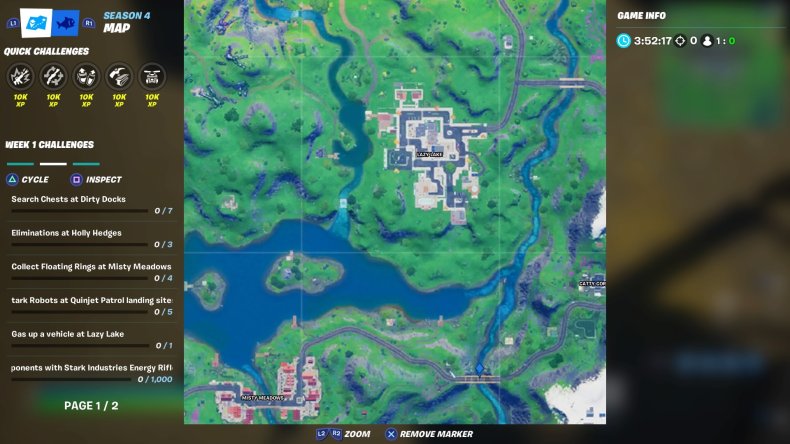 Green Bridge: The Green Bridge is west of Dirty Docks and east of Frenzy Farm.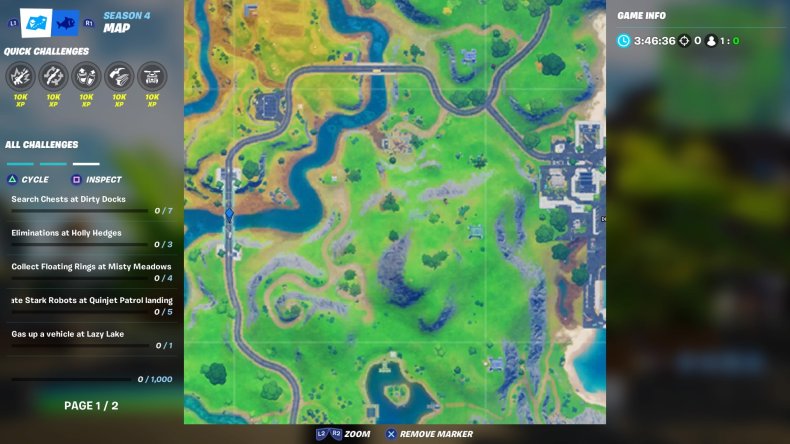 Red Bridge: The third and final colored bridge, the Red Steel Bridge, is north of Salty Springs, connecting Salty Springs and Doom's Domain.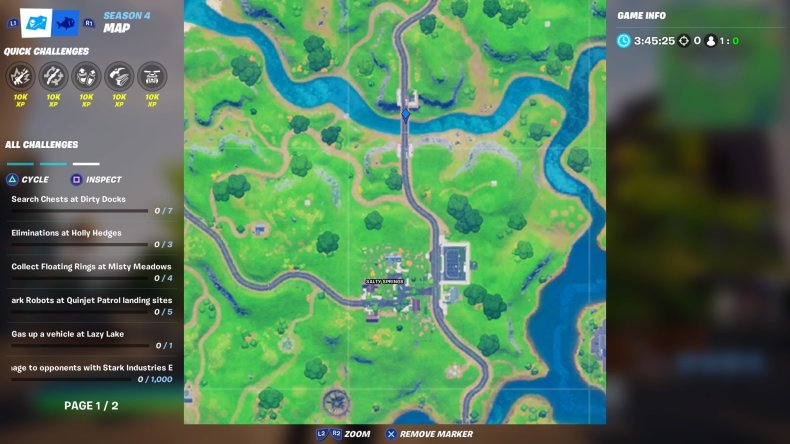 All you've got to do to complete this challenge is pilot a Motorboat under these three locations, and the easy Battle Pass XP is yours. This challenge can be done in multiple matches if need be, but it shouldn't be too difficult to get done in a single match if you're messing around in Team Rumble.
Fortnite Week 2 Challenges
Riding a Motorboat under different colored Steel Bridges is just one task on the larger list of Week 2 Challenges that debuted in Fortnite Thursday morning. Here's the complete rundown of free and Battle Pass objectives for those who've yet to see it at the in-game Challenge Table.
Search Chests at Salty Springs (seven)
Eliminations at the Authority (three)
Dance on top of different Sentinel Heads at the Sentinel Graveyard (three)
Destroy Boats at Craggy Cliffs (seven)
Bounce on different Dog Toys at the Ant Manor (four)
Ride a Motorboat Under different colored Steel Bridges (three)
Search S.H.I.E.L.D. Chests inside Quinjets (seven)
Find the Loading Screen picture at a Quinjet Patrol Site [Wolverine Challenge]
That's all there is to riding a Motorboat under different colored Steel Bridges for Fortnite's Week 2 Challenge.
Fortnite is available now on PS4, Xbox One, Switch, PC and Android.
Did you find all three different colored Steel Bridges to finish this challenge? Which of the Week 2 Challenges is your favorite? Tell us in the comments section!