'Fortnite' Doors Locked by ID Scanner Locations Season 2 Week 1 Challenge Guide
Fortnite Season 2 Chapter 2, titled, Top Secret, has officially begun, throwing battle royale players into a world of secret agents and muscle-men with cat faces. There's also Deadpool hanging around to muck up plans. Like every new chapter in Epic's highly successful series, there is a litany of challenges to complete in order to gain extra experience for your Battle Pass.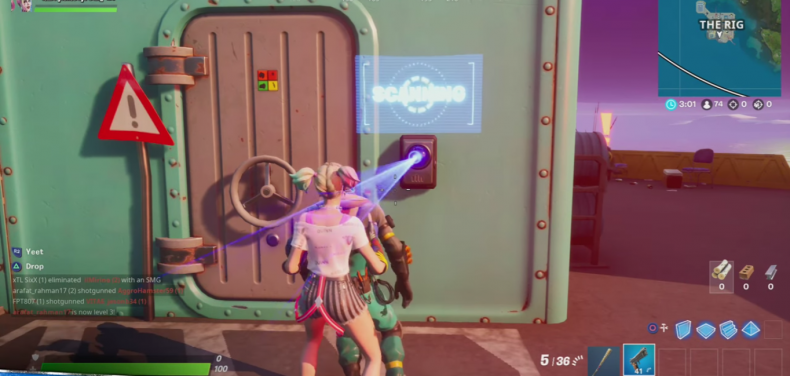 Gone is the Challenge tab on the home screen, replaced by a table that allows you to pick factions in an upcoming epic battle. Choose between Ghost or Shadow, and hope that your faction is strong enough to overcome the opposition. To help, there's the new Decoy Grenade item that creates a clone of your character in a new position and a wide array of skins and golden variants to keep your cosmetic urge satisfied.
Picking Brutus' faction forces you to deal damage to Henchmen, find new locations as well as use an ID Scanner to open a door. Here's how to use your new spy tool.
Fortnite Season 2 Chapter 2 Week 1 Mission- Open doors locked by an ID Scanner in different matches
In order to complete this challenge, you'll need to land on the Rig, the new location is found in the bottom-left corner of the map. Once there, locate one of the new Henchmen NPCs and knock them down before they get you. You don't want to execute the agents just doing their jobs, since you need their semi-conscious bodies to complete the next step.
Once they are knocked down, carry their limp bodies up the stairs in the middle of the Rig and hold them up to the camera. The door will unlock, and you'll be able to get inside the room. You'll need to repeat this monotonous task three times in order to complete the Challenge.
Here are all the missions for Brutus' Briefing Challenges.
Land at Lockie's Lighthouse, Apres Ski, and Mount Kay (3)
Search Chests at The Grotto or The Shark (7)
Deal damage to Henchmen (2,000)
Open doors locked by an ID Scanner in different matches (3)
Be crouched within 20m or unaware Henchmen for a total of 10 seconds (10)
There are also new Any Time Challenges with the following objectives.
Search Ammo Boxes in a single match (7)
Disguise yourself inside a Phone Booth in different matches (3)
Throw different shield items or healing items or healing items (3)
Eliminate players while having a total of 100 health and shield or more (5)
Damage players using 2 different weapons within 10 seconds (1)
How are you enjoying the new Top Secret chapter of Fortnite? Tell us in the comments.