'Fortnite' Eliminate Iron Man at Stark Industries Location Week 3 Guide
Fortnite Week 3 Challenges are officially live, and one of the more difficult objectives of the week asks players to eliminate Iron Man at Stark Industries. Below, we show you where Stark Industries is located and offer some tips for finding Iron Man.
Fortnite Stark Industries and Iron Man locations
For those who've yet to log in to Fortnite since installing the 14.10 update, you'll find Stark Industries northeast of the Authority, at the former location of Frenzy Farm. Once it's revealed on your map, you'll see that it's encircled by a massive forcefield of some kind. We'd advise waiting till the midpoint of a match if you actually want to succeed at this challenge, because practically everyone is landing here right now.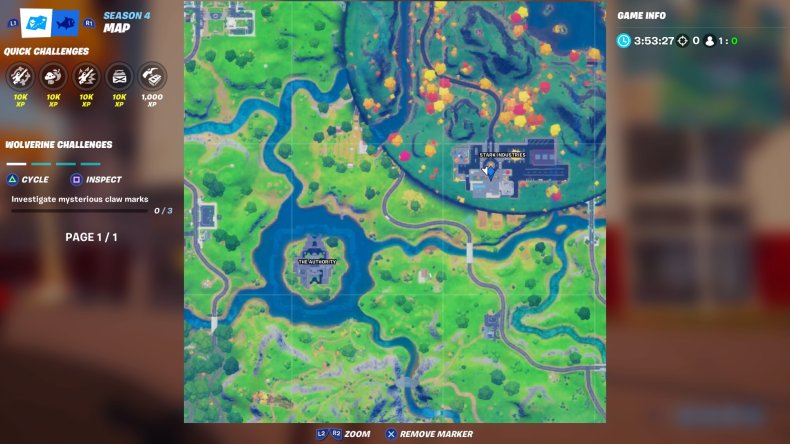 As for finding Iron Man in the massive space, he's encountered in the main Stark Industries building that's impossible to miss. As you stalk the building in search of your prey, take down any Stark Robots that may stand in your way and loot any Chests that may still be available. Iron Man is one of the toughest bosses to debut in Fortnite to date, so make sure you head into this fight with plenty of firepower.
We had the most luck finding Iron Man on the second floor of the building, just outside this computer lounge area. With that in mind, maybe scour the first and third floors before making your way to the second-floor interiors.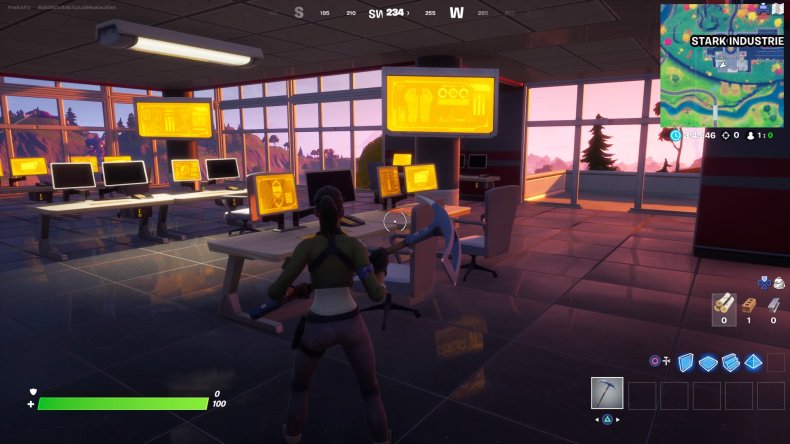 Iron Man fights from a distance with his Unibeam and repulsors, so all you've got to do to defeat him is bob and weave with a trusty shotgun or strong AR and he should go down after a couple clips. Just keep moving, and you'll eventually take down the beloved Avenger. Once you do, you'll be able to grab Iron Man's Unibeam and Iron Man's Repulsor Gauntlets. Both Mythics should be a huge help as you work through the final circles. Just repeat this process two more times, and you'll get the full XP reward for eliminating Iron Man at Stark Industries.
Fortnite Week 3 Challenges
Eliminating Iron Man at Stark Industries is just one of the Week 3 Challenges going live in Fortnite Thursday morning. Here's a look at the complete list for those who've yet to see it at the in-game Challenge Table:
Search Chess at Steamy Sacks (seven)
Eliminations at Retail Row (three)
Collect Wood from Weeping Woods (500)
Visit Panther's Prowl
Deal damage with exploding Gas Pumps or Gas Cans (250)
Place Fire Traps (three)
Eliminate Iron Man at Stark Industries (three)
Find Wolverine's Trophy in Dirty Docks [Wolverine Challenge]
That's all you need to know about eliminating Iron Man in Fortnite.
Fortnite is available now on PS4, Xbox One, Switch, PC and Android.
Did you eliminate Iron Man at Stark Industries? What's your favorite Week 3 Challenge so far? Tell us in the comments section!