'Fortnite' Fall Skirmish Week 1 - Time, Standings, Teams & How to Watch
Fortnite Fall Skirmish Week 1 has arrived, and we're here to get you ready for the big show later today. Want to know the latest details about start times, standings and teams? We've got you covered! This article recaps everything we know about the event so far.
What time does 'Fortnite' Fall Skirmish Week 1 Start?
Just like the Summer Skirmish, Fall Skirmish features two play sessions that begin at different times. While not explicitly stated, time zones suggest Group 1 will feature more EU players, while Group 2 will likely feature more competitors from North America. Here are the times you should know.
Group 1: Competition begins at 12 p.m. EDT
Group 2: Competition begins at 4 p.m. EDT
At least for Week 1, it doesn't look like the Fortnite Fall Skirmish has any matches on Saturday.
Where to watch and stream 'Fortnite' Fall Skirmish Week 1
Watch live video from Fortnite on www.twitch.tv
As was the case during Summer Skirmish, Fall Skirmish will be streaming live on Fortnite's Twitch and YouTube channels at the above-listed times. Use the links to get there or watch the Twitch stream embedded above.
'Fortnite' Fall Skirmish Week 1 Teams
The complete Duos roster has yet to be revealed, but it's worth noting that Fall Skirmish introduces a new team-focused concept called Clubs. They essentially operate like houses in Harry Potter. Your favorite streamers will be drafted to specific Clubs that they will represent for the entire Fall Skirmish season. In addition to cash prizes, players will also be competing for Club Points tied to those earnings. The Club with the most points at the end of the Season wins a $4 million prize. The club names are listed below.

Fort Knights
Lucky Llamas
Dusty Dogs
Rift Raiders
Bush Bandits
Fort Knights Roster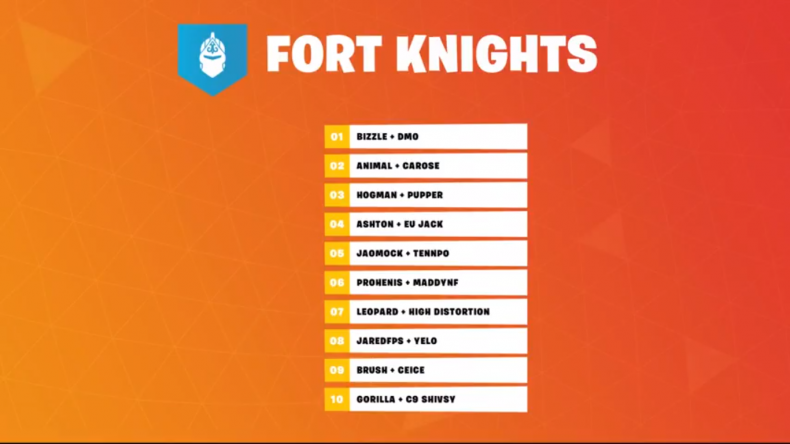 Lucky Llamas Roster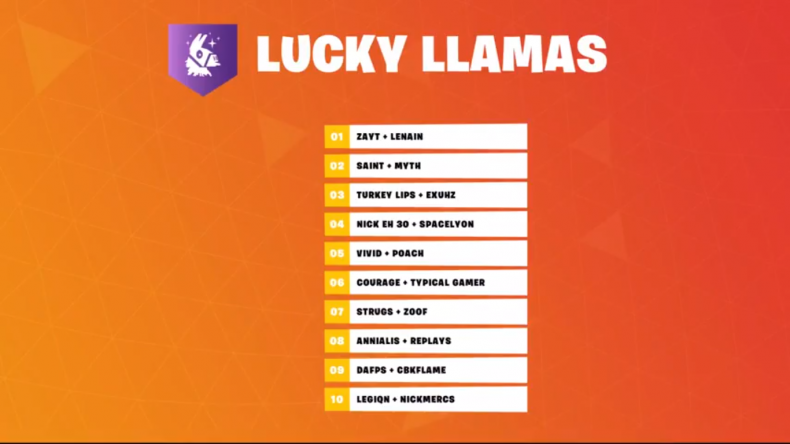 Dusty Dogs Roster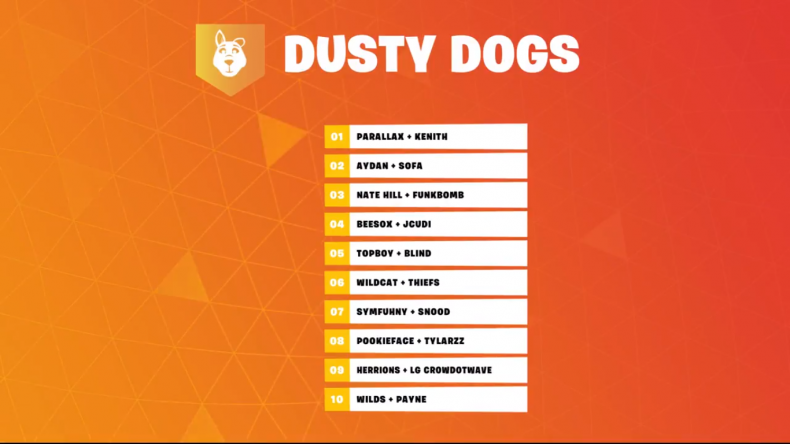 Rift Raiders Roster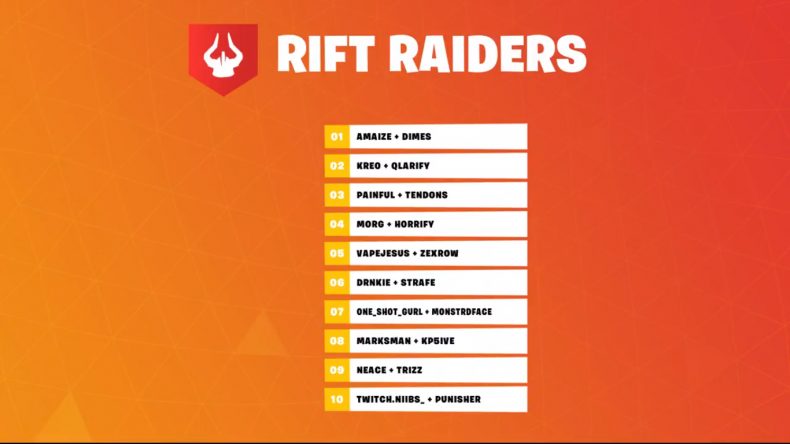 Bush Bandits Roster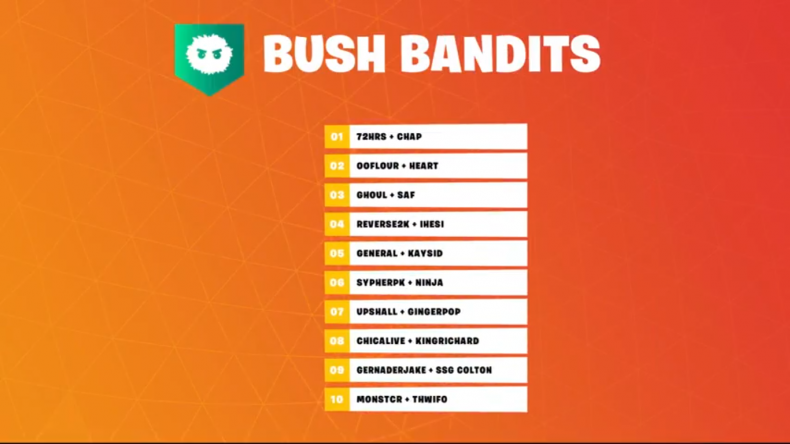 'Fortnite' Fall Skirmish Week 1 Rules & Standings
This week's main competitive Fall Skirmish format is a Duos version of the existing Hold the Throne system. For those who don't know how it works, we've broken it down below.
Victory Royale: Three Points
Second/Third Place: Two Points
Fourth/Fifth Place: One Point
Eight Eliminations: Three Points
Six/Seven Eliminations: Two Points
Four/Five Eliminations: One Point
Most Elims in a single Match [Hold the Throne]: Two Points
Scores are tallied over six matches, and the Duo with the highest score wins. The prize pools are listed below.
$67,500 (305 Club Points)
$47,500 (215 Club Points)
$36,250 (165 Club Points)
$25,000 (115 Club Points)
$20,000 (90 Club Points)
$15,000 (70 Club Points)
$12,500 (55 Club Points)
$10,000 (45 Club Points)
$8,750 (40 Club Points)
$7,500 (35 Club Points)
Hold the Throne bonus after six matches: $50,000
In addition to traditional competitive play, the Fall Skirmish introduces a new Trial that's still played for money but more focused on fun than competitive skill. The very first Trial is called Squad Goals. In this format, participants from each Club are divided into Squads and placed in public servers. The Squad with the most elims in a single match wins.
Here's the prize breakdown:
$45,000 (325 Club Points)
$25,000 (225 Club Points)
$15,000 (180 Club Points)
$10,000 (150 Club Points)
$5,000 (120 Club Points)
Here are the final North American top-16 standings for Week 1: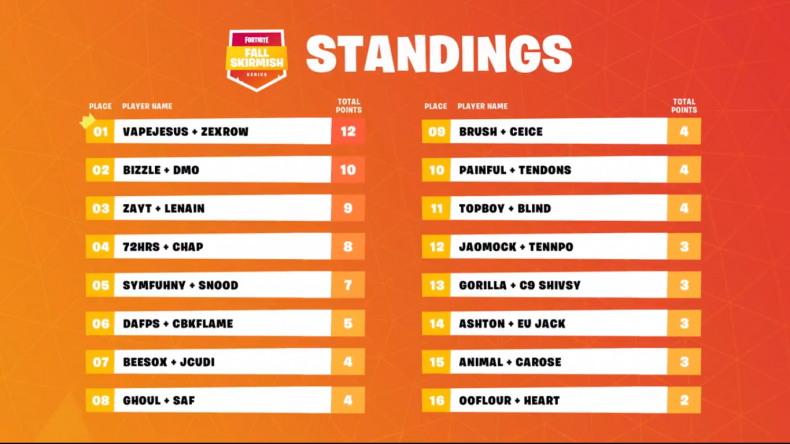 And the top 32: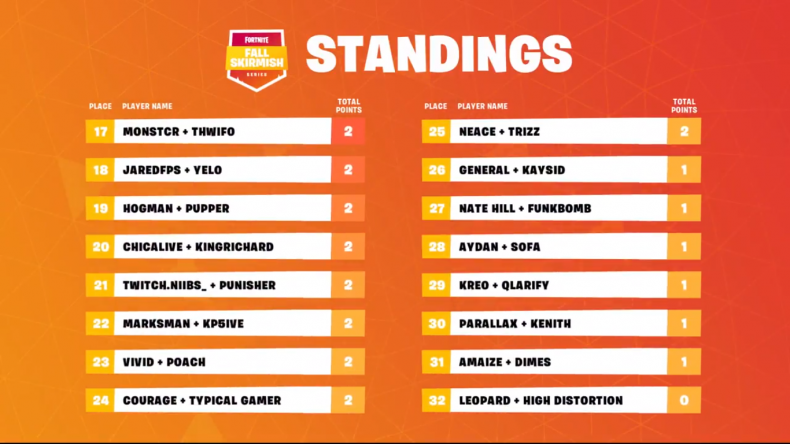 In case you missed them, here are the EU final top-16 standings: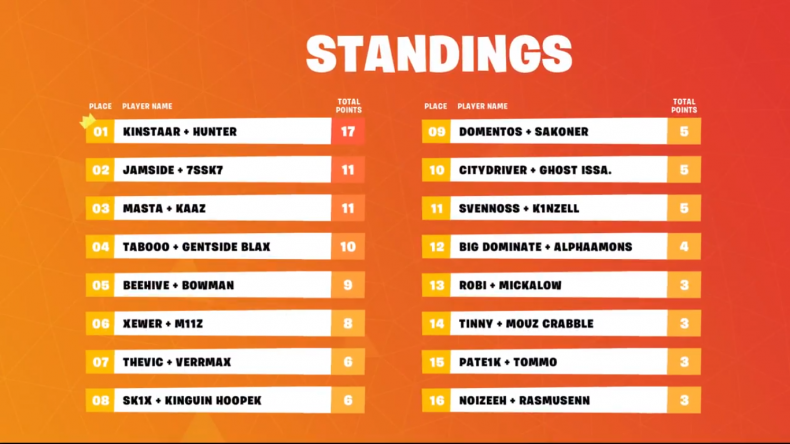 And the EU final top 32: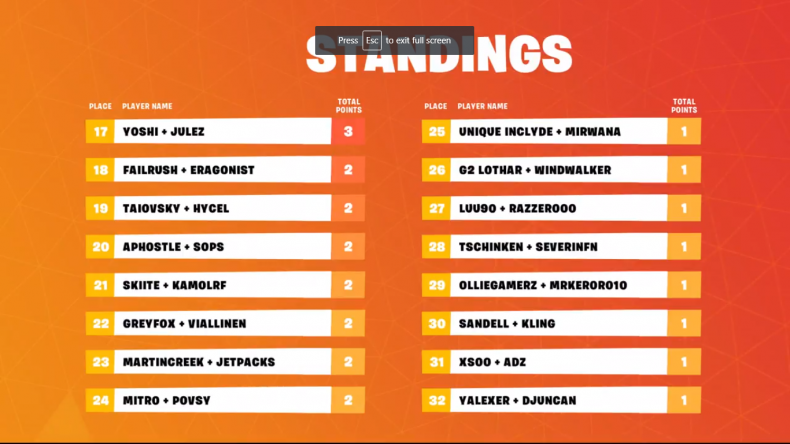 That's all we know about Fortnite Fall Skirmish Week 1 so far!
Which Club do you want to see at the top of the standings at the end of Week 1? Are you excited to watch the new formats? Tell us in the comments section!