'Fortnite' Fall Skirmish Week 2 - Time, Standings, Teams & How to Watch
Fortnite's Fall Skirmish is about to kick off its second week of action, and we're here to recap all the key details before and during the event. Information about times, standings, formats and teams will be discussed below.
What Time Does 'Fortnite' Fall Skirmish Week 2 Start?
With regard to start times, there are currently mixed reports. While the central Fall Skirmish blog post says competition begins at 12 p.m. EDT, the Fall Skirmish official site suggests it starts at 1 p.m. EDT. Assuming it follows last week's pattern, here's what we know:
Group 1 [EU]: Competition begins at 12 p.m. EDT
Group 2 [U.S.]: Competition begins at 4 p.m. EDT
There may be short delays when shifting between groups, so these times should be taken as estimates instead of gospel.
Where to Watch & Stream 'Fortnite' Fall Skirmish Week 2
Watch live video from Fortnite on www.twitch.tv
Fortnite fans can watch Fall Skirmish in all the usual places, including the game's official Twitch and YouTube channels. We've embedded the Twitch stream for your convenience. Specific participants will also be streaming their own matches as well.
'Fortnite' Fall Skirmish Week 2 Teams

This week's matchup continues the new Clubs system making its debut in Fall Skirmish. While streamers still compete for individual prizes, they're also a member of one of five Cubs:
Fort Knights
Lucky Llamas
Dusty Dogs
Rift Raiders
Bush Bandits
Here are the the EU team rosters for today:
Fort Knights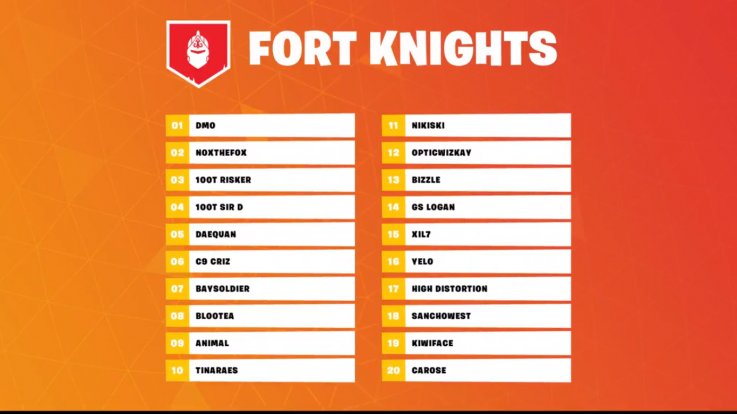 Dusty Dogs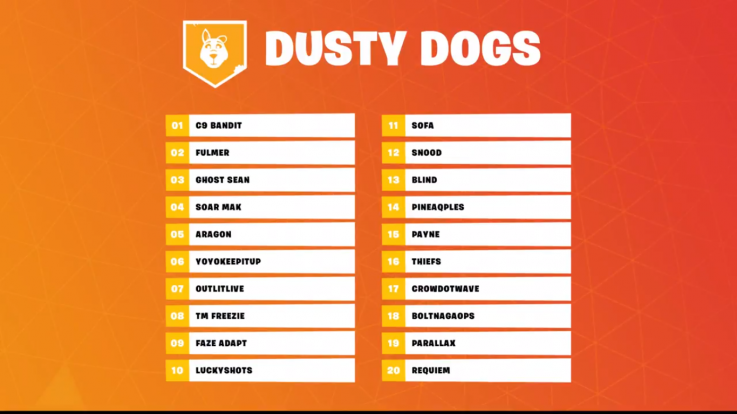 Rift Raiders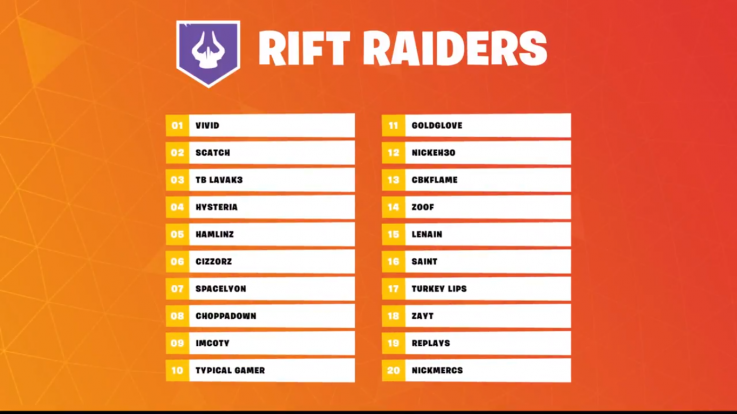 Lucky Llamas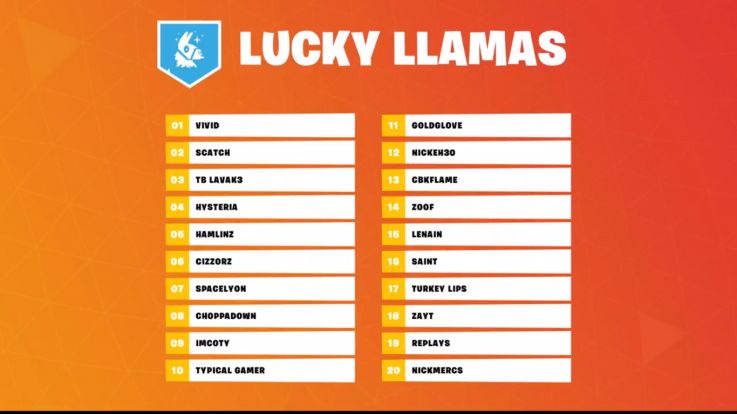 Bush Bandits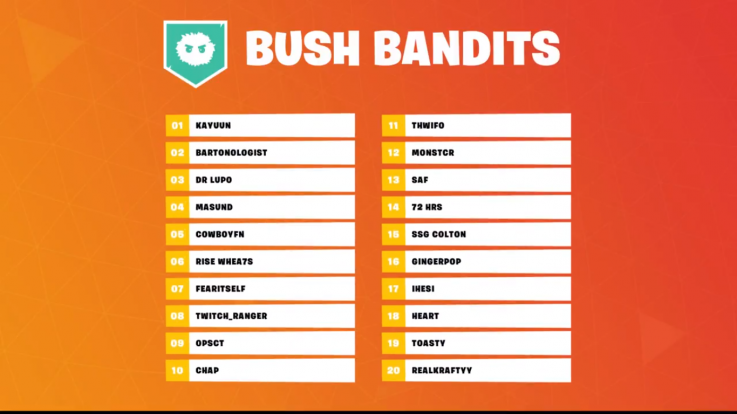 The Club with the most points at the end of Fall Skirmish's six weeks gets a $4 million prize.
'Fortnite' Fall Skirmish Week 1 Rules & Standings
This week's Skirmish features a format called Royale Flush. This is a slightly modified take on the rules featured in Summer Skirmish Week 3. Here's how points are scored:
Victory Royale: Three Points
Second/Third: Two Points
Fourth/Fifth: One Point
Seven or more Elims: Three Points
Five or six Elims: Two Points
Three or four Elims: One Point
Victory Royale and seven or more Eliminations: One Point and $10,000
Most Eliminations per match: $10,000
Cash prizes will be awarded to the top 20 finishers.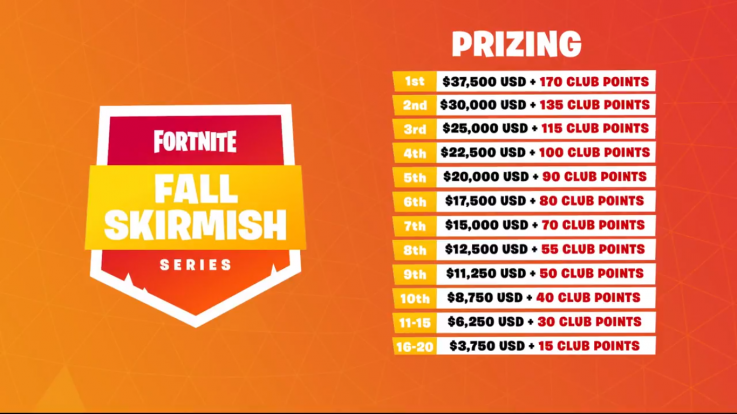 In addition to today's competitive format, Clubs will also be taking part in trials next week. The upcoming trial is called Spin and Win. Clubs will meet at specific times to complete an unknown challenge as dictated by a spinning wheel.
Here are the final North American standings for Week 2 of Fall Skirmish: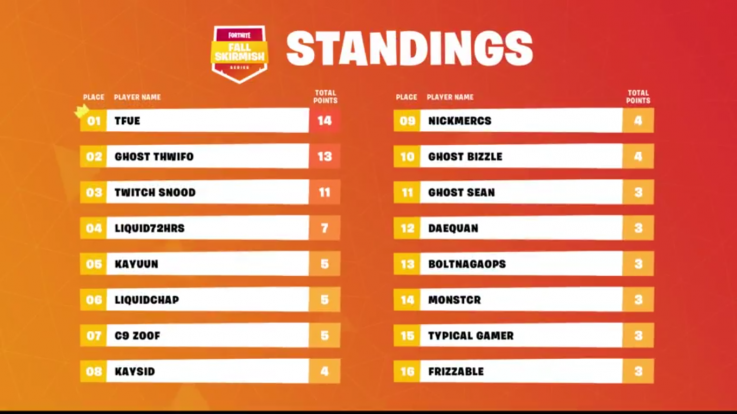 And the top 32: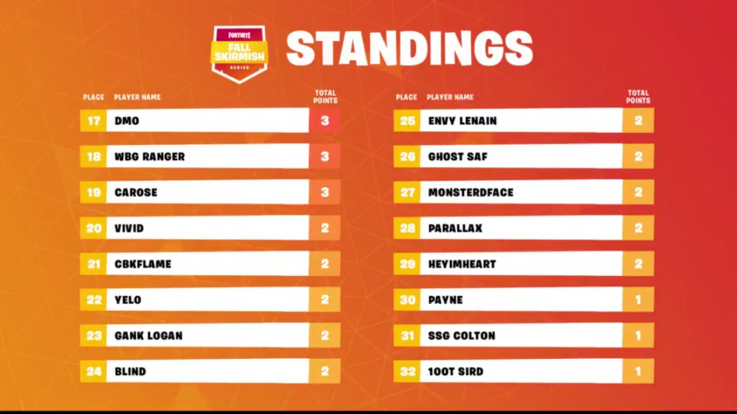 In case you missed them, here are the final EU standings: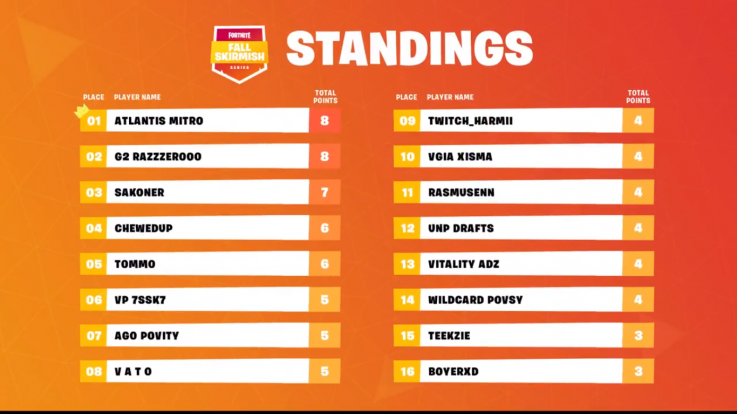 And the final EU top 32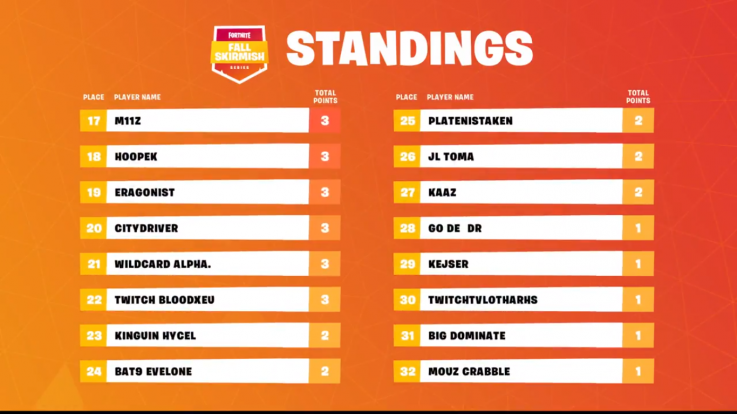 Here are the latest Club totals after NA's matches:
Bush Bandits: 1,615 Points
Fort Knights: 1,075 Points
Dusty Dogs: 1,025 Points
Rift Raiders: 1,020 Points
Lucky Llamas: 790 Points
That's all we know about Fall Skirmish Week 2 for now, but we'll be updating this page with more info as it arrives.
Fortnite is in early access on PS4, Xbox One, Switch, PC and mobile.
What are your thoughts on the Fall Skirmish format for Week 2? Which club have you sworn allegiance to? Tell us in the comments section!
'Fortnite' Fall Skirmish Week 2 - Time, Standings, Teams & How to Watch | Tech & Science