'Fortnite' Fall Skirmish Week 5 - Time, Standings, Teams & How to Watch
Fortnite 's Fall Skirmish series continues with its Week 5 competition. As usual, we'll recap the times, standings and team details you should know before the event begins. Get ready to support your favorite Club, and stay tuned for live updates as they happen.
What time does Fortnite Fall Skirmish Week 5 Start?
The competition is split into two groups of contestants based in the European and North American regions. Here are the estimated start times for each stream.
Group 1 [EU]: 12 p.m. EDT
Group 2 [NA]: 4 p.m. EDT (With delays it often starts closer to 4:30 p.m. EDT.)
Where to Watch & Stream Fortnite Fall Skirmish Week 5
Watch live video from Fortnite on www.twitch.tv
The Fall Skirmish streams on Fortnite's official Twitch and YouTube channels. Twitch is generally a more gamer-friendly platform, but YouTube has better performance on low-end hardware. Your favorite streamers may be hosting their matches on their channels as well. We've embedded the Twitch stream for your convenience.
Fortnite Fall Skirmish Week 5 Teams
The exact team structure has not been announced, but the Week 5 Skirmish continues the established tournament between five Clubs. The Club with the most points at the end of Week 6 earns a shared $4 million prize. Here are the Clubs:

Fort Knights
Lucky Llamas
Dusty Dogs
Rift Raiders
Bush Bandits
Fort Knights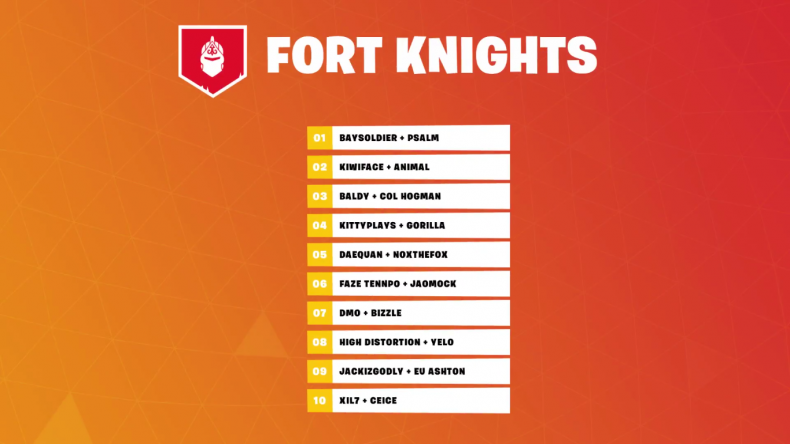 Lucky Llamas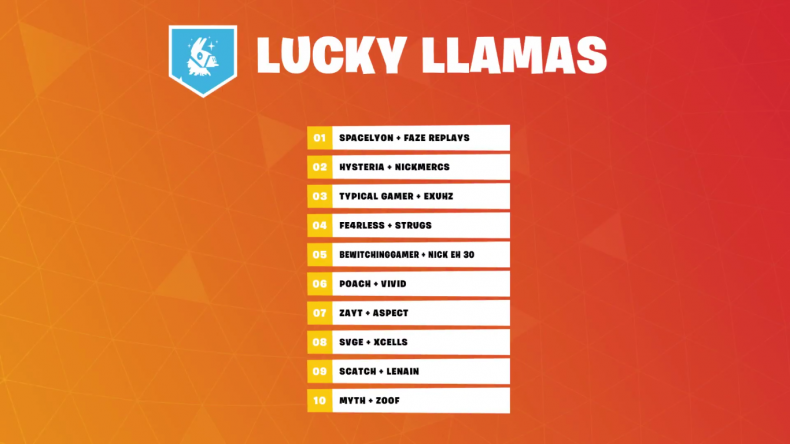 Dusty Dogs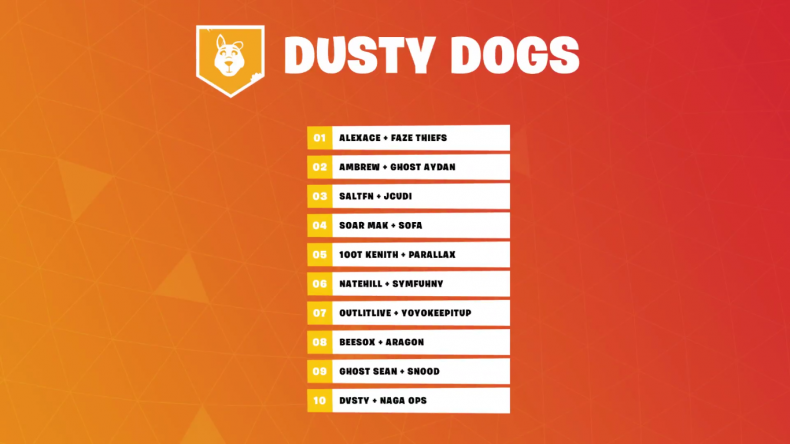 Rift Raiders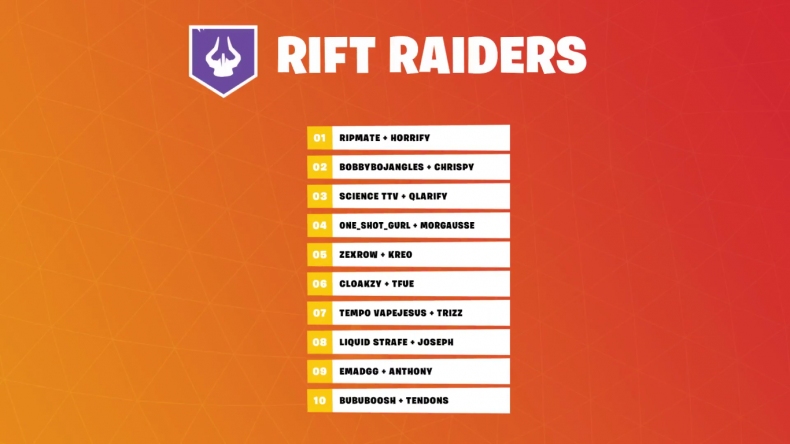 Bush Bandits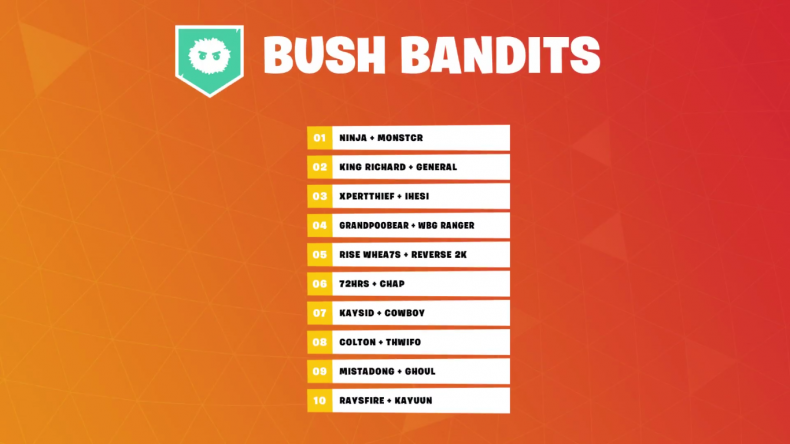 Fortnite Fall Skirmish Week 4 Rules & Standings
This week's rotating Fall Skirmish format is called Royale Flush. It's a Duos competition spread across six matches. The point breakdown is as follows:
Victory Royale: Three Points
Second/Third Place: Two Points
Fourth/Fifth Place: One Point
Eight or more Eliminations: Three Points
Six or Seven Eliminations: Two Points
Four or Five Eliminations: One Point
$25,000 awarded to the team with the most Elims in a single match
Each Royale Flush is worth $10,000
Here's the full prizing structure.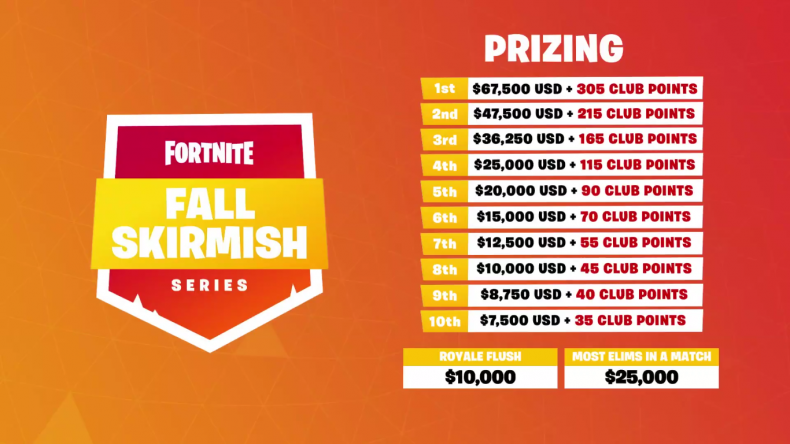 There's also a Weekly Trial which offers opportunities for additional Club Points throughout the week. This week's trial is called Trap Ball. In this trial, Clubs go to Spiky Stadium to compete in rounds of Trap Ball. The top performers take home the most points for their respective Clubs.
Here are the final North American standings for Week 5.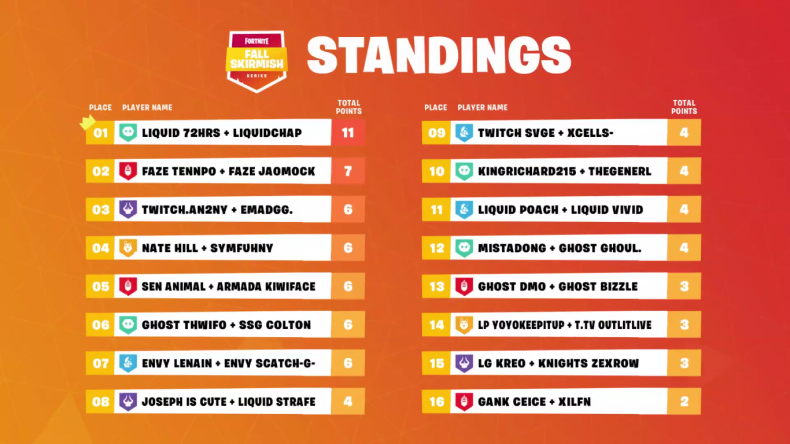 And the top 32: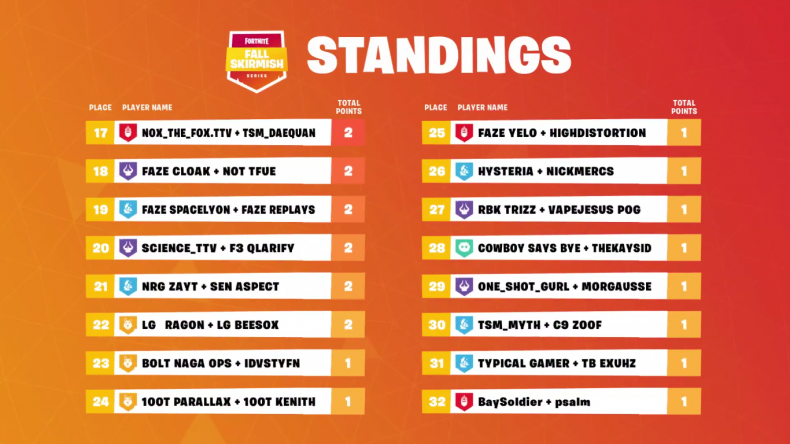 In case you missed them, here are EU's final standings for Week 5: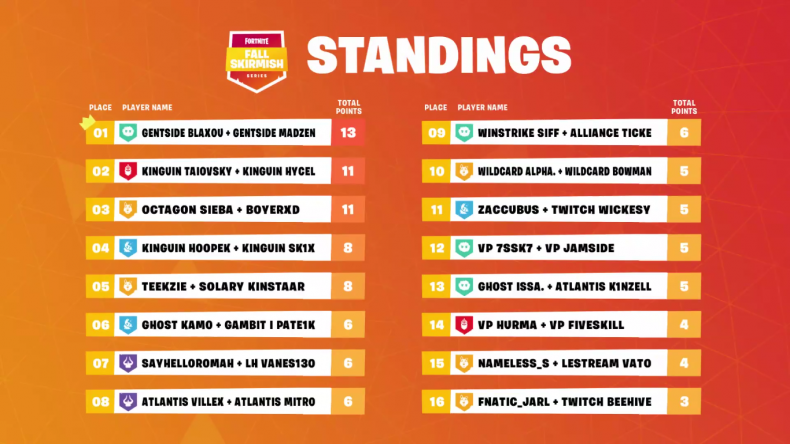 And the top 32: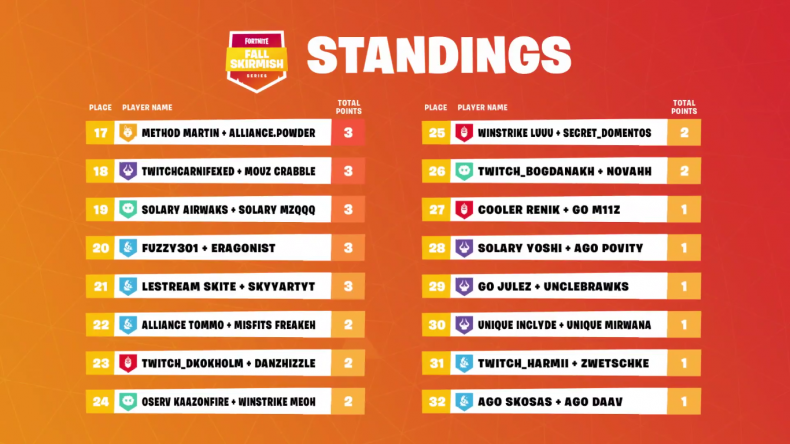 Here are the latest Club standings after today's Skirmish.
Bush Bandits: 3,720 Points
Fort Knights: 3,400 Points
Dusty Dogs: 3,270 Points
Rift Raiders: 2,900 Points
Lucky Llamas: 2,725 Points
Keep an eye on this page as we update it with more accurate standings throughout the day.
Fortnite is available now on PS4, Xbox One, Switch, PC and mobile.
What are your thoughts on Fall Skirmish Week 5? Will your favorite Club dominate the standings later today? Tell us in the comments section!