'Fortnite' Final Showdown Monster Event Destroys Loot Lake For Season 9
Fortnite just held its Final Showdown live event, and it spurred some pretty major changes to the Battle Royale map over a handful of minutes. For those who missed fight as it happened, here's a quick recap of the important details. In short, most of the Battle Royale map as players know it has been destroyed.
The fight began with the Monster laying complete waste to key locations like Tomato Temple and Loot Lake, but it only took a few seconds for the robot to fight back and eventually tackle the monster back into the surrounding sea.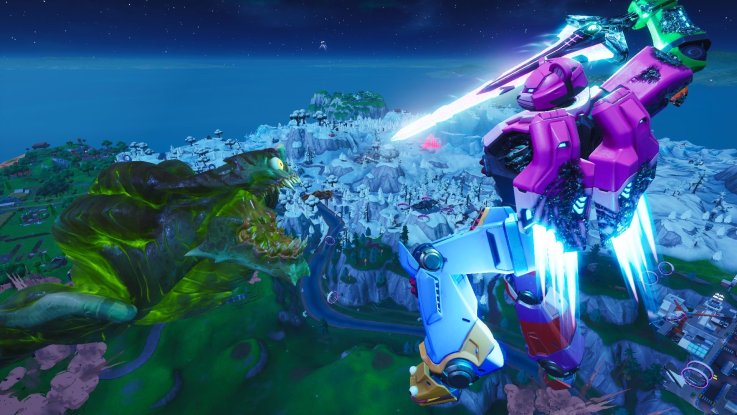 Just when it seemed like the battle was over, the monster reappeared from the depths for one last fight. To finish the fight, the Robot grabs the Neo Tilted power supply to disconnect it from the source. It then uses the large Neo Tilted statue and smashes it in the monster's head. The husk of the beast still stands at Loot Lake, but the Robot blasted off once the job was complete.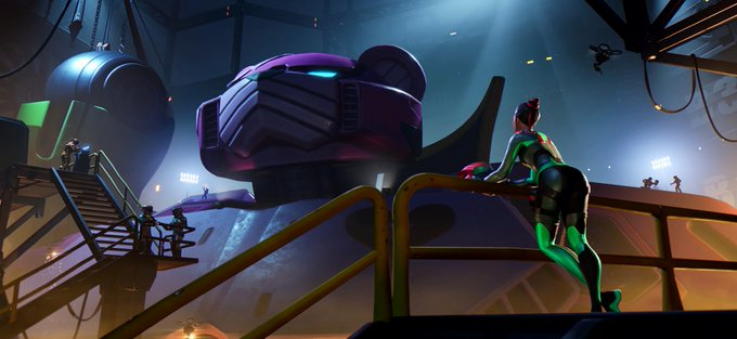 Today's final Showdown was nearly two months in the making, shortly after players discovered the frozen Monster eye at Polar Peak in the middle of May. In the weeks to follow, the Monster broke free from his prison and stumbled into the water surrounding the Island. It had not been seen until now, despite wrecking a few power lines near Loot Lake. Construction of the Mech began shortly thereafter and was fully complete following the release of the 9.40 update on Wednesday.
Fortnite is available now on PS4, Xbox One, Switch, PC and mobile.
What are your thoughts on Fortnite's Final Showdown event? Are you happy with the results and map changes? Tell us in the comments section!
'Fortnite' Final Showdown Monster Event Destroys Loot Lake For Season 9 | Gaming