Fortnite Week 5 Challenges ask players to jump through the Flaming Ring at Salty Springs while in a vehicle. In this guide, we'll show you where it's located and explain what you have to do once you've got your chosen vehicle ready.
Like many location-based challenges, we advise getting this one done in Team Rumble as there are fewer threats standing in your way to complete the objective. The Flaming Ring is still visible in other queues, but it may be harder to access while trying to eliminate opponents at the same time.
Fortnite Flaming Ring at Salty Springs location
The Flaming Ring at Salty Springs is located in the southeast section of the area, as marked on the map below. If you look hard enough at the minimap, you'll actually see the wooden ramp structure you need to pass over to get the challenge done.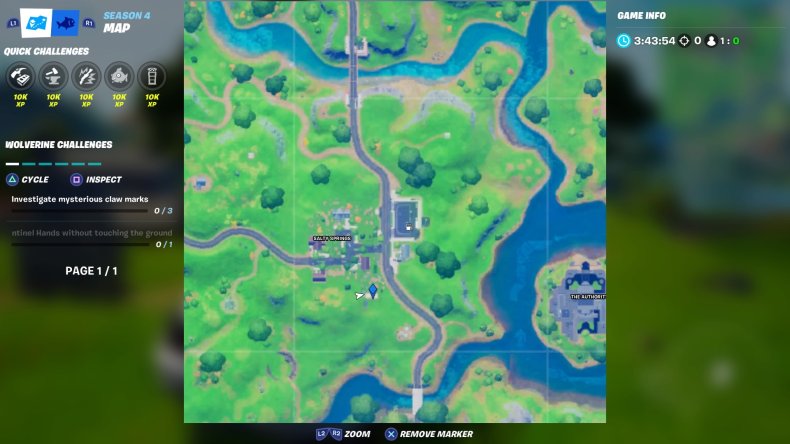 As you approach landing, you'll likely see the flames of the ring from above, so at this point we'd advise looking for a vehicle before going there. The best place to find a car is probably the Gas Station off to the east, but you might also be able to snag one at the houses north of the ramp as well. Car spawns are still a bit random, so if you don't happen to see any nearby, it may be best to go to another lobby.
Once you're prepared with the proper wheels, you'll see the Flaming Ring situated at the end of this ramp. It's not visible in this picture because this guide was made in a Battle Lab, but you can't miss it. Just drive the car up the ramp at a moderate speed, and you should be able to jump through the Flaming Ring without issue. That's all you need to know about the Flaming Ring at Salty Springs for Week 5.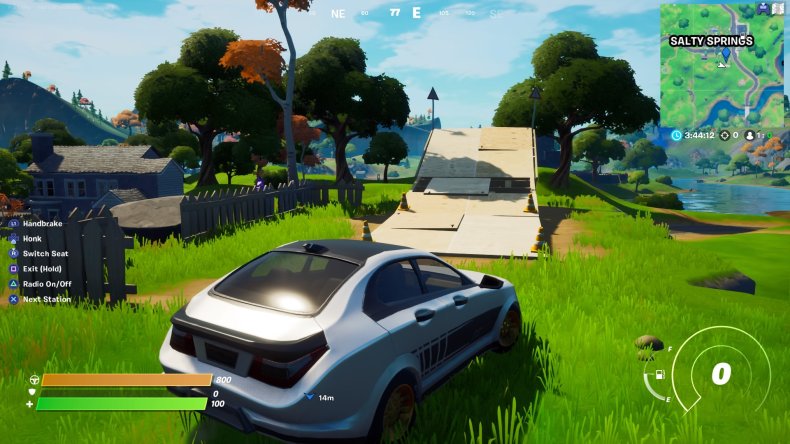 Fortnite Week 5 Challenges
Jumping through a Flaming Ring at Salty Springs is just one task on the larger list of Week 5 Challenges going live in Fortnite this Thursday. Here's the full list of objectives, for those who've yet to view them at the in-game Challenge Table:
Search Chests at Doom's Domain (seven)
Eliminations at Dirty Docks (three)
Drive a car from Slurpy Swamp to Catty Corner in less than four minutes without getting out
Collect Floating Rings at Coral Castle
In a vehicle, jump through the Flaming Ring at Salty Springs
Make a Stark Robot dance
Destroy Gorgers (one)
Deal damage to opponents at the Authority (500)
Deal damage to opponents at Stark Industries (500)
Locate a Trask Transport Truck [Wolverine Challenge]
Fortnite is available now on PS4, Xbox One, Switch, PC and Android.
What do you think of the Fortnite Week 5 Challenges so far? Did you make it through the Flaming Ring on your first jump? Tell us in the comments section!