'Fortnite' The Flash Cup Start Time and How to Get The Flash Skin Early
Fortnite hosts The Flash Cup on February 10, so we're here to recap everything you need to know about the upcoming tournament. Wondering what time the action starts or how to access the leaderboard? Still don't know which placement you must achieve to take home a prize? We've got you covered in this full rundown of the competition.
What time is The Flash Cup in Fortnite?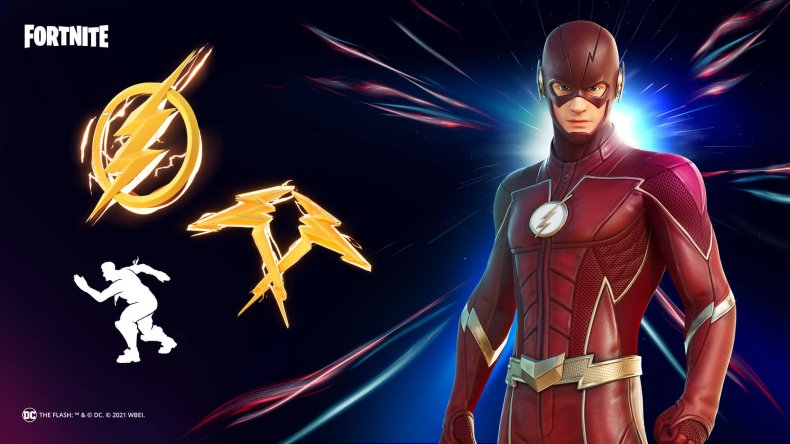 In most cases, the Flash Cup is set to run from 6 p.m. to 9 p.m. local time February 10. If you're playing within North America that's basically all you need to know, but we've also listed the full assortment of regional times for those who may need them. All start times are listed in Eastern Standard Time.
NA East: 6 p.m. to 9 p.m. EST
NA West: 9 p.m. to 12 a.m. EST
Europe: 12 p.m. to 3:30 p.m. EST
Oceania: 2 a.m. to 5 a.m. EST
Brazil: 4 p.m. to 7 p.n. EST
Asia: 4 a.m. to 7 a.m. EST
Middle East: 9 a.m. to 12 p.m. EST
While it's possible to hop to any server region you like, each Epic account can only compete in The Flash Cup once. If you don't perform well enough in the NA East matchup, for example, you can't try again in NA West later on. Once your first match begins, you're locked to your region of choice.
How does scoring work in The Flash Cup
Before competing, all players must be in the Open Division or higher in Competitive mode. They must also have 2FA enabled on their accounts as well. To find out more about how 2FA works, read our dedicated 2FA guide.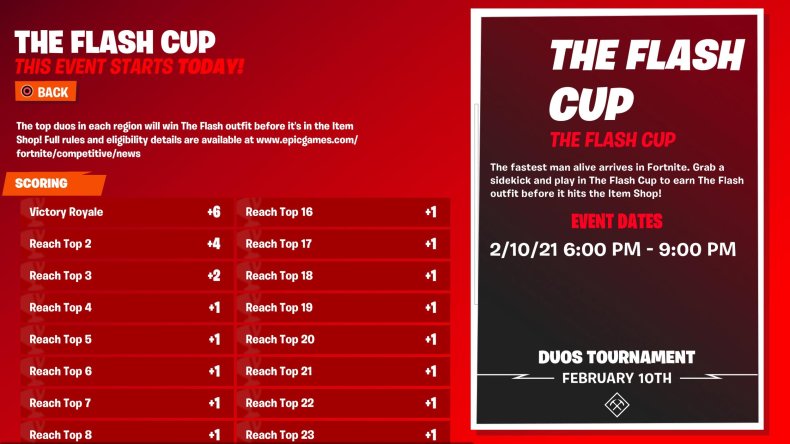 Beyond those initial requirements, the matches follow a fairly basic Duos format. Participants play a maximum of 10 matches during the event period under the scoring system listed below. The teams with the highest rankings on their respective regional leaderboards will be eligible to get the Flash skin and Back Bling early.
Victory Royale: 42 Points
Second: 36 Points
Third: 32 Points
Fourth: 30 Points
Fifth: 29 Points
Sixth: 28 Points
Seventh: 27 Points
Eighth: 26 Points
Ninth: 25 Points
10th: 24 Points
11th: 23 Points
12th: 22 Points
13th: 21 Points
14th: 20 Points
15th: 19 Points
16th: 18 Points
17th: 17 Points
18th: 16 Points
19th: 15 Points
20th: 14 Points
21st: 13 Points
22nd: 12 Points
23rd: 11 Points
24th: 10 Points
25th-29th: nine Points
30th-34th: six Points
35th-39th: three Points
40th-44th: two Points
45th-50th: one Point
Eliminations: one Point each
How to get the Flash skin early
Those who place high enough on their regional leaderboard are eligible to unlock the Flash Outfit and Speed Force Back Bling. The threshold for prizing varies per region based on the overall size of the player base. The prize thresholds for each region are listed below.
NA East: First-1,750th
NA West: First-500th
Europe: First-3,500th
Oceania: First-250th
Brazil: First-500th
Asia: First-250th
Middle East: First: 250th
To check your current spot on the leaderboard, return to the Competitive tab in the menu while the tournament is underway and press the designated button to view the leaderboard. You might also want to try a third-party stats site like Fortnite Tracker. Make sure to double check you're looking at the results for your region. For everyone who doesn't win today, The Flash set will be available for purchase February 13 at 7 p.m. EST.
Fortnite is available now on PS5, PS4, Xbox Series X|S, Xbox One, Switch, PC and Android.
Will you be playing in The Flash Cup tonight? Will you play well enough to get the skin early? Tell us in the comments section!