'Fortnite' Fortnitemares 2020 Leaks Reveal Candy, Brooms & Spooky Skins
Fortnite fans expect the game's Fortnitemares update will go live sometime next week, but leakers have already revealed a few interesting details about 2020's event. Will we actually be able to ride brooms and collect candy in Battle Royale? Let's recap the latest findings below.
Fortnitemares 2020 gameplay leaks
Courtesy of the recently released 14.30 update, dataminers have uncovered a few unused strings that will likely play an important role when Fortnitemares begins. Chief among those are mentions of a consumable called "Wbroom" and a loot box referred to as "Broom Box."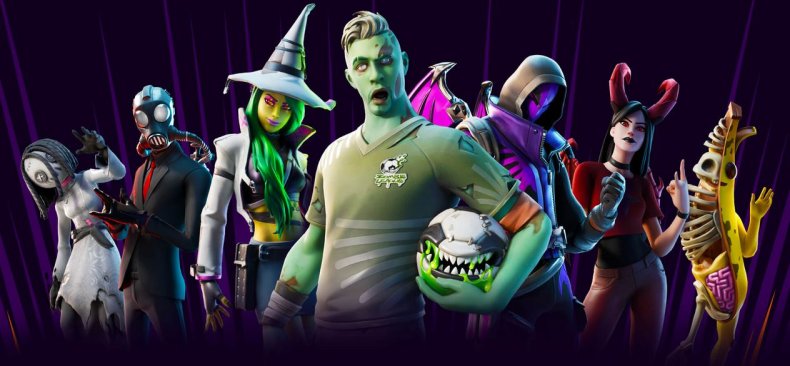 These names suggest players will be able to collect witches' brooms from containers scattered around the Battle Royale map. While conventional witch wisdom dictates combatants might be able to take to the skies with said brooms, that much has yet to be confirmed. Of course, given Fortnite's history with flight-based items like the Stormwing and Choppa, letting players fly isn't exactly an outlandish idea.
Beyond Brooms, leaker HYPEX also unearthed evidence of five additional consumables, listed as follows:
Pepper Ming
Hop Drop
Candy Corn
Jelly Bean
Thermal Taffy
Their uses aren't yet known, but we imagine this candy will offer short-term benefits much like the Foraged Items that have existed in the world of Fortnite for quite some time. The Thermal Taffy, for example, sounds like something that might offer a temporary speed boost when you eat it. Given how all these new items will make their way to the game at once, we imagine getting your hands on this candy will probably be a big part of finishing up this year's Fortnitemares Challenges.
Fortnitemares 2020 skin leaks
Alongside the possibility of brooms and candy, Fortnitemares will also introduce a host of spooky skins for players to purchase and unlock. In some cases, it's difficult to know which items will be unlocked and which will be for sale, but here's what we've been able to get a look at so far.
Ultimate Reckoning Pack
This pack includes:
Gnash Outfit
La Parca Outfit
Violet Outfit
Gnashy Back Bling
UV Wings
Reaper's Backplate
Crypt Crashers Pack
This pack includes:
Arachne Couture Outfit
Midnight Dusk Outfit
Nightsurf Bomber Outfit
Arachnid Tote Back Bling
Baty Pack Back Bling
Firebreather's Daypack Back Bling
Dark Days Pickaxe
Vamp Axe Pickaxe
Webspinner's Slice Pickaxe
Grimoire Item Shop Skin
Back Blings
These skins were all leaked as part of the 14.30 update, but there could be more to uncover in the days ahead. There are, after all, several encrypted files that could relate to the free rewards tied to the inevitable Fortnitemares Challenge set. At the very least, these new leaks should offer a good preview of the spooky festivities to come.
Fortnite is available now on PS4, Xbox One, Switch, PC and Android.
What do you think of these Fortnitemares leaks? Are you excited to experiment with some brooms and candy? Tell us in the comments section!