'Fortnite' #FreeFortnite Cup Start Time & How to Get The Tart Tycoon Skin
Fortnite is getting ready to host its #FreeFortnite Cup on Sunday, and we want to make sure you've got all the major details worth knowing regarding start times, prizing, scoring and more. Hoping to get your hands on that hilarious Tart Tycoon Outfit before the afternoon is over? We've got the full rundown you're looking for.
What time does the #FreeFortnite Cup start?
The start time of the #FreeFortnite Cup is 3 p.m. to 7 p.m. local time. That means players who are following the action in other regions may need to do a bit of time zone conversion. Participants only interested in their region, however, only need to know about the 3 p.m. to 7 p.m. hour.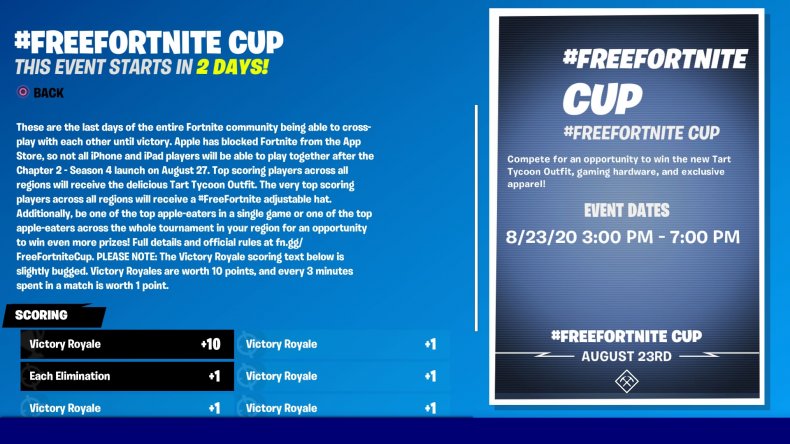 For those who might need it, here are all the regional start times listed in Eastern Daylight Time.
NA East: 3 p.m. to 7 p.m. EDT.
NA West: 6 p.m. to 10 p.m. EDT
Europe: 9 a.m. to 1 p.m. EDT
Oceania: 1 a.m. to 5 a.m. EDT
Brazil: 2 p.m. to 6 p.m. EDT
Asia: 2 a.m. to 6 a.m. EDT
Middle East: 10 a.m. to 2 p.m. EDT
How does scoring work in the #FreeFortnite Cup?
The scoring system of the #The FreeFortnite Cup is pretty simple. It awards ample points for both placement and Eliminations alike.
Victory Royale: 10 Points
Eliminations: One Point Each
Last for three minutes in one round: One Point Each
What are the #FreeFortnite Cup prizes?
To commemorate the last time iOS users will be able to play with the rest of the Fortnite community for the foreseeable future, Epic is pulling out all the stops with regard to prizing. Place high enough in the ranks by the metrics listed below, and you'll be able to take home physical and in-game rewards. Here's a recap of what's been officially advertised so far.
The Tart Tycoon Outfit seen in Epic's #FreeFortnite video (earn 10 Points)
A #FreeFortnite physical hat (200,000 global winners)
New gaming hardware (1,200 global winners): Includes an Alienware Gaming Laptop, Samsung Galaxy Tab S7, OnePlus 8 phone, PS4 Pro, Xbox One X or Nintendo Switch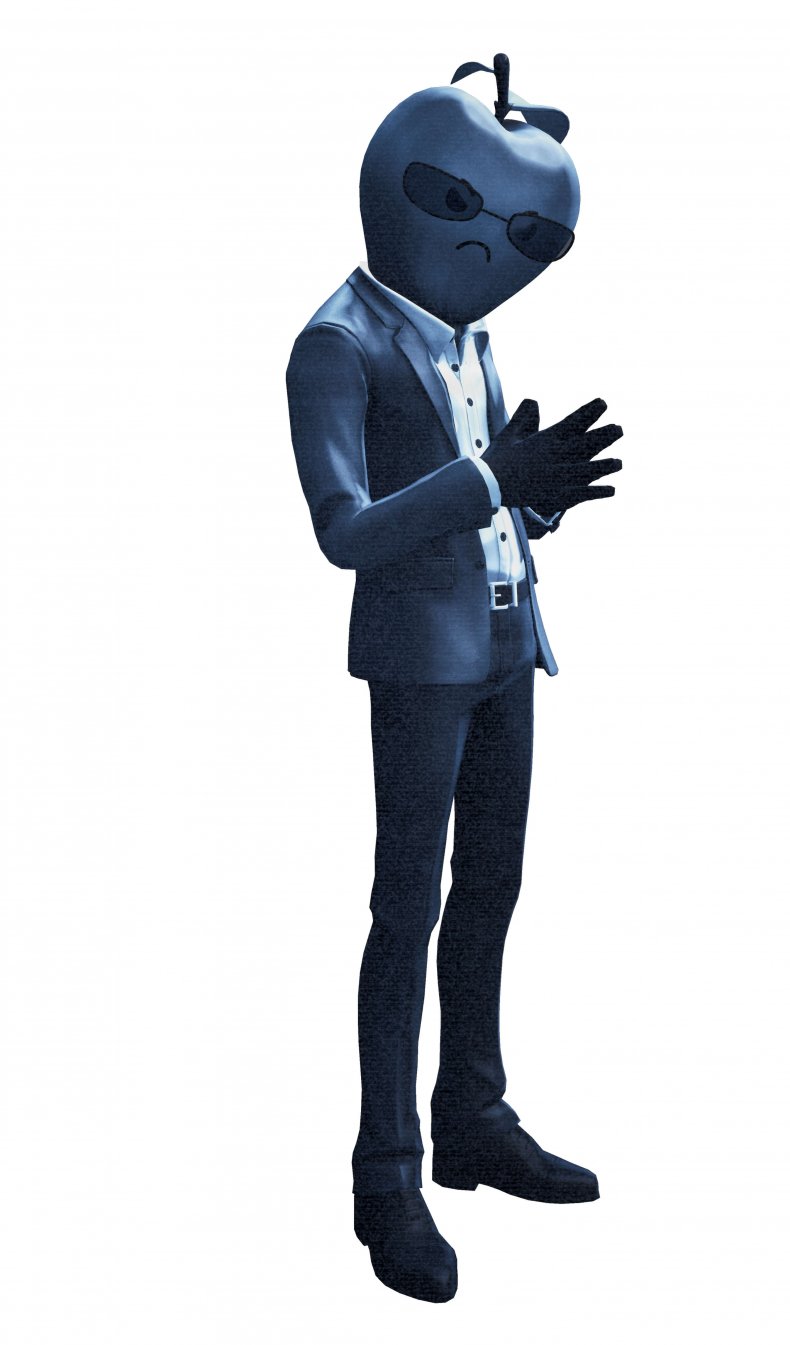 In other words, that sweet skin is the main reason for most players to compete in the #FreeFortnite Cup. For a select few who are very good at the game, however, there are chances to win big if you reach the top of the leaderboards.
#FreeFortnite Cup leaderboards
If you're searching for an active #FreeFortnite Cup leaderboard, the best place to find one is in-game while the tournament is underway. Just select Battle Royale mode, scroll over to the Competitive tab and you'll see an area for the #FreeFortnite Cup. There you'll be able to look through the standings and even watch the streams of leading players by selecting their names.
As an alternate leaderboard from outside Fortnite, sites like Fortnite Tracker are worth monitoring even though they may be a little slow to develop if you want the moment-to-moment numbers. Unfortunately, given the lack of an official broadcast and the extremely large player pool, the stats will be very difficult to follow.
That's all you need to know about the #FreeFortnite Cup heading into the weekend.
What are your thoughts on the #FreeFortnite movement so far? Will you be working to get that Tart Tycoon skin during the event window? Tell us in the comments section!
'Fortnite' #FreeFortnite Cup Start Time & How to Get The Tart Tycoon Skin | Newsgeek