'Fortnite' Frosty Frenzy: Start Time, Standings and How to Get Skully Claus
Fortnite's getting festive with the Frosty Frenzy tournament this weekend, and we want to make sure you and your friends are able to take part. Below, we outline the schedule of start times, rules and other details you should know if you're looking to get that Skully Claus spray. There's a lot to cover, so let's get right to it.
What time does Fortnite Frosty Frenzy start?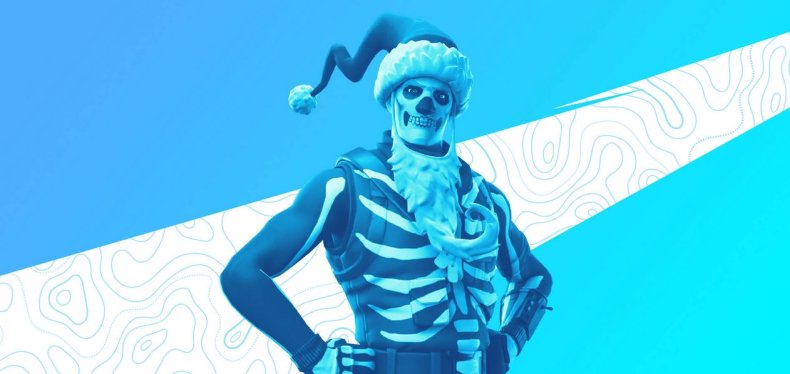 Frosty Frenzy takes place across four sessions each on December 12 and December 13. Note that each of these sessions is split across two rounds of play. You'll need to place in the top 500 teams to advance to round 2 in North America and Europe. In OCE, Asia and ME you must reach the top 250. In other words, it's possible to have up to four different chances to compete across the two-day span. Here are the start times worth knowing. All times are listed per one's local time.
December 12 and December 13 session times
Session 1: 11 a.m.. to 1 p.m.
Session 1 round 2: 2 p.m. to 5 p.m.
Session 2: 6 p.m. to 8 p.m.
Session 2 round 2: 9 p.m. to 12 p.m.
You must be competitive level 30 or higher to participate.
How does scoring work in Frosty Frenzy?
In round 1 trios play a maximum of six matches, with a maximum of up to 10 matches for round 2. While both days of Frosty Frenzy feature trios tournaments, there are two different scoring systems based on the day one decides to play. Here are the formats.
Day 1 Scoring
Victory Royale: 30 Points
Second: 25 Points
Third: 20 Points
Fourth: 15 Points
Fifh: 10 Points
Sixth-10th: 5 Points
11th-20th: 2 Points
Each Elimination: 2 Points
Day 2 Scoring
Victory Royale: 25 Points
Second: 20 Points
Third: 16 Points
Fourth: 14 Points
Fifth: 13 Points
Sixth: 12 Points
Seventh: 11 Points
Eighth: 10 Points
Ninth: 9 Points
10th: 8 Points
11th: 7 Points
12th: 6 Points
13th: 5 Points
14th 4 Points
15th: 3 Points
16th: 2 Points
17th: 1 Point
Each Elimination: 1 Point
The cash prizing system varies slightly by region.
NA East: First-25th: $1,800 / 26th-250th: $1,200
NA West: First-15th: $1,800 / 16th-95th: $1,200
Europe: First-35th: $1,800 / 136th-400th: $1,200
Brazil: First-15h: $1,800 / 16th-95th: $1,200
OCE: First-10th: $1,800 / 11th-45th: $1,200
Middle East: First-10th: $1,800 / 11th-45th: $1,200
The leaderboard can be viewed in-game by going to the Frosty Frenzy tournament page in the Competitive tab while your session is active.
How to get the Skully Claus Spray
As for the Skully Claus Spray, all you've got to do is earn five points during any of these sessions in any region. As long as you actually play during any of the above-listed times, it should be basically impossible not to reach the threshold.
Fortnite is available now on PS5, PS4, Xbox Series X|S, Xbox One, Switch, PC and Android.
What do you think of the Frosty Frenzy tournament? Do you think you'll actually take home some prize money? Tell us in the comments section!