Fortnite is clearly a huge success for developer Epic Games, and the game's earnings for March alone would make any game developer's head spin. According to research firm Superdata, the game made a whopping $223 million in March alone.
This huge amount of money is a 73 percent increase compared to Fortnite's February earnings, largely thanks to the popular John Wick skin and the new Battle Pass season. Other factors, such as rapper Drake's appearance on Twitch, have also helped grow the Fortnite audience. This makes Fortnite the largest free-to-play console game of all time in terms of revenue generated and monthly active users.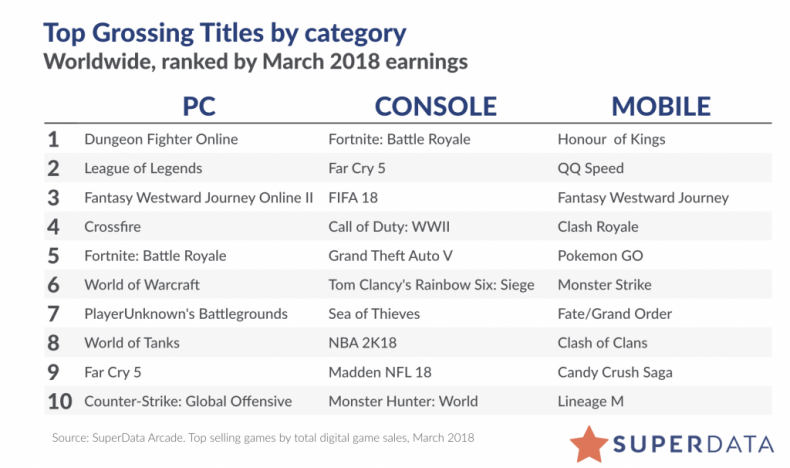 Surprisingly, Fortnite's biggest area of dominance is on consoles. The game was the highest grossing game for March on Xbox One and PS4, but only the fifth highest grossing game on PC. Even more surprising, Fortnite didn't even appear in the top 10 highest grossing mobile games for March. If this growth continues, however, expect to see Fortnite climbing the ranks once the data for April is available.
As for other games, Tencent's mobile kart racer QQ Speed has generated $100 million in revenue for the third straight month, and still was only the second highest grossing mobile game for March. If you're wondering why companies have shifted so much to making mobile games, it's because there is a ton of money to be made.
Older games also continue to prove dominant in the market, with the likes of World of Warcraft and Rainbow Six: Siege still raking in the dough. Mobile smash hit Candy Crush also had its best month since 2014, with Candy Crush Saga placing at number 9 for the highest grossing mobile games in March.
All this combined is a two percent growth on games spending as a whole. Consumers spent $8.9 billion on games in March, up from $8.7 billion spent in last year.
So what do you think? Are you surprised to see how much money Fortnite has made? What game surprised you the most on the list of highest grossing games above? Let us know your thoughts in the comments section below.