'Fortnite' Ghost Rider Cup Start Time & How to Get The Ghost Rider Skin Early
Fortnite hosts its special Ghost Rider Cup tournament November 4, giving fans an early opportunity to add Ghost Rider skins to their Locker before everyone else. Want to know precisely when the Ghost Rider Cup stars and what skilled players can expect to win? You've come to the right place.
What time is the Ghost Rider Cup in Fortnite?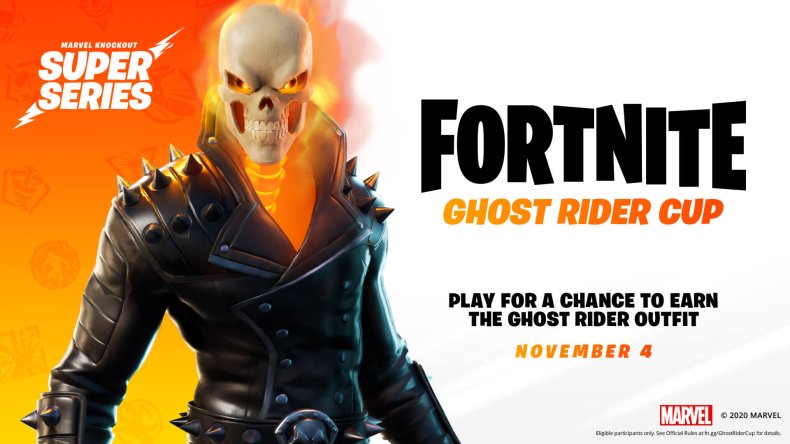 Just like the Daredevil Cup before it, Fortnite's Ghost Rider Cup is expected to run from 5 p.m. to 8 p.m. local time. With that in mind, NA East, NA West and the rest of the world will technically have different start times that coordinate with their time zones. If you're someone on the east coast who wants to keep track of west coast action, for example, you may need to do a conversion or two.
Here's the full schedule of regional start times converted into Eastern Standard Time.
NA East: 5 p.m. to 8 p.m. EST
NA West: 8 p.m. to 11 p.m. EST
Europe: 12 p.m. to 3 p.m. EST
Oceania: 3 a.m. to 6 a.m. EST
Brazil: 5 p.m. to 8 p.m. EST
Asia: 4 a.m. to 7 a.m. EST
Middle East 8 a.m. to 12 p.m. EST
How does scoring work in the Ghost Rider Cup?
In order to participate in the Ghost Rider Cup, players must have reached at least account level 30 and have two-factor authentication enabled on their Epic account. To learn more about the latter, read our dedicated 2FA guide. It should also be noted that matchmaking is not supported in this tournament, so you absolutely need two other friends to play with you.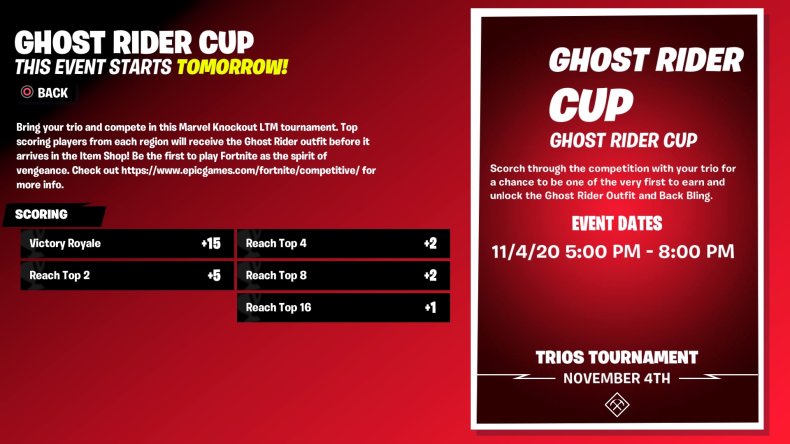 Provided you and the other two players in your trio meet those basic requirements, you'll be asked to play a maximum of 10 matches of the Marvel Knockout LTM during the three-hour event window. In Marvel Knockout, trios square off against one other team as they spawn with four random superpowers. Your goal is to accrue as many Eliminations as possible during the designated time. Rise up the in-game ladder through four rounds of play to win the match.
The scoring system of the Ghost Rider Cup is based on your placement on the ladder for each individual match.
First: 25 points
Second: 10 points
Third-Fourth: five points
Fifth-Eighth: three points
Ninth-16th: one point
How to get the Ghost Rider skin early
As most fans will likely know, the only prize for Wednesday's Ghost Rider Cup is early access to the Ghost Rider Bundle before it goes live for everyone else around November 7. So, not only will winners get the base Ghost Rider skin for free, but they'll also unlock the themed Back Bling and Pickaxe too. The spot on the ladder you must reach to get the prize varies by region.
NA East: First-500th
NA West: First-200th
Europe: First-800th
Oceania: First-100th
Brazil: First-200th
Asia: First-100th
Middle East: First-100th
While that Ghost Rider grand prize may be difficult for the Fortnite faithful to unlock, it's worth noting that those who participate in the Ghost Rider Cup and the two other Marvel-themed cups on November 11 and November 18 will unlock the Nexus Glider for free. It's essentially the main Season 4 loading screen on the back of a Glider. In other words, even those who don't win have something to look forward to. That's all you need to know about the Ghost Rider Cup happening in Fortnite on November 4.
Fortnite is available now on PS4, Xbox One, Switch, PC and Android.
Do you have a trio ready for the Ghost Rider Cup? Will you be hopping into the tournament as soon as it starts? Tell us in the comments section!