'Fortnite' Gifting Guide - How to Gift, Send & Receive Skins in Battle Royale
Fortnite 's long awaited gifting feature is finally available as of update 6.31, and it offers the chance to send cosmetics to your friends. Below, we outline the process for sending gifts and detail the limitations of the feature.
How to Gift Skins in Fortnite
Follow these steps to send gifts: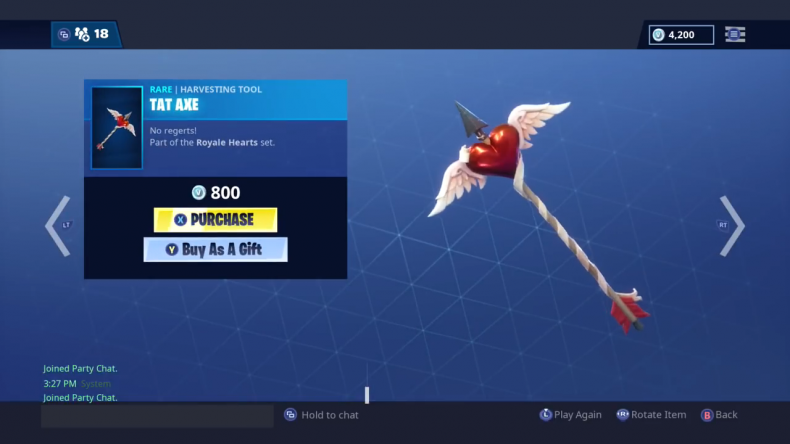 Go to the Item Shop from the main lobby screen and select one of the featured items.
On the purchase screen, press the designated button to "buy as a gift."
After that you'll be asked to select friends from your Epic friends list. Choose who you'd like to send the cosmetic to, and press the button to continue.
You can enter an optional personal message if you like, select the color of the virtual gift box or just press the button to "Send."
The next time your friend opens Fortnite, they'll get a message that says "someone wonderful sent you a gift." The gift can be opened by pressing the designated button at that screen.
It should be noted that the feature is currently limited to skins, outfits, emotes and other cosmetic items. In other words, you can't buy the Battle Pass for another player at this time. You can also only send up to three gifts per day.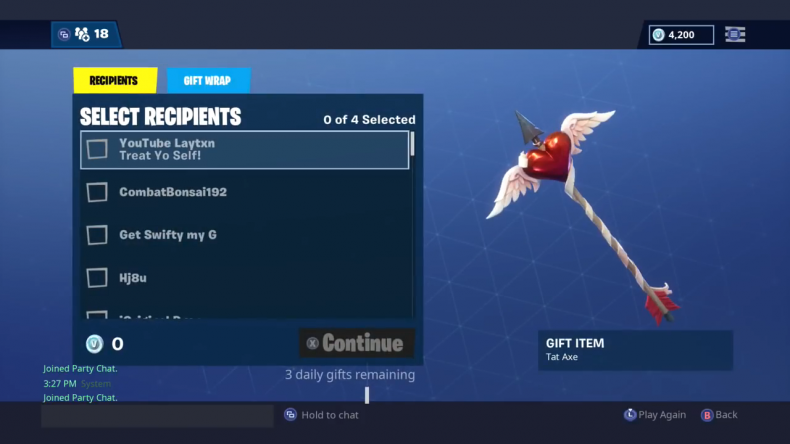 During the process, you may also be prompted to enable 2FA on your account. Luckily we have a guide for that as well.
In case you don't know how to add friends in Fortnite, here's the process:
Press the silhouette button in the corner of the lobby screen.
Your friends list will open, and you can tap the silhouette with the "+" sign next to it.
Search for your friend via their Epic username.
Once the friend connection is made, gifting should work as described above.
Gifting has been present in Fortnite menu options since update 4.5, which released at the end of June. However, until now, the feature had not been formally turned on. Gifting arrives as part of the recently released 6.31 update which also includes the Legendary Pump Shotgun and Team Rumble limited-time mode.
Fortnite is available now on PS4, Xbox One, Switch, PC and mobile. The gifting process should be similar on all platforms.
Are you happy to see Fortnite's gifting system finally go live? Which skin do you want to get over the holidays? Tell us in the comments section!