'Fortnite' Green Arrow Skin Release Date and January Crew Pack Revealed
Fortnite fans were surprised in early December following the debut of the Fortnite Crew subscription service. After paying $11.99 per month, players will be granted access to the latest Battle Pass, a monthly exclusive cosmetic buddle and a monthly purse of 1,000 V-Bucks. Looking ahead to January, the paid offering heats up considerably with a unique collaboration with DC Comics, in the form of a Green Arrow skin.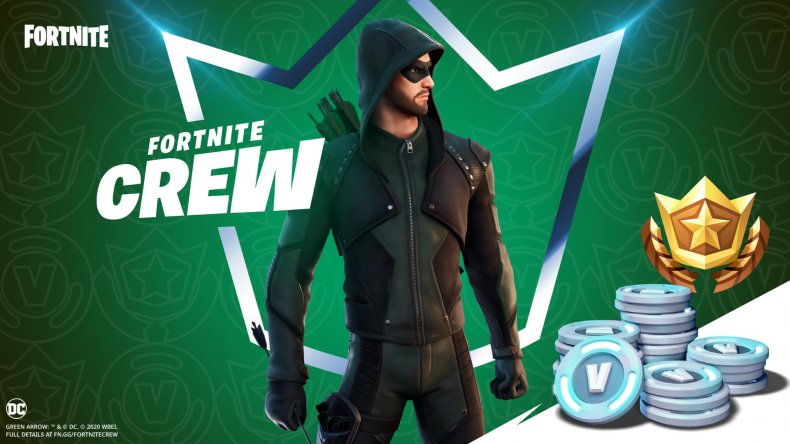 Just like the Galaxia Pack before this one, the Green Arrow Crew Pack features a bespoke Outfit, Pickaxe and Back Bling that will never be sold for any other purpose whatsoever. In addition to the Green Arrow Outfit, the bundle also includes the Tactical Quiver Back Bling and Boxing Glove Pickaxe. Most of these items can be seen in the promotional image below. Fans of the Emerald Archer will likely notice the set's design is a clear callback to the popular Green Arrow TV series on the CW.
The pack will become available for all Crew subscribers starting December 31 at 7 p.m. EST. It's worth noting that Epic advises Crew members to redeem their monthly goodies on the platform on which their subscription was initially made, to avoid potential issues.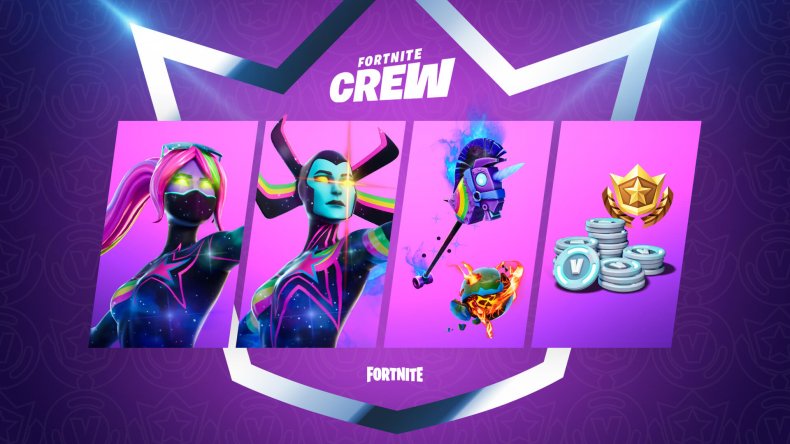 Of course, there's still plenty of time between now and December 31, which means those who subscribe today can also receive December's rewards, in addition to the ones going live next month. For those who happened to miss the Galaxia Outfit reveal at the start of Season 5, you can check it out below. The bundle features the Cosmic Llamacorn Pickaxe and Fractured World Back Bling. We're personally not huge fans of the look, but Epic is really stepping things up big time with Green Arrow going forward.
Fortnite's Fortnite Crew subscription service isn't quite the first of its kind, but it's still somewhat uncharted territory for a free-to-play title primarily played on console and PC. In many ways, the concept draws heavily from the mobile market, where individual app subscriptions have become more commonplace over the past few years.
Overall, Fortnite Crew could be a solid proposition for those who are hopelessly addicted to Epic's Battle Royale, but it probably wouldn't suit most casual players over a long period of time. Those folks, however, still have the option of subscribing for one month just to get Green Arrow if they choose to do so.
Fortnite is available now on PS5, PS4, Xbox Series X|S, Xbox One, Switch, PC and Android.
What are your thoughts on the January Fortnite Crew Pack? Will you subscribe for Green Arrow? Tell us in the comments section!