'Fortnite' Hearts Wild Cup Start Time and How to Get The Lovely Skin Early
Fortnite's Hearts Wild Cup is set to start February 9, so we're here to reveal all you need to know about the festivities. Curious about the schedule of start times, gameplay format or the threshold you must hit to unlock the Lovely skin early? This article covers all the essential facts in advance of the action.
What time is the Hearts Wild Cup in Fortnite?
In most cases, Fortnite's Hearts Wild Cup takes place between 6 p.m. and 9 p.m. local time on February 9. There are deviations from that start time across some regions, but our U.S. audience can get by on those details alone.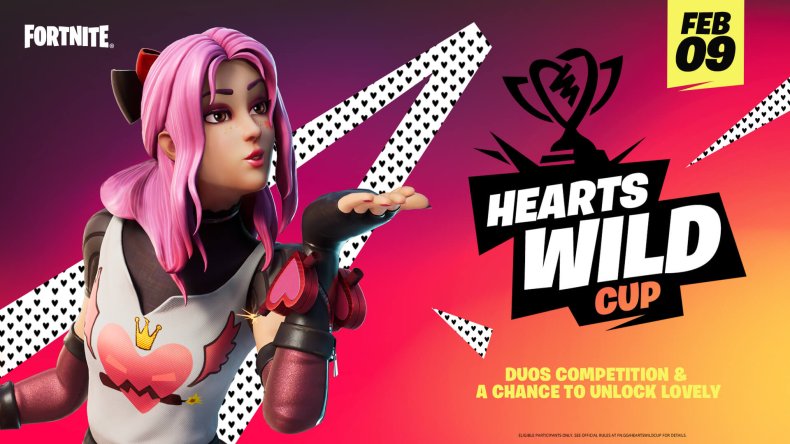 Here's the full schedule of regional start times listed in Eastern Standard Time for those who may need it.
NA East: 6 p.m. to 9 p.m. EST
NA West 9 p.m. to 12 a.m. EST
Europe: 12 p.m. EST to 3:30 p.m. EST
Oceania: 2 a.m. to 5 a.m. EST
Brazil: 4 p.m. to 7 p.m. EST
Asia: 4 a.m. to 7 a.m. EST
Middle East: 9 am. to 12 p.m. EST
Note that, while it is possible to hop to servers in other regions, each account can only legally play in one version of the Hearts Wild Cup. In other words, you only get one shot to get the skin and can't play in the NA West bout if you happen to lose in NA East.
How does scoring work in the Hearts Wild Cup?
Like many prior Fortnite tournaments, all players must be in Open Rank or higher and have 2FA activated on their Epic Games account. To learn more about 2FA, read our bespoke 2FA guide. Beyond that, the competitive action follows a simple Duos scoring format.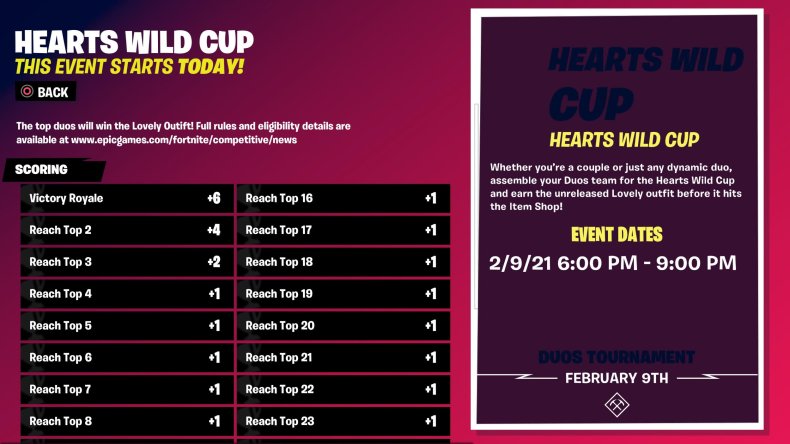 Maximum of 10 matches during the event time
Victory Royale: 42 Points
Second: 36 Points
Third: 32 Points
Fourth: 30 Points
Fifth: 29 Points
Sixth: 28 Points
Seventh: 27 Points
Eighth: 26 Points
Ninth: 25 Points
10th: 24 Points
11th: 23 Points
12th: 22 Points
13th: 21 Points
14th: 20 Points
15th: 19 Points
16th: 18 Points
17th: 17 Points
18th: 16 Points
19th: 15 Points
20th: 14 Points
21st: 13 Points
22nd: 12 Points
23rd: 11 Points
24th: 10 Points
25th-29th: nine Points
30th-34th: six Points
35th-39th: three Points
40th-44th: two Points
45th-50th: one Point
Eliminations: one Point each
How to get the Lovely skin early
When it comes to getting early access to the Lovely skin, each region has its own bespoke number of winners based on the population in that area. Here are the ranks one must hit for prizing in each region.
NA East: First-875th
NA West: First-250th
Europe: First-1,750th
Oceania: First-125th
Brazil: First-250th
Asia: First-125th
Middle East: First-125th
To check your rank during the event period, go to the Hearts Wild event page in the competitive tab and press the designated button to view the leaderboard. Third-party sites like Fortnite Tracker may also be helpful too, as long as you remember to select the correct leaderboard for your region. If you're not lucky enough to win the Lovely Outfit during the tournament, it will be on sale in the Item Shop for everyone else in the coming days. That's all you need to know about the Hearts Wild Cup in Fortnite.
Will you be playing in the Hearts Wild Cup in Fortnite? Is the Lovely Outfit worth assembling a Duo to compete? Tell us in the comments section!