'Fortnite' How to Earn Survival, Combat or Scavenger Gold Medals Week 9 Guide
Fortnite Midas Challenges are live for Week 9, and one of the more confusing objectives requires earning three Survival, Combat or Scavenger Gold Medals. Those who may not be as skilled at Battle Royale may not be earning Medals or may not fully understand what it takes to rank up to gold. With these questions in mind, we've got all the requirements and thresholds you want to know.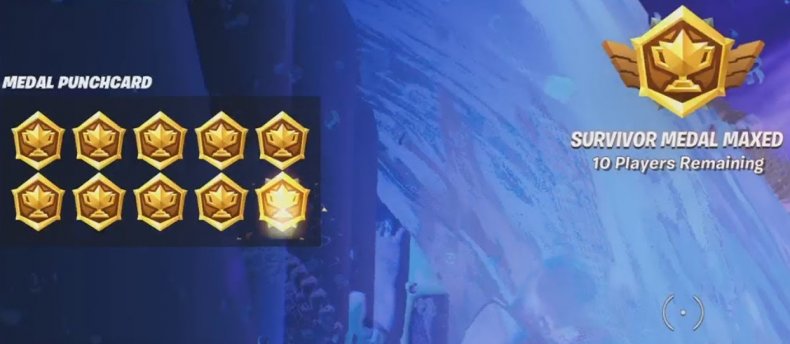 Gold Survival Medals: These are earned each time you make it to the top 10 players in a given match. This is one of the easier Gold Medals one could go for if you're not quite as skilled at Fortnite. It wouldn't be our first choice, but it's certainly one route to take.
Gold Combat Medals: These require eight Eliminations in a single match. If you're proficient enough to take on this challenge, you probably don't need our help for much.
Gold Scavenger Medals: Scavenger Medals are earned by opening Chests, Supply Drops or Llamas. To reach gold status, you need to open 12 of these in a single match. This is probably the least skill-based of the three Medal options, so we'd advise this avenue for most average players. Just use an interactive map, like this one from LootLake.info, to plot out the best locations to land. Avoid action at all costs and, instead, search for all the collectibles you can find. Through this method, you might even earn a Survival Medal at the same time.
This challenge works off the Fortnite Chapter 2 Medal Punchcard, which refreshes daily at 10 a.m. EDT. Note, however, that the Gold Medals required for this Week 9 Challenge do not have to be earned on the same day. A single daily Punchcard can also feature several of the same type of Medal, So, if you happen to be particularly strong in any one of the three areas, you won't be stopped from farming it. That's all you need to know about earning Gold Survival, Combat and Scavenger Medals in Fortnite.
Fortnite Week 9 Midas Challenges
Earning Gold Survival, Combat and Scavenger Medals is just one of the Week 9 Midas Challenges going live on Thursday. To see the full list of objectives read our full recap below.
Search Chests in different named locations (six)
Deal damage to players with Sniper Rifles (300)
Upgrade a weapon to Legendary rarity at an Upgrade Bench (one)
Search a Llama, Legendary Chest or Supply Drop (one)
Deal damage to a Choppa with a passenger or pilot inside (100)
Collect XP Coins (five)
Carry a Giant Pink Teddy Bear found in Risky Reels 100 meters (100)
Search Midas' Golden Llama between a junk yard, gas station and an RV campsite (one)
Gather intel during Spy Games operation matches (10)
Earn Survival, Combat or Scavenger gold medals (three)
This week is the first of two Midas Challenge weeks in Season 2. Complete 18 Midas Challenges over the next two weeks, and you'll have the option to take on a special quest to swear your allegiance to Shadow or Ghost. Get the task done, and you'll earn a special variant of the Midas skin that depends on the side you pick.
Fortnite is available now on PS4, Xbox One, Switch, PC and mobile.
Which type of Gold Medal will you be earning to get this challenge done? Is your Battle Pass nearly complete? Tell us in the comments section!