'Fortnite' Jetpack Guide: How to Get One, What's up With Eye of the Storm
Fortnite Content Update 4.2 has arrived with Jetpacks. In this quick guide, we'll tell you how to get one and the story behind the leaked Eye of the Storm Backpack variation.
HOW TO GET A JETPACK IN 'FORTNITE'
As referenced in the 4.2 Content Update patch notes, Jetpacks are Legendary items that appear in Treasure Chests. Finding one is very much a matter of random chance. In order to increase your odds of snagging a Jetpack, you want to go to named locations with the most chests. To help you figure out where to go, you can use this updated chest map from FortniteChests.info.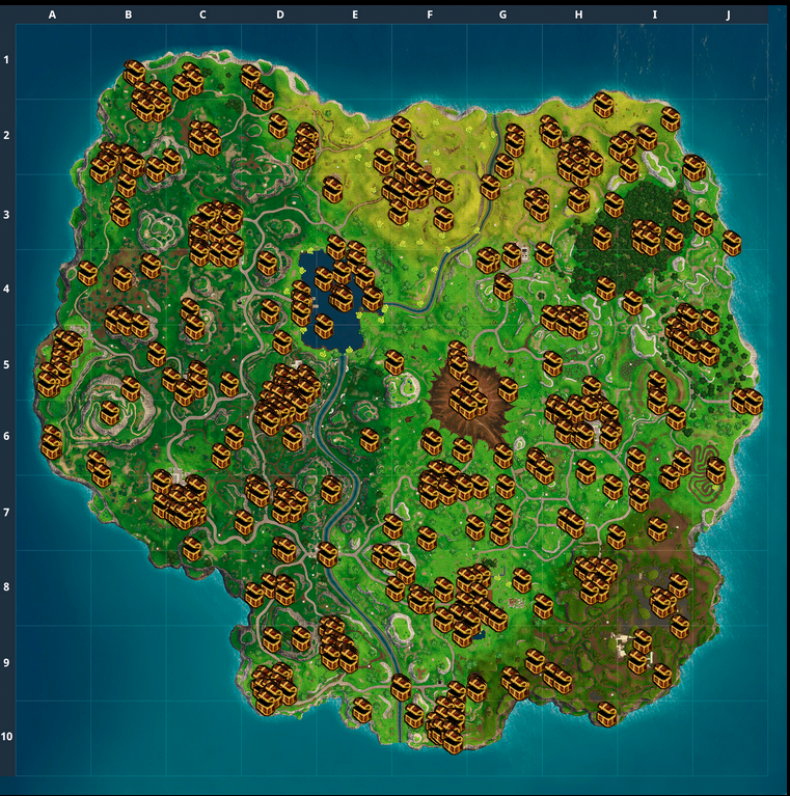 As you can see, chests are pretty much everywhere on the Battle Royale map. Certain named locations are heavier with loot than others, however. Retail row is practically all chests, and the same can be said about Tilted Towers. The interactive map linked above has every possible spawn spot to check. Clicking on each one shows an in-game picture of the specific location.
Legendary items are the hardest to find, so that means you may have to open quite a few chests before you get a Jetpack. If you're truly struggling to find a Jetpack, the Close Encounters limited-time mode launches later this week. Since it's a Jetpack-focused mode, getting one will be much easier in that game type than a standard Battle Royale match.
HOW DO JETPACKS WORK IN 'FORTNITE?'
Once you've found a Jetpack, it automatically occupies one inventory slot. In order to take one for a spin, jump while in mid-air. The charge will start, but it only lasts a few seconds before it wears out. To recharge, simply take a break from using the Jetpack for a bit. After a few sustained uses, the Jetpack will be permanently depleted. Once that happens, you must find a new one.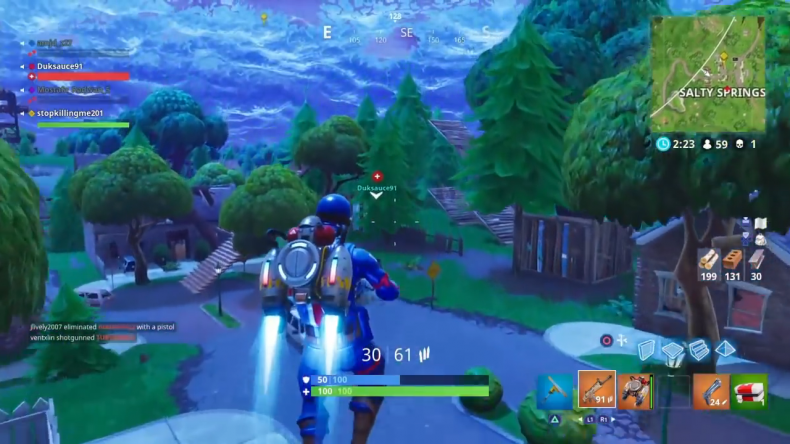 Note that all target modes are disabled while using the Jetpack. When you have a Jetpack, pressing the target button activates the pack.
WHAT'S GOING ON WITH EYE OF THE STORM TRACKER?
Eye of the Storm is a special Backpack players found in chests shortly after the release of update 4.2. Unlike the traditional Jetpack, Eye of the Storm adds a yellow circle to the Battle Royale map that highlights the circle for the next storm. Considering Weekly Challenges require players to spend time in the eye of the storm over the next few days, the ability is quite helpful.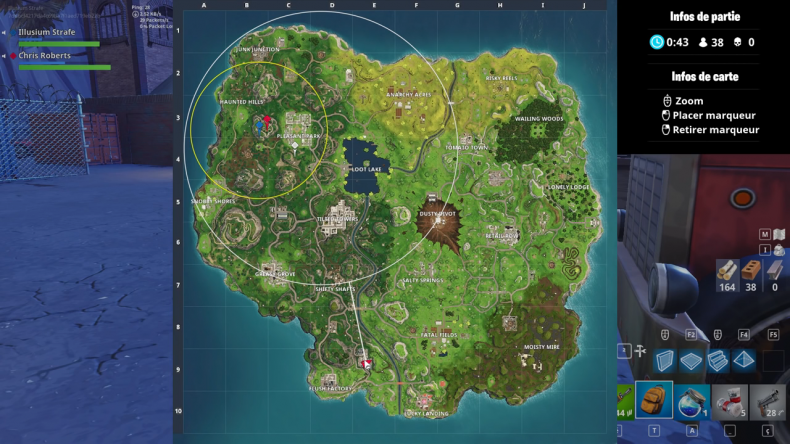 That being said, Discord posts from Epic Games' French developers reveal the Eye of the Storm item was added by mistake. "The backpack Eye of the Storm was not planned in the game. It will be removed soon. It is not yet fully ready," translations suggest. Epic has not responded to speculation about Eye of the Storm in English yet. We'll add those details if and when they arrive.
Fortnite is in early access across PS4, Xbox One, PC and iOS. Jetpacks are found and used the same way on all platforms.
That's all there is to know about Jetpacks in Fortnite. Tell us about your time with them in the comments section!