'Fortnite' Launch Off All Sentinel Hands Location & Week 4 Wolverine Guide
Fortnite Season 4 Week 4 continues with a brand-new Wolverine Challenge. Need to know how to launch off all Sentinel Hands without touching the ground? You've come to the right place. Below, we show you where the Sentinel Hands are located and the best route to stay in the air for as long as possible.
Like all previous Wolverine Challenges before this one, you're best off completing the task in Team Rumble. Not only is Rumble a less threatening mode in general, but it also allows you to redeploy your Glider. That single stipulation could be hugely helpful in getting this challenge done.
In order to launch off Sentinel Hands, the first thing you must do is find them. The Sentinel Hands are located inside Sentinel Graveyard. On the current Season 4 map, the unnamed PoI is situated between the Authority and Lazy Lake. In fact, you can actually see the robot husks on the minimap graphic. You may have visited this locale for Weekly Challenges in previous weeks, but this image serves as a refresher for those who need it: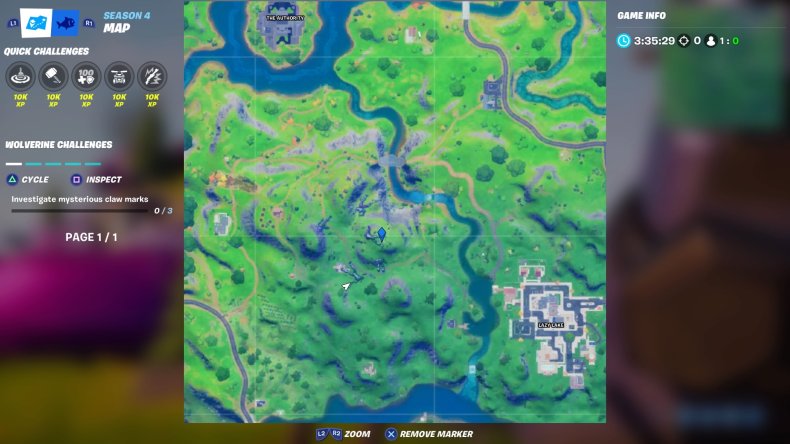 As you make your approach toward the Sentinel Graveyard, keep an eye out for this Sentinel leaning up against a hill with an outstretched arm. It's almost like it's inviting you to land there, and that's because this robot offers the best route to getting this challenge done.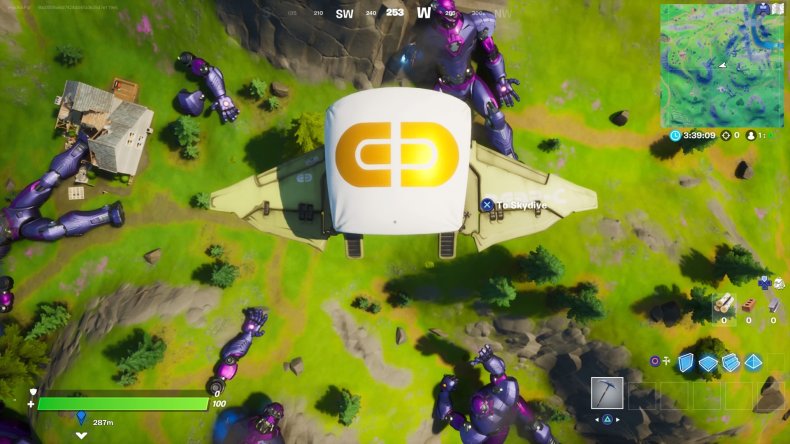 Once you've come to a full stop and landed on the hand but not its central beam, hop on the beam and your character will be nearly automatically propelled to all the different Sentinel Hands in the area. If it looks like you're going to miss one of your targets, try deploying your Glider to give yourself the extra distance you need. The below video, from Chris Outsiders on YouTube, illustrates what the route should look like in action.
If you manage to launch off all Sentinel Hands without touching the ground, you'll be rewarded with the themed Ferocious Weapon wrap.
Fortnite Week 4 Challenges
The Wolverine Challenge is, of course, just one of the new objectives to make its debut during Week 4 of Season 4. Below is the full list of challenges open to those who haven't purchased the Battle Pass. You can learn more about them at the in-game Challenge Table.
Search Chests at Slurpy Swamp (seven)
Eliminations at Weeping Woods (three)
Deal damage within 10 seconds of bouncing off an Umbrella at Sweaty Sands (100)
Destroy Collector Cases at The Collection (three)
Hack Stark Robots at Stark Industries (five)
Destroy Gatherers (30)
Deal damage with a Gatherer's remains (10,000)
Deal damage to opponents at Steamy Stacks (100)
Deal damage to opponents at The Authority (100)
Launch off all Sentinel Hands without touching the ground [Wolverine Challenge]
Fortnite is available now on PS4, Xbox One, Switch, PC and Android.
Were you able to launch off all Sentinel Hands without touching the ground? What do you think of the new Wolverine wrap? Tell us in the comments section!