'Fortnite' Lazar & Fresh Tournament Start Time and How to Get the Lazarbeam Skin Early
Fortnite hosts Lazar & Fresh's Super Knockback tournament today, which allows competitors to duke it out in Battle Royale with some seriously souped-up weapons and crazy rules.
Make your way to the top of the leaderboard, and you can unlock the Lazarbeam skin bundle one day before its official release. Below, we outline the tournament's start time, rules and everything you should know to win the prize.
What time is the Lazarbeam & Fresh tournament in Fortnite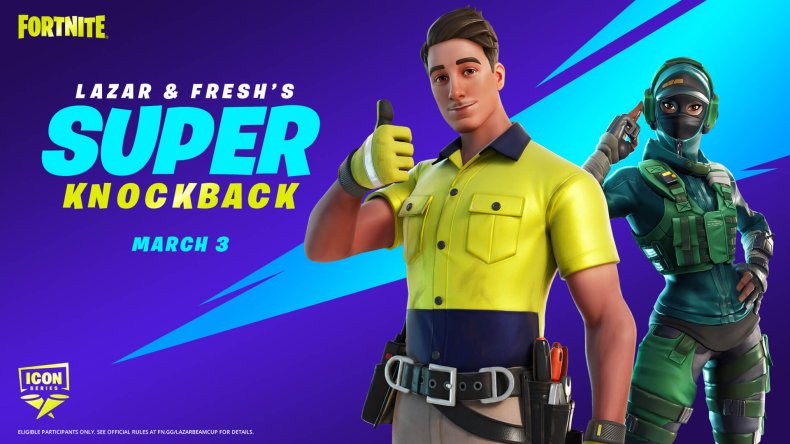 Following the pattern established by many recent cosmetic-themed tournaments before this one, Lazar and Fresh's Super Knockback tournament runs from 6 p.m. to 9 p.m. local time in the United States. For those who need more precise regional times, we've listed them below in Eastern Standard Time.
NA East: 6 p.m. to 9 p.m. EST
NA West: 9 p.m. to 12 a.m. EST
Europe: 12 p.m. to 3 p.m. EST
Oceania: 2 a.m. to 5 a.m. EST (March 4)
Brazil: 4 p.m. to 7 p.m. EST
Asia: 4 a.m. to 7:30 a.m. EST
Middle East: 9 a.m. to 12 p.m. EST
While it is technically possible to play in other regions by switching your region in the settings menu, official rules state the tournament can only be entered once regardless of region. Given that using non-home regional servers increases latency, we suggest sticking to the closest geographic option if you can.
How does scoring work in Lazar & Fresh's Super Knockback?
With regard to format, Lazar & Fresh's Super Knockback has a more unique gameplay concept compared to the DC and Marvel tournaments of the past. Not only does the loot pool feature "more powerful versions of knockback weapons," but players can emote to heal and all fall damage has been removed. In other words, this is Fortnite Battle Royale like it's never been seen before.
Beneath that concept, though, the Duos scoring system is fairly ordinary. Here's what it looks like.
10-match maximum
Victory Royale: 60 Points
Second: 54 Points
Third: 51 Points
Fourth: 49 Points
Fifth: 47 Points
Sixth: 45 Points
Seventh: 44 Points
Eighth: 43 Points
Ninth: 42 Points
10th: 41 Points
11th: 40 Points
12th: 39 Points
13th: 38 Points
14th: 37 Points
15th: 36 Points
16th: 35 Points
17th: 34 Points
18th: 33 Points
19th: 32 Points
20th: 31 Points
21st: 30 Points
22nd: 29 Points
23rd: 28 Points
24th: 27 Points
25th: 26 Points
26th: 25 Points
27th: 24 Points
28th: 23 Points
29th: 22 Points
30th: 21 Points
31st: 20 Points
32nd: 19 Points
33rd: 18 Points
34th: 17 Points
35th: 16 Points
36th: 15 Points
37th: 14 Points
38th: 13 Points
39th: 12 Points
40th: 11 Points
41st: 10 Points
42nd: nine Points
43rd: eight Points
44th: seven Points
45th: six Points
46th: five Points
47th: four Points
48th: three Points
49th: two Points
50th: one Point
Eliminations: two Points each
Also note that all participants must be in the Open Competitive division or higher and must have 2FA enabled on their Epic account. For a more detailed explanation of 2FA, read our dedicated 2FA guide.
How to get the Lazarbeam skin early
If you want to get your hands on that Lazarbeam bundle before your friends, your Duo must place within a certain threshold of your regional leaderboard. The win conditions vary slightly based on the size of the region in which you play, but the prizing is the same.
The first prize group gets the full bundle with a skin, Back Bling, Pickaxe and emote, while the other tier gets the skin and Back Bling. Here's how the rules break down.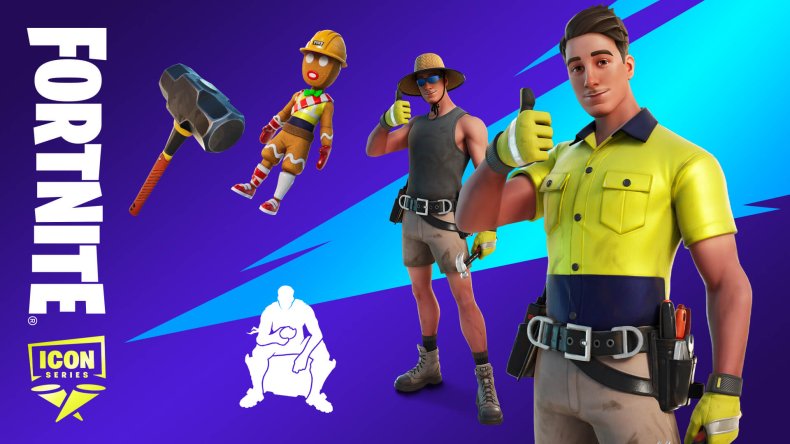 NA East: First-125th [full bundle] / 126th-1,125th [skin and Back Bling]
NA West: First-50th [full bundle] / 51st-450th [skin and Back Bling]
Europe: First-200th [full bundle] / 201st-1,800th [skin and Back Bling]
Oceania: First-25th [full bundle] / 26th-225th [skin and Back Bling]
Brazil: First-50th [full bundle] / 51st-450th [skin and Back Bling]
Asia: First-25th [full bundle] / 26th-225th [skin and Back Bling]
Middle East: First-25th [full bundle] / 26th-225th [skin and Back Bling]
To check your Duo's placement, go to the Competitive tab and select the tile for Lazar & Fresh's Super Knockback while the tournament is underway. You'll have the option to view the live leaderboard there. If that doesn't work, a third-party site like Fortnite Tracker may be able to help. Just make sure you're looking at the correct results for your region if you decide to use that method instead.
Note that, even if you don't win, the whole bundle will be available to purchase when the Item Shop refreshes March 4 at 7 p.m. EST. It'll likely cost a pretty penny to get the full set, but at least you'll still be able to rep one of your favorite streamers. That's all you need to know about Lazar & Fresh's Super Knockback tournament in Fortnite.
Fortnite is available now on PS5, PS4, Xbox Series X|S, Xbox One, Switch, PC and Android.
Will you be playing in the Lazarbeam tournament tonight? What do you think of the themed cosmetics? Tell us in the comments section!