'Fortnite' Leak Says Hitting Meteors Destroy Dusty Depot, Not Tilted Towers
Fortnite 's Meteorites started falling earlier in the week, leading many fans to believe the fabled strike on Tilted Towers may finally be at hand. A recent leak, however, suggests Tilted Towers isn't the target of the main Meteorite after all. The information was first posted Monday evening by internetadam on the Battle Royale subreddit, but it has since been deleted. Luckily, Fortnite Insider managed to capture the thread before it was taken down.
First and foremost, the leak establishes credibility by predicting Season 4's Superhero theme three days before its official reveal on Thursday. It's said the upcoming Battle Pass will include at least two Hero skins and two Villain skins based entirely on Epic's own ideas. If that's true, it's possible prior speculation about DC's involvement in Season 4 may be incorrect.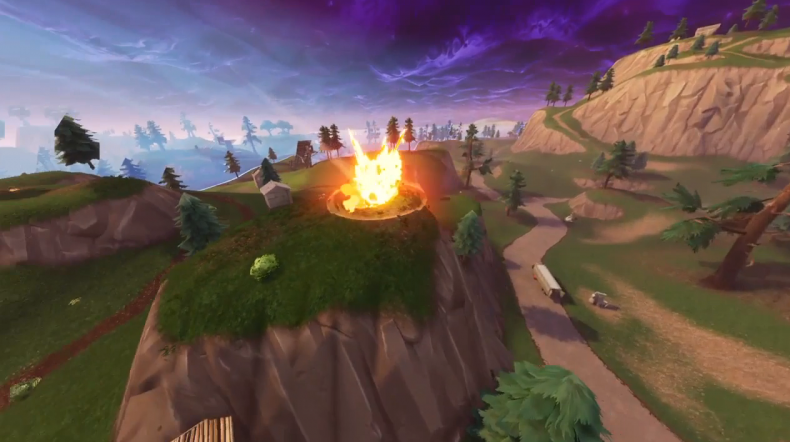 With at least partial accuracy from the source confirmed, let's get to the real story behind the leak. This particular thread suggests the large Meteor will hit Dusty Depot instead of Tilted Towers. Epic has reportedly wanted to make changes to Dusty for a while now, so they'll use the Meteor as an excuse to rebuild.
Additional map tweaks are allegedly due throughout Season 4 as well. Moisty Mire, for example, is expected to be fully gone by the time Season 4 ends. The goal is to transition the Battle Royale map into something that's constantly undergoing transformation. As locations like Moisty Mire and Dusty Depot change, players will be able to watch construction progressively happen as new structures appear. The source says this is something Epic's developers wished they could do when adding Tilted Towers.
If this leak is to be believed, it offers an interesting peek at Fortnite 's future in Season 4 and beyond. Players have long wondered if we'll ever get a second Battle Royale map, but claims like these suggest that won't be necessary. Instead of designing an entirely new space, Epic can save time and development resources by making adjustments to the arena that already exists.
At the time of writing, Meteorites continue to cause havoc and kill players across the Battle Royale map. The large Meteor near Tilted Towers remains suspended. At this point it's fairly safe to assume the biggest event will occur at the end of Season 3 or the start of Season 4. Once we turn our calendars over to May, we may never look at the Battle Royale island the same way again. Leaks such as these should always be taken with a grain of salt, but the ideas mentioned here sound very plausible.
There is no announced start date or time for Season 4. If last season is any indication, however, fans can likely expect an update and new Battle Pass to arrive on or around May 1.
Fortnite is in early access across PS4, Xbox One, PC and iOS.
What are your thoughts on Fortnite 's Meteorite hitting Dusty Depot? Is this leak accurate? Tell us in the comments section.