'Fortnite' Lightsaber Locations: Celebrate May the 4th With Star Wars Weapons and Skins
To celebrate Star Wars Day and May the 4th, Fortnite has brought back lightsabers to their battle royale. First seen as a cross-promotion for the release of Rise of Skywalker, these powerful melee weapons haven't been seen in almost a year. With everyone stuck inside and unable to appreciate their Wookie fandom with other Cantina hopefuls, this may be your best way to hit lightsabers together with a friend (or enemy.)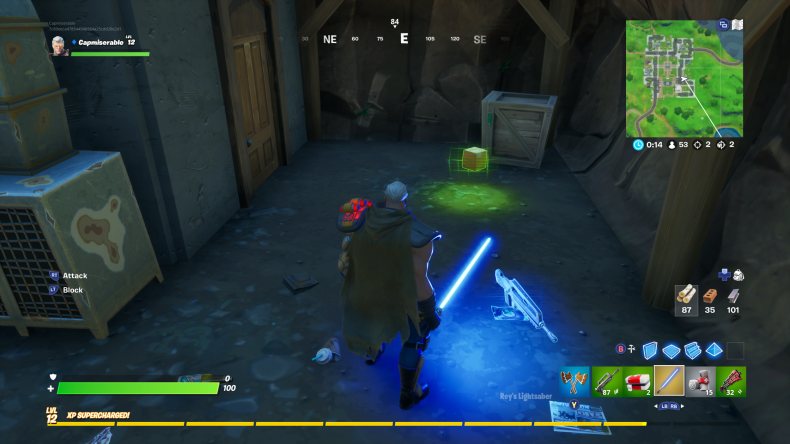 Today's Fortnite Item Shop has been taken over by Star Wars, with the past character skins and their weapons being purchasable with V-Bucks. There's Kylo Ren, Rey and the Sith Trooper, as well as a Vibro-Scythe, Rey's Quarterstaff and a Riot Control Baton. If you need even more Star Wars flair added to your games, the Dark Side emote and Starfighters glider sets are also available for purchase. Have a tiny Y-wing or Tie Fighter bring you into battle on it's little wings: that's how you strike fear into the hearts of your enemies.
How to Find Lightsabers in Fortnite
For today only, lightsabers can be found all around the Fortnite map. Originally held inside exclusive Star Wars chests, this time around they can be found as ground loot or inside regular yellow chests. There are four different variants of lightsabers you can find, each representing a different Jedi or Sith from the Star Wars canon.
Rey's Lightsaber- Blue
Mace Windu's Lightsaber- Purple
Luke's Lightsaber- Green
Kylo Ren's Lightsaber- Red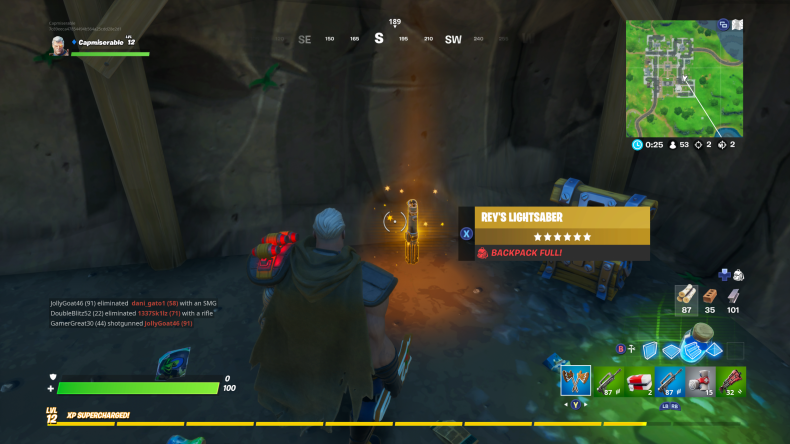 The lightsaber is one of the most powerful harvesting tools Fortnite has to offer, easily cleaving through materials to add to your inventory. Spinning and slashing is a quick way to harvest whatever building material you need to get you through the match. You can hold as many different types of lightsabers as you want, but the only difference between them is their color and handle.
Fortnite allows you to take Cable from the X-Men and give him a blowing blue lightsaber, which is exactly what I did. Even amidst all this chaos, there's something really nice about taking your childhood fictional heroes and throwing them all into a blender for content. Everyone wants to slash a lightsaber and if they can get away with it in the comfort of their own room and console, even better.
Make sure you get to try out the lightsaber before it leaves Fortnite in the next day.