'Fortnite' Live Event to Premiere 'Star Wars: The Rise of Skywalker' Scene Dec. 14
Fortnite is gearing up to host its next big live event, and this one revolves around Star Wars: The Rise of Skywalker. On Saturday December 14 at 2 p.m. EST, the Risky Reels screen will premiere an exclusive scene from the highly anticipated movie. The news arrives via datamines and posters that have recently appeared in-game.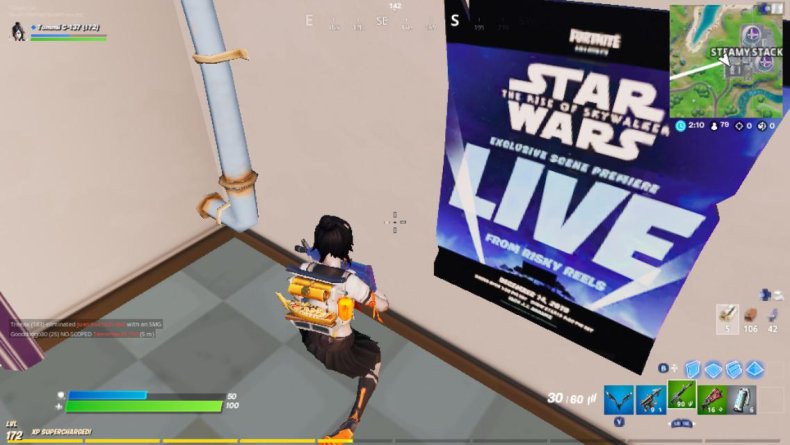 While speculation about a possible Star Wars live event has been happening amongst the Fortnite community over the past few days, murmurs turned to shouts when popular Fortnite leaker ShiinaBR surfaced newly decrypted files from this week's 11.21 update. Among the new additions was this poster render.
It reads as follows: "Fortnite Presents: Star Wars: The Rise of Skywalker exclusive scene premiere LIVE from Risky Reels. December 14, 2019. Doors open 1:30 p.m. EST, show begins at 2 p.m. EST with J.J. Abrams."
While that poster was initially a leak, it can now be found on walls and buildings around the Chapter 2 Battle Royale map. The Risky Reels screen is also displaying similar information to all players at scattered intervals.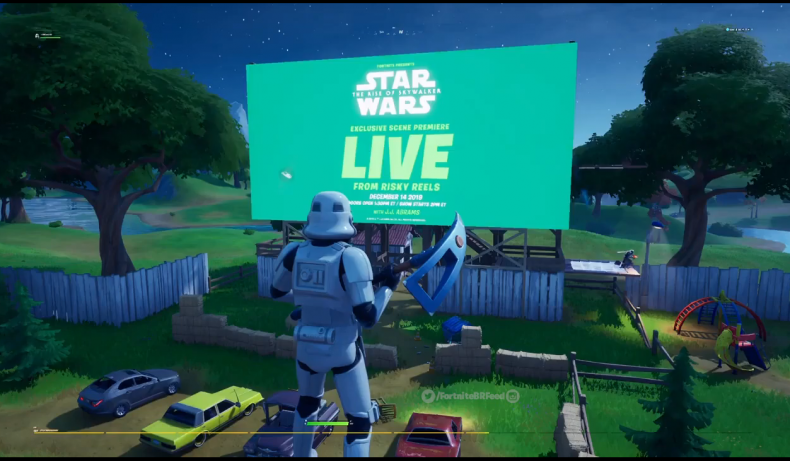 While we don't quite know exactly what scene will play during the live event, tests performed on servers over the past few hours may offer some clues about how the event will play out. On Friday evening, a select group of Fortnite players was able to see a suspicious gathering of four characters with Epic developer gamertags staring at the Risky Reels screen. As this was happening, a voice could be heard performing a standard 1, 2, 3 live microphone test.
Despite not being overtly confirmed, it would appear that two special features were being worked on at once. Not only was Epic potentially seeing if this same group of players could be visible across several different lobbies, but they were also testing the possibility of a live voice being heard in-game as well. This suggests the upcoming Rise of Skywalker live event will feature not just the clip itself but also in-game characters narrating some part of the action. Considering the poster mentions Director J.J. Abrams by name, we imagine his voice and avatar may be on hand to introduce the new footage.
Next week's Rise of Skywalker live event won't be the first Star Wars collaboration Fortnite has seen. Players who purchase Star Wars Jedi: Fallen Order on the Epic Games Store get the Imperial Stormtrooper skin for free. The skin was also sold in the Item Shop for 1,500 V-Bucks. As for collaborations with other films, Fortnite has established close relationships with everything from Avengers Endgame to Wreck-It Ralph.
Fortnite is available now on PS4, Xbox One, Switch, PC and mobile.
Will you be watching Fortnite's Star Wars: The Rise of Skywalker live event? What do you hope to see from the exclusive premiere? Tell us in the comments section!