'Fortnite' & Michael Jordan Clash for NBA Game Recognize Game Event
Fortnite has just announced its next big collaboration via an in-game news post. During the Game Recognize Game event, players have the chance to party like Michael Jordan.
As seen in the image below, the Jordan insignia is prominently featured with the caption "Game recognize game, drop in tomorrow."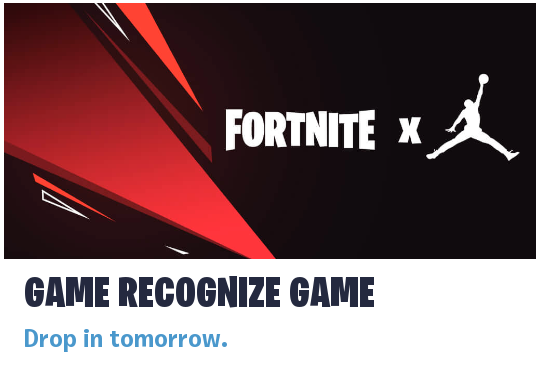 The Game Recognize Game event was also teased by official Fortnite social media accounts as well. The source tweet features emojis of a goat, basketball and sneaker. With these hints in mind, we expect to hear more about the festivities when Fortnite update 9.10 goes live Wednesday morning.
Unlike most past Fortnite collaborations that were almost fully revealed early via datamines, the extent of the Game Recognize Game event remains a mystery. Our most recent point of reference, then, is the Wick's Bounty promotion that took place last week. Alongside the Wick's Bounty LTM, players were able to purchase an authentic John Wick skin and complete challenges tied to themed cosmetics.
When it comes to design and cosmetics, Air Jordan is one of the most recognizable brands in the NBA. Will players soon be able to outfit their favorite Fortnite skins with top-notch sneakers? Might there be a skin of MJ himself? Will limited-time basketball skins like Jumpshot and Triple Threat make a return? All these scenarios seem reasonably possible, but there's still a lot that has yet to be confirmed. It's possible we'll learn more when the Item Shop refreshes at 8 p.m. EDT tonight, but all event-related modes and cosmetics will likely debut around 6 a.m. EDT on Wednesday.
Fortnite is available now on PS4, Xbox One, Switch, PC and mobile.
What do you expect to see from Fortnite 's Game Recognize Game event on Wednesday Are you excited for some Jordan skins? Tell us in the comments section!
'Fortnite' & Michael Jordan Clash for NBA Game Recognize Game Event | Gaming