'Fortnite' Motorboat Mayhem Time Trial Location Week 8 Challenge Guide
Fortnite Season 3 continues with a new crop of challenges for Week 8, so we're here to help you with one of the more obtuse tasks of the bunch. Are you looking for the boat Time Trial at Motorboat Mayhem? We've got you covered with a location for the trial and a brief explanation of what to do once you get there.
Motorboat Mayhem Time Trial location
Motorboat Mayhem is an unnamed PoI on the Battle Royale map, located on the small island northwest of Misty Meadows and southwest of Lazy Lake. You're looking for the island with docks on its borders as opposed to the one without.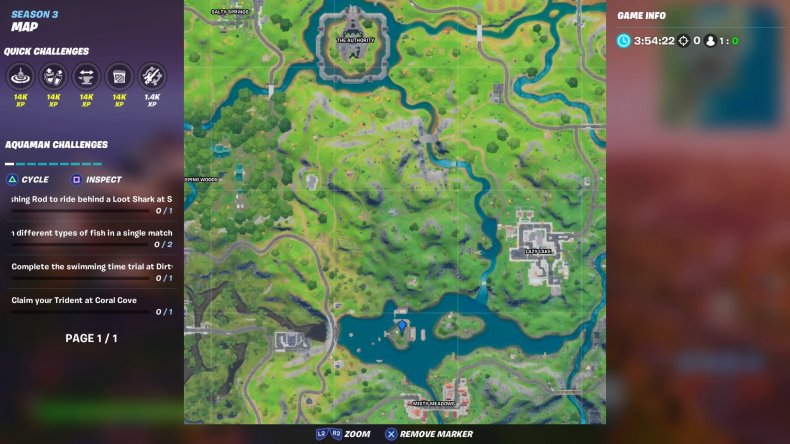 When you get there you'll see a structure with a hanging motorboat. Just whack at it with your Pickaxe and the boat will fall down.
Pilot yourself to the starting line shown here. Park your boat, and the timer will count down from 15 seconds. Once that timer has elapsed, make your way through the rings that appear on the track. Some will show up as big arches along the route, while others will be large hoops hovering above jumps. All you've got to do to complete this Week 8 challenge is make it through those rings as quickly as possible before the trial ends and all the markers disappear. There's plenty of time to get the job done, so just follow along the course at a solid pace. It should be no struggle to get the XP for this vehicle-based challenge.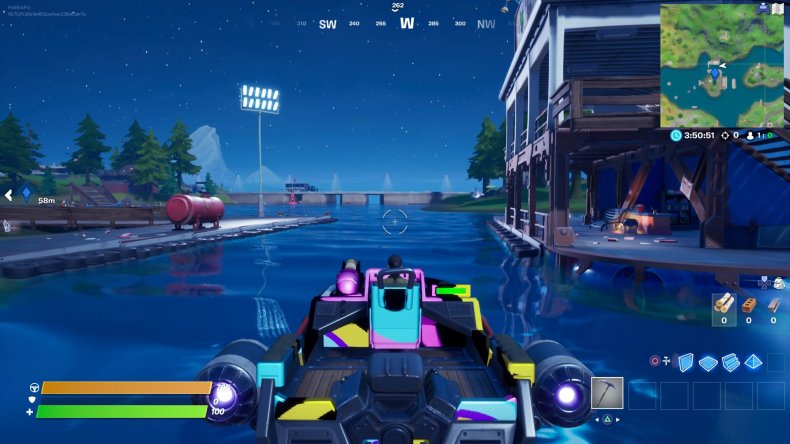 It's also worth noting that some rings may not disappear as you pass through them. That's OK. Just keep going along the path toward Hydro 16 and listen for the beeps to ensure you're still headed in the right direction.
Fortnite Week 8 Challenges
Completing the boat Time Trial at Motorboat Mayhem is just one of the challenges to make its debut during Week 8 of Season 3. Here's the full list of objectives for those who may have missed them at the in-game Challenge Table.
Search Chests at Frenzy Farm (seven)
Eliminations at Salty Springs (three)
Complete the boat Time Trial at Motorboat Mayhem
Drive a Car from Pleasant Park to Reail Row in less than four minutes
Collect Wood at Holly Hedges (500)
Deal damage to opponents from inside a vehicle
Search Ammo Boxes at Lazy Lake (seven)
With the major addition of cars to spice things up in the larger game, Fornite's Week 8 Challenges aren't all that exciting. While a few of the tasks require driving the new vehicles or switching to the passenger's side to damage foes, the objectives themselves are fairly easy. When it comes to the Motorboat Mayhem Time Trial, it's more a matter of knowing where Motorboat Mayhem is than completing the lap itself. That's all you need to know about the Motorboat Mayhem Time Trial and Fortnite's Week 8 Challenges.
Fortnite is available now on PS4, Xbox One, Switch, PC and mobile.
Did you find the Motorboat Mayhem Time Trial? Which Week 8 Challenge is your favorite? Tell us in the comments section!