'Fortnite' New Quadcrasher ATV Vehicle Revealed for Next Update
Fortnite 's in-game news post was recently refreshed to reveal a brand-new ATV-style vehicle called the Quadcrasher. Presumably, the all-terrain craft will debut in the game's next major update.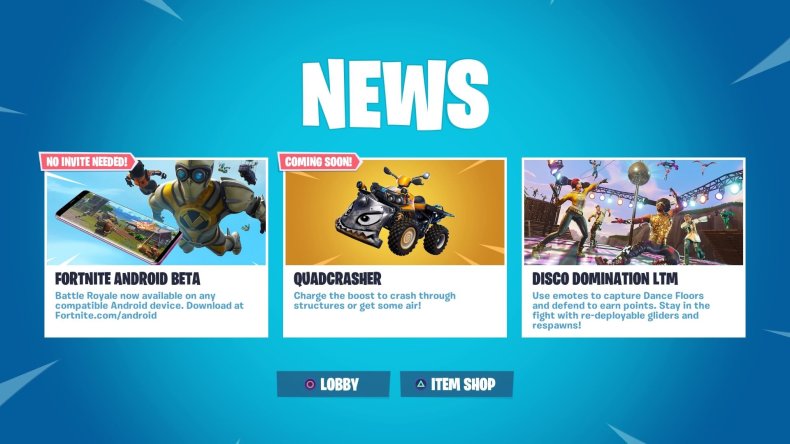 As seen above, the official description suggests players with a Quadcrasher can "charge the boost to crash through structures or get some air." The plow-like front end of the vehicle seems perfectly suited for troubling unsuspecting builders. A surprise death due to fall damage is always fun to watch, as long as you're not on the receiving end, and the Quadcrasher makes those opportunities far more likely at the hand of its sole pilot.
This is Fortnite's third major vehicle addition since the Shopping Cart debuted in May, followed by the ATK in July. True to the game's early access nature, both items have suffered from intermittent glitches prompting their occasional removal from the game. With many more months to hone this growing roster of vehicles, we hope the Quadcrasher's first days are a bit more seamless.
This brief news post amounts to our first tease for Fortnite's next big update. Its release date and version number are unclear, but we expect the Quadcrasher will be live for all players sometime next week.
Fortnite is available on PS4, Xbox One, Switch, PC and mobile. The Quadcrasher arrives the same day for all platforms.
Are you looking forward to Fortnite's Quadcrasher? Would you like to see another vehicle beyond an ATV? Tell us in the comments section!