New 'Fortnite' Season 4 Skins Leaked: Liteshow and Nitelite Available Now
Fortnite fans love getting a headshot with a sniper rifle after a hard-fought battle, seeing that #1 victory screen and crazy skins. With the release of Season 4, players have been obsessively skimming over each new piece of information shared or leaked out of Epic Games. Dataminers routinely scour the game's code looking for any new information, and the latest update is no exception. Hidden deep in the corners of patch 4.0.0 were a collection of new cosmetics making their way onto the live servers over the next few weeks.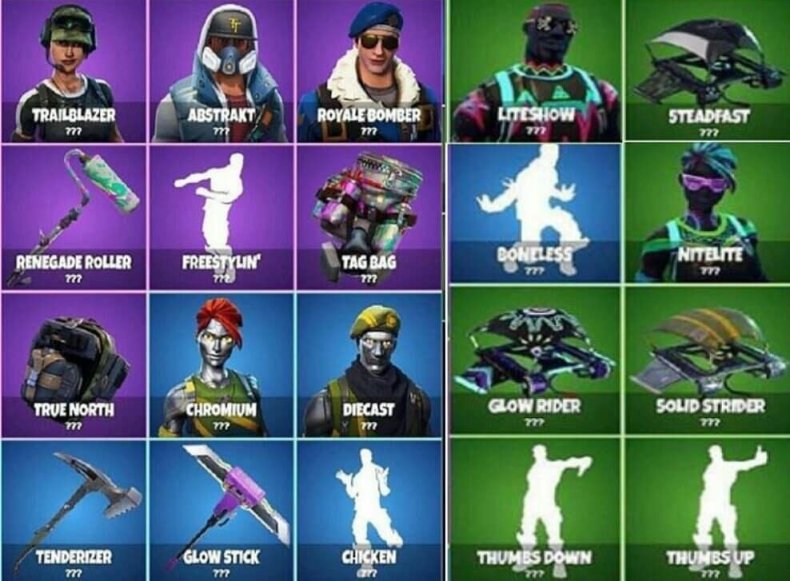 The Liteshow and Nitelite skins will be the first to hit the V-bucks shop. If you're into looking like a gaudy pinata stuck at a rave, then your Fortnite dreams have finally come to fruition. For 800 V-Bucks you can annoy your friends with the John Wick skin by standing out in the middle of a field and calling enemies to your position. Glowing isn't necessarily a benefit in a fire fight, but for an extra 500 V-Bucks each, you can buy a Glow Rider Glider or Glow Stick Harvesting Tool, or pay 1,800 for the whole deal. If the early 90's rave scene is something you feel the need to eulogize in Fortnite , there literally isn't a better package.
The rest of the skins and emotes still remain elusive, though reddit user u/Joshua51423 claims to have found something odd in one of his matches. In the pre-game lobby, ol' Joshy noticed someone wielding the new Tenderizer axe and "Freestylin'" emote, which is weird because they are both unavailable. Speculative commentators suspect an Epic developer or admin playing around with his unique toys to be the culprit. If I worked for Epic Games and had access to nearly everything before the general public, I'd be doing the same. That's why I'm here writing about Fortnite in my underwear and they're dancing wherever they please.
Which skin is your favorite? Spam "wow xd" in the chat if it's Omega.