'Fortnite' New Year's 2020 Live Event Starts With Fireworks & Disco Ball
Fortnite is ringing in 2020 early with a live event featuring fireworks, a Disco Ball and plenty of dancing. The festivities began over the last few hours and are expected to happen regularly for the next day or so. For those who've yet to see it in action, we've included footage of the limited-time happening below.
As seen in this clip from CryptonX on YouTube, the live event begins with a massive Disco Ball emerging through a rift in the sky in the middle of the Chapter 2 map. Shortly thereafter, a 10-second countdown timer appears and some funky tunes start to play. When the timer elapses, a flurry of fireworks fills the map and players are free to dance and emote without penalty or fear of Elimination. After a few seconds the Disco Ball disappears and traditional Battle Royale action resumes.
For those who've played lots of Fortnite over the past year, then, the 2020 New Year's Event is essentially exactly the same as the one that happened in 2019 with updated fireworks to suit the new calendar. Unlike most Fortnite live events, this one is also pretty hard to miss because it will be happening hourly across the globe. After all, different time zones mean 2020 starts at different times of day, so the event has to occur several times a day in all territories for everyone to see it at the appropriate time.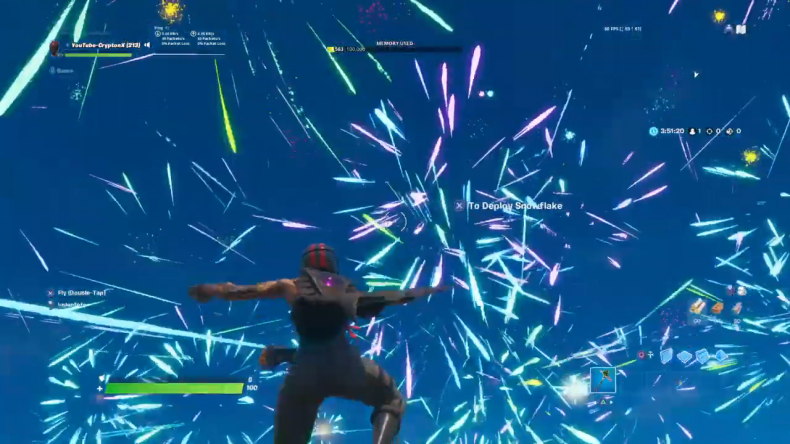 It's also worth noting that, while this event is pretty easy for players to witness, there's nothing particularly special to earn or do once the festivities begin and end. Several of the Winterfest rewards include firework-themed wraps and cosmetics already, so players who've completed those challenges should have all the skins they need to celebrate 2020 in style.
As those who follow Fortnite closely will know, the New Year's Eve firework event isn't the only major happening to occur in Battle Royale over the past few days. Starting December 25, players also recognized the emergence of occasional snow squalls that obstruct view and range in severity. There's some discussion amongst fans that these storms may pave the way for bigger developments over the next few weeks, but it doesn't appear there will be many major map changes in the opening hours of 2020. We'll do our best to keep you posted if and when anything new occurs.
Fortnite is available now on PS4, Xbox One, Switch, PC and mobile.
What are your thoughts on Fortnite's New Year's event? Were you expecting more than fireworks? Have you seen the Disco Ball yet? Tell us in the comments section!