'Fortnite' Ninja Skin Revealed: How to Get the Icon Series Outfit in Item Shop
The latest Fortnite 11.40 patch has dropped, bringing in a whole new wave of cosmetics for players to take a look at. There are 23 new skins found in the code, including new rewards for OverTime Challenges. With a team of commandos, the odd-looking Jellie and whatever monster Komplex is supposed to be, this patch is full of new items that will give Fortnite players a lot to consider. See all the leaks in the tweet below.
The biggest reveal from this patch had little to do with the other skins, but rather the first Fortnite in-game item set dedicated to a streamer that's blown up in popularity over the past few years: Ninja.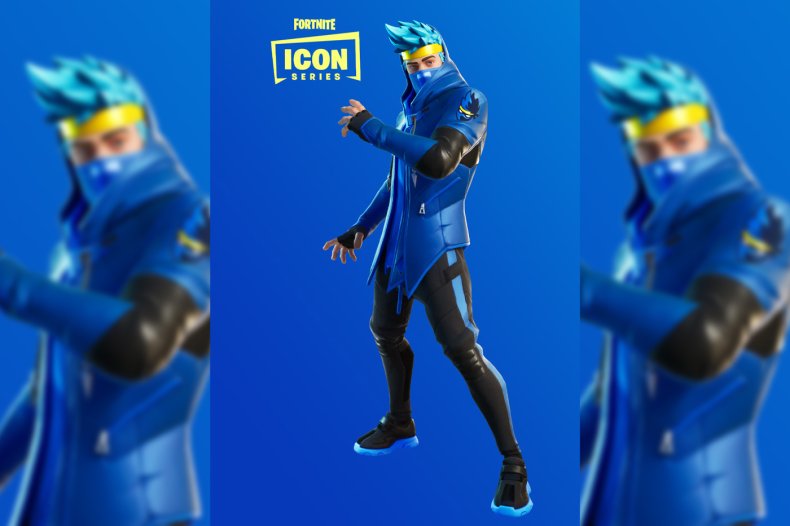 How To Get Fortnite Ninja Skin
Tyler "Ninja" Blevins, the former Twitch streamer turned Mixer pro, finally has a Fortnite skin created using his likeness. Ever since Blevins blew up in popularity and became the main figurehead for content creators in traditional media, he's wanted his own skin in the popular Battle Royale game. Epic Games has finally granted his wish, so fans can finally play as Ninja in-game.
The Ninja skin is part of the Icon Series line, created to model artificially inflated likenesses of celebrities involved with Fortnite. The first two skins in the line were for musicians Major Lazer and Marshmello, who have both contributed to in-game events. Streamers LoserFruit and The Grefg will be featured in future Icon Series releases.
Four different variations of the Ninja skin, with his trademark spiky blue hair and face mask, have been gifted to the streamer. There's also his "PonPon" dance as an emote, which he does after securing a Victory Royale. The skin will be purchasable from the Item Shop from January 16 through January 19 for Fortnite players, though it's still unclear how many V-Bucks it will cost.
"This is one of the best skins, though I'm a little biased, in the game," Blevins said in the reveal stream for the skin on Mixer.
In October of 2019, Blevins went on stream to complain about the current state of skins in Fortnite. "I really would like some new skins," Blevins stated on his Mixer stream while in a Duos queue. "Some new concepts that aren't just reskinned. I feel like they're releasing a lot more of the same skin with a different colorway." The game's developers may have listened, and now we have a Ninja skin to deal with.
Will you be purchasing Ninja or will he remain another skin that you just don't need? Tell us in the comments.