'Fortnite' Now Playing Lobby Streams Free 'Punk'd' Episodes Every Hour
Fortnite players may have seen a new queue appear next to their Solos, Duos and Quads over the past few hours. The feature, called Now Playing, is Epic's latest marketing partnership designed to please the game's millions-strong audience. If you've ever wanted to stream free episodes of Punk'd courtesy of quibi, now you can.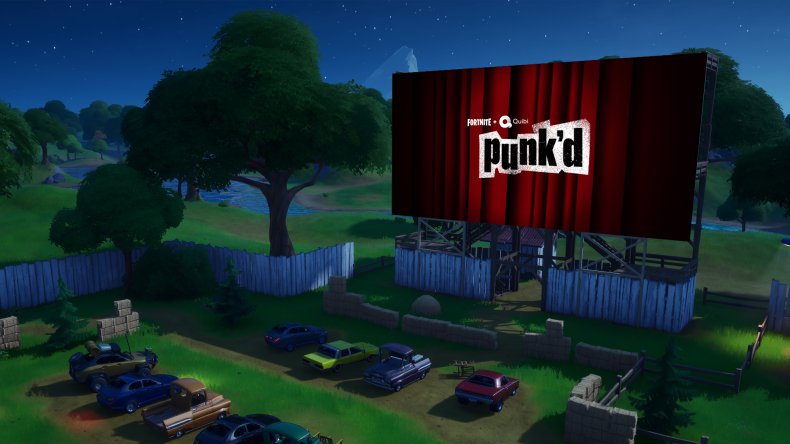 For those who haven't yet seen it, here's the official description of Fortnite's Now Playing lobby:
"Just want to Risky & Chill? Hang out in Now Playing to catch the hourly screenings of Punk'd. Top of the hour, every hour."
To clarify, this iteration of Punk'd isn't the Ashton Kutcher project some older readers may be used to. Quibi's 2020 take on the show features the same basic premise hosted by Chance the Rapper instead. So far the series has one season with five episodes and presumably more to come. Throughout the course of the episodes Chance has played elaborate pranks on celebrities including Meg Thee Stallion, Liza Koshy and Sabrina Carpenter.
Because the Now Playing Lobby isn't quite live yet at the time of publish, it's not immediately clear precisely how the feature will work. That being said, if a Thursday-evening tweet from quibi is any indication, fans will likely see it debut later today. "We're prepping the last few things before the big show tomorrow," the social media post reads.
Following other Risky Reels partnerships with Star Wars: The Rise of Skywalker and Ralph Breaks the Internet, we imagine this iteration will be somewhat similar. In this lobby, fans can't be truly Eliminated and are meant to congregate at Risky Reels for regular shows every hour. Especially in this era of social distancing, creating a social space to talk with friends and have a few laughs seems like a pretty good idea.
As for quibi, the platform was founded in 2018 as a streaming video service designed for a mobile audience. Its shows, while featuring fairly high production value, are dispersed in episodes that are about 10 minutes long. As such, given how few episodes of Punk'd there are and the short length of each show, it likely won't be long before you've seen everything this lobby has to offer. That being said, it still sounds like a solid way to spend a night in with the virtual comfort of friends. It's not clear how long the lobby will be open or what other shows may appear there in the future.
Fortnite's Now Playing lobby was discovered after a maintenance update was applied to the game earlier this week. It's possible the patch was deployed specifically to add this feature, but we imagine some other bugs were fixed in the process as well.
Fortnite is available now on PS4, Xbox One, Switch, PC and mobile.
What do you think of Fortnite's Now Playing lobby? Will you be watching any episodes of the new Punk'd reboot? Tell us in the comments section!