'Fortnite' Party Royale Anderson .Paak Event - Start Time, Schedule & More
Fortnite Party Royale Concert Series Spotlight returns with its second big showcase, and this time it's all about Anderson Paak. Want to know when the rap and R&B Grammy winner plans to start tearing up the Main Stage? We've got all the start times, directions and rebroadcast schedules you're looking for.
When does the Anderson .Paak Party Royale event start?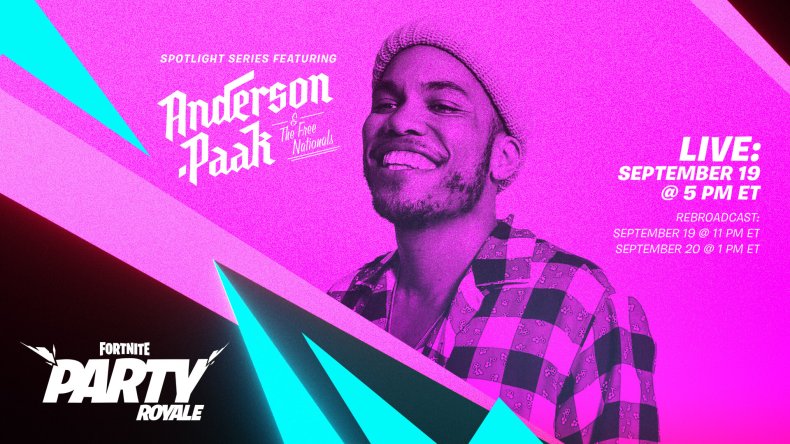 The very first Anderson Paak Party Royale concert is set to take place September 19 at 5 p.m. EDT. However, those who can't make it to the show during the afternoon hours will have two additional chances to join the party. Rebroadcasts will happen at the following times.
September 19 at 11 p.m. EDT
September 20 at 1 p.m. EDT
Of course those unable to attend any of the three possible viewings will still be able to watch videos of it on platforms like YouTube, but actually going to one of these concerts is the only way to see it from the viewpoint of your chosen skin. If you want to be the one busting out that slick emote while awesome music plays, you'll need to surrender some time over the weekend. The concert is expected to be about one hour long.
How to attend the Fortnite Anderson .Paak event
If this is your first time dropping in to a Fortnite Party Royale concert, you might not know where to go. To get started, open up Fortnite, scroll to the main lobby screen and press the designated button to "change" your lobby. Select the option for Party Royale.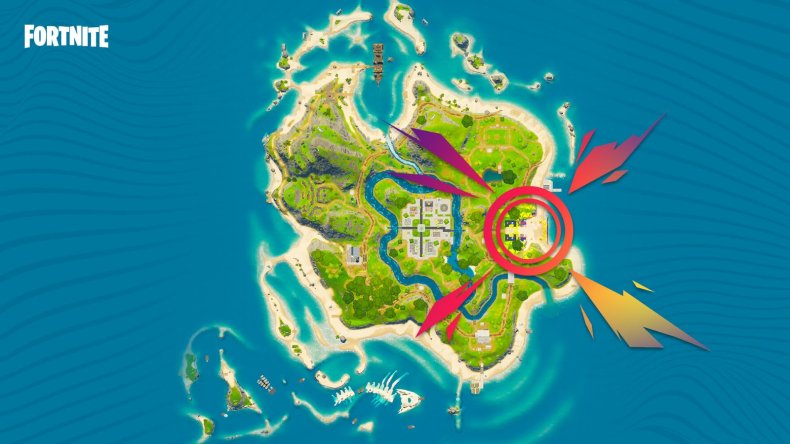 Once you're able to drop in, this official map from Epic Games details the precise location of the show. Just head to the eastern side of the small Party Royale island, and follow the lights to reach the Main Stage. Unfortunately due to capture restrictions we can't show you what the space looks like ourselves, but you should be able to follow the flood of players heading there as the start time approaches.
What to expect from the show
For those who may not be super familiar with Anderson Paak's discography, he's perhaps most famous for the song "Bubblin" and his newly released album titled "Ventura." Paak's been making music since 2014 so his discography is fairly extensive, but we imagine he'll mostly be playing songs from his most recent albums during his Fortnite showcase. He hasn't personally given an indication of what the setlist might look like, so there may be a few surprises.
Do I get rewards for going?
Party Royale concerts have given out Back Blings and other cosmetics in the past, but at least as far as the Party Royale Concert Series Spotlight is concerned, it doesn't look like there'll be any skin-based incentive to attend the event. In other words, if you're not a fan of Paak, don't feel pressured to be there on time.
Fortnite is available now on PS4, Xbox One, Switch, PC and Android.
Will you be watching Anderson Paak at Party Royale this weekend? Who do you want to see in the next Concert Series Spotlight? Tell us in the comments section!