'Fortnite' Party Royale Dominic Fike Event - Start Time, Schedule & More
Fortnite Party Royale Concert Series Spotlight begins tonight with an exclusive performance from singer, rapper and songwriter Dominic Fike. Curious about when the event starts and what to do when the time comes? We'll tell you all you need to know about start times, schedules and the larger Party Royale process.
When does the Dominic Fike Party Royale event start?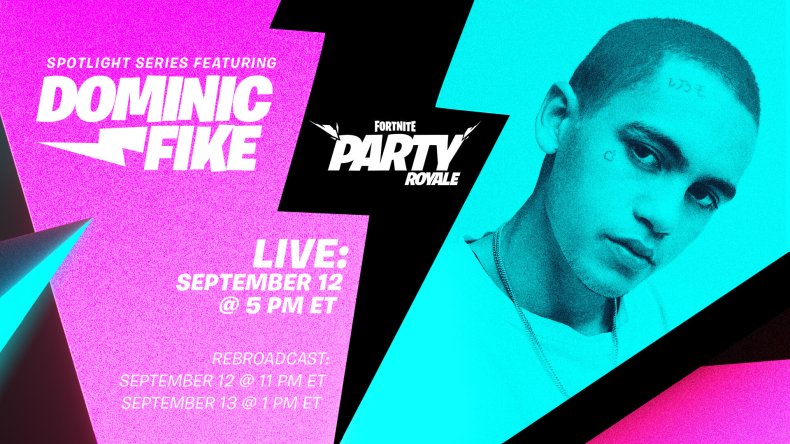 If you want to catch Domic Fike the first time he performs his live set, you'll need to drop into the Party Royale lobby at 5 p.m. EDT September 12. Thankfully, however, Epic has already confirmed two rebroadcasts for those who can't make the show at this time.
September 12 at 11 p.m. EDT.
September 13 at 1 p.m. EDT.
Unfortunately, if you can't squeeze any of these timeframes into your schedule, you won't be able to see the event in the traditional way. YouTube will likely offer a wide assortment of recordings of the concert, but you obviously won't be in control of your character to freely emote while watching a video after the fact. For the true Party Royale experience, fans must find the time.
How to attend the Fortnite Dominic Fike event
Once you've got a timeslot figured out, the next step is attending the show itself. To do that, drop into the Party Royale lobby that will be available shortly before any of the above-mentioned start times. Just like the Battle Royale Island, this map has its own unique setup with all kinds of attractions.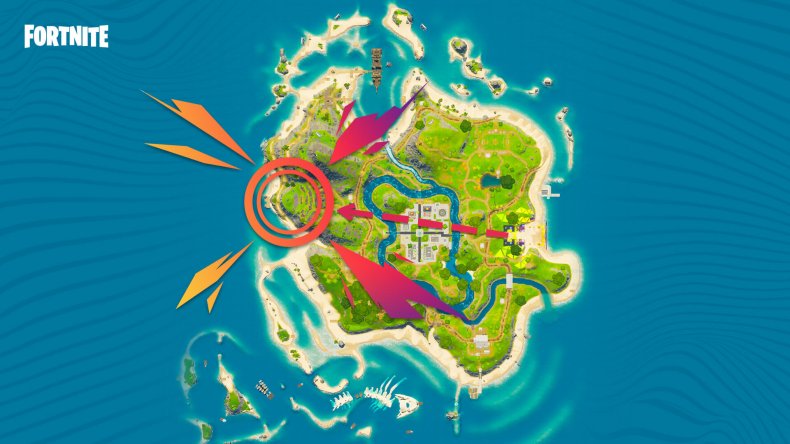 The Dominic Fike event, and presumably the rest of the Fortnite Party Royale Concert Series Spotlight, will take place at the Main Stage on the map's eastern side, as marked in the image above. Unfortunately recording is disabled there, so we can't share a screenshot of the location ourselves.
What to expect from the show
During the concert, Dominic Fike is expected to perform his new album, "What Could Possibly Go Wrong," for the very first time. This performance likely includes the record's hit single,"Chicken Tenders." His 2018 track "3 Nights" also went Platinum in several categories as well.
Are there any cool rewards up for grabs this week?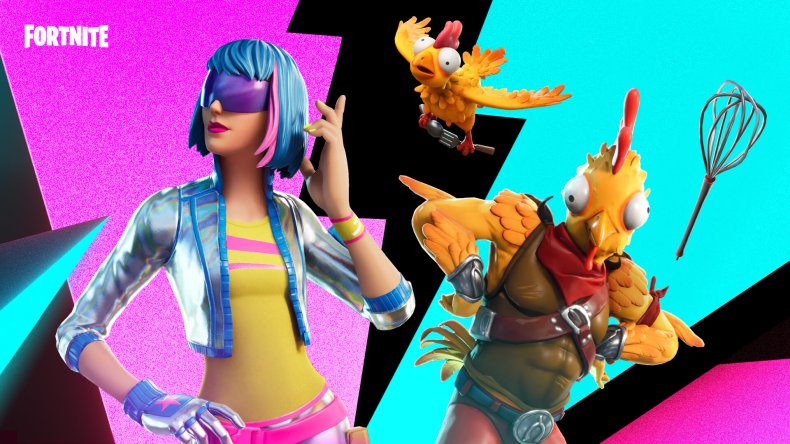 While many Party Royale events have featured some kind of sweet cosmetic reward, it doesn't look like the Dominic Fike one will. Fans can purchase the new Shimmer Outfit or the returning Tender Defender, but those are only sold in the Item Shop for premium V-Bucks.
Fortnite is available now on PS4, Xbox One, Switch, PC and mobile.
Will you be watching the Dominic Fike event in Party Royale tonight? Are you excited to hear his new album? Tell us in the comments section!