'Fortnite' Party Royale Event With Steve Aoki & Deadmau5 - Tracklist & What Happened
Fortnite hosted its second weekly Party Royale concert on Friday night, and it was even bigger than the Diplo festivities the week before. Over the course of a 55-minute setlist, EDM artists Dillon Francis, Steve Aoki and deadmau5 took to the virtual stage to perform dozens of old school and current songs that got the crowd moving. In case you missed it, here's a full recap of the event as it happened.
About 30 minutes before the event's scheduled start time at 9 p.m. EDT on Friday, fans were able to make their way to the Party Royale lobby and set themselves up at the Main Stage. When the festivities began, actor and Fortnite fan Jordan Fisher offered a brief message to describe what fans were about to see. Dillion Francis, Steve Aoki and deadmau5 performed three entirely separate sets in that order until about 10 p.m. Flossing and bright lights abound, fans floated and buzzed around the area while each set continued without interruption.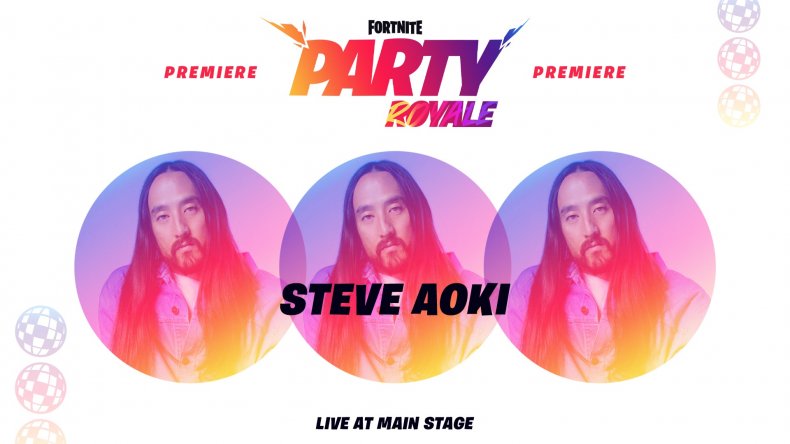 Here's a full rundown of every song played during the event for those keeping track with the clip above.
Dillon Francis
"Still Not Butter"
"Bun Up The Dance"
"Salsabahton"
"Candy"
"What's That Spell"
"Need You"
"Ven"
"Get Low"
"Touch"
"Go Off (Nuthin' 2 It)"
Say Less
Steve Aoki
"I Love My Friends (Armin van Buuren & Avian Grays Remix)"
"Waste It On Me (Steve Aoki Bold Tender Sneeze Mix)"
"Popcorn"
"Just Hold On vs. Pursuit Of Happiness (Steve Aoki Edit)"
"Mayhem"
"Azukita (Festival Edit)"
"Boneless"
"Are You Lonely (Steve Aoki Remix)"
"One True Love"
"I Wanna Rave"
"Mic Drop vs. Alamo (Steve Aoki Mashup)"
"New Blood"
Deadmau5
"Hi Friend"
"The Reward Is Cheese"
"Some Chords (Dillon Francis Remix)"
"Maths"
"Maths (Cobra Effect Remix)"
"Moar Ghosts N Stuff"
"Ghosts 'N' Stuff"
"Monophobia"
As soon as the last song finished deadmau5 took off his trademark mask to offer up a quick wave to the virtual crowd, and that was it for Fortnite Party Royale. After the concert ended fans could still groove to a remixed version of Fortnite's lobby theme, but that was it for the fireworks.
The night was over, but those who had been actively playing Fortnite leading up to the concert were given a special gift they can keep forever. The Neon Wings Back Bling seen all over the above video is available to all who log in to the game through May 11 at 10 a.m. EDT. Even if you don't attend the concert yourself, this cool cosmetic can be yours whenever you want it. And, if you'd like to see the concert from the perspective of your favorite skin, a live replay is set to take place May 9 at 2 p.m. EDT.
Fortnite is available now on PS4, Xbox One, Switch, PC and mobile.
What did you think of the Dillon Francis, Steve Aoki and deadmau5 Party Royale concert? Can we expect another show next week? Tell us in the comments section!