'Fortnite' Party Royale Hosts 'Rocket League' Kaskade Concert March 26
Fortnite Party Royale has been somewhat silent in recent months, but that lull is about to come to an end with a special Rocket League-centric collaboration featuring Kaskade. On March 26 at 8 p.m. EDT and March 27 at 9 a.m. and 2 p.m. EDT, the Grammy-nominated DJ, record producer and remixer will take to the virtual stage in Neon Fields for a concert experience like no other. Players can watch the festivities inside Fortnite, as well as in the video player of Epic's own Houseparty mobile application.
In contrast to the past Party Royale events featuring stars like Travis Scott, J Balvin and Anderson.Paak, this one will feature "heightened production elements and immersive story-driven visuals" that fully blend the worlds of Fortnite and Rocket League into one cohesive universe. In addition to playing some of his most iconic tunes, Kaskade will travel between multiple stadiums in Rocket League cars before taking the stage. In other words, viewers might want to keep their eyes out for roaming vehicles at all times.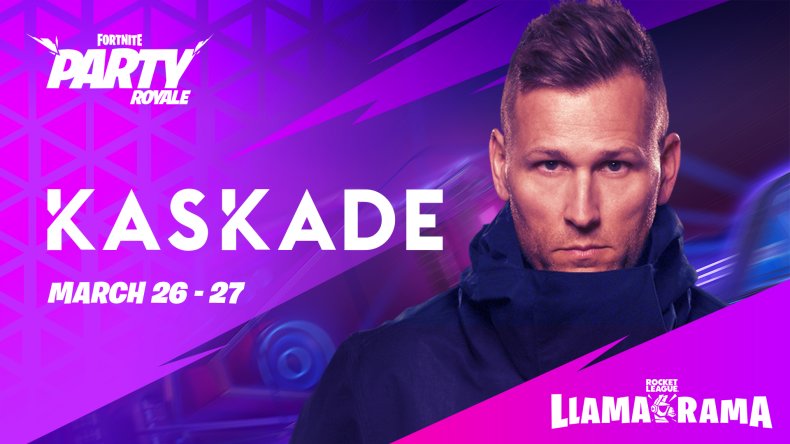 This exciting Fortnite and Rocket League crossover arrives following Epic Games' purchase of Rocket League developer Psyonix in May of 2019. Since then, Epic has been seeking out unique ways to blend the audiences of its two party-driven properties. In December, Rocket League began a new season of music-themed content with Kaskade as its headliner. In March, he released a new EP called Reset, which includes a selection of four tracks inspired by the game. With that in mind, we imagine those songs will be heavily featured in Kaskade's virtual setlist later in the week.
It's also worth noting that those who haven't yet heard Kaskade's music currently have an opportunity to do so while playing Battle Royale. Simply board a drivable vehicle and switch the in-game radio station to Radio Yonder. Kaskade has taken over most of the rotation on that station since January.
Kaskade's EDM-fueled beats meld perfectly with the sounds Rocket League has inspired since launching on PlayStation Plus in 2015. However, he's become a luminary in the larger music industry well outside the realm of video games too. He's received seven Grammy Award nominations since 2013 and took home America's Best DJ Award in 2013 and 2015 respectively. Like most of Fortnite's Party Royale artists, Kaskade is a performer at the top of their game. In this new Party Royale concert event, you'll be able to watch him in action for free.
Fortnite is available now on PS5, PS4, Xbox Series X|S, Xbox One, Switch, PC and Android.
Will you be watching Kaskade when he comes to Party Royale on March 26? Which Fortnite concert has been your favorite so far? Tell us in the comments section!