'Fortnite' Presents Guide: All Gifts Listed to Help Decide Which to Open Next
The Fortnite Winterfest event has officially begun, giving players 14 days of free cosmetics to celebrate the season. Unlocking more than a dozen items without dropping any actual cash is a welcome gift for those addicted to the popular battle royale, with exclusive Star Wars and holiday-themed gifts for you to get your hands on through January 6.
To unlock these items, open your Fortnite client and scroll to the snowflake on the left of the screen. There you will be taken to the Winterfest Presents lodge, where you can enjoy a nice cup of cocoa with an evil Nutcracker or collect special challenges. The real selling point of this event, however, are the gifts you'll receive just by logging in. You can't actually see what's inside before opening up, though, you can tap the boxes to hear a small sound blurb.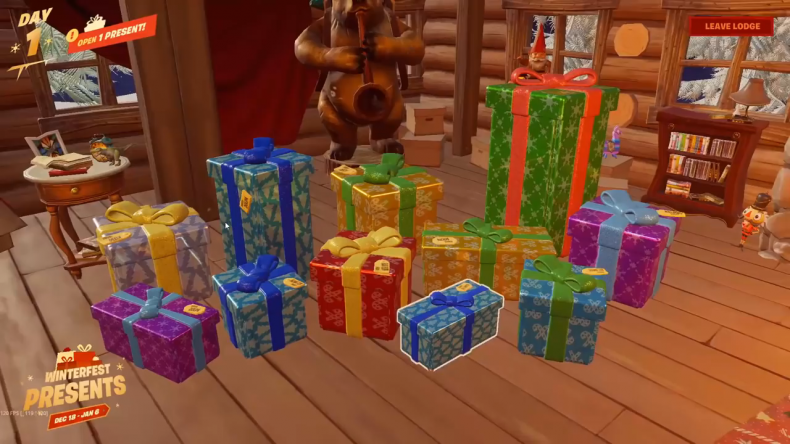 The presents stack day after day, meaning you don't have to log-in every 24 hours to make sure you don't miss out on the items. Giving players some leeway when it comes these presents is a very welcome sign ofb mercy.
Data miners have uncovered what exactly can be unlocked, including a Millenium Falcon glider that might be enough to bring even the most disengaged of lapsed players back into the fold. Our Falcon glider was in a very clearly shaped box, though there are reports that the results may not be the same for everyone. Currently the two skins that transform into a Christmas tree or sassy Wooly Mammoth are unavailable, but those will most likely be unlocked in the last days of the event.
Fortnite Winterfest Presents List
Here's the full list of Presents you can unlock by logging into Fortnite over the next two weeks:
Shortbread Slicers (Harvesting Tool)
Treefall (Glider)
Snowshaker (Emote)
Well Wrapped (Wrap)
New Year 2020 (Wrap)
Skull Reaper (Loading Screen)
The Great Crackup (Loading Screen)
Merry Beastmas (Loading Screen)
Millennium Falcon (Glider)
Merry Chipmas (Music)
Frozen Nog Ops (Outfit)
Holly and Divey (Contrail)
Peppermint Pick (Harvesting Tool)
The Sith (Back Bling)
Remember that if you didn't get the one you wanted today, you'll have a chance to get the full set. Expect to see a lot of holiday cheer in your matches for the next few months.
Which of these items is your favorite? Tell us in the comments.