'Fortnite' Quinjet Patrol & Loading Screen Location Wolverine Week 2 Guide
Fortnite Week 2 Challenges are live, and they feature a brand-new Battle Pass objective towards the Wolverine skin. In this guide, we'll explain how Quinjet Patrol Sites work and reveal the location of the Loading Screen picture. If you want this sweet X-Men Outfit in the next couple weeks, here's everything you need to know.
What are Quinjet Patrol Sites?
Quinjet Patrol Sites are a new feature in Fortnite Season 4, and they're found in Solos, Duos, Squads and Team Rumble alike. As players drop from the Battle Bus at the start of each match, you'll see a series of Quinjets fly over and land at specific spots on the map. These Quinjet Patrol Site locations change each time, but they're visible from above via a plume of purple smoke.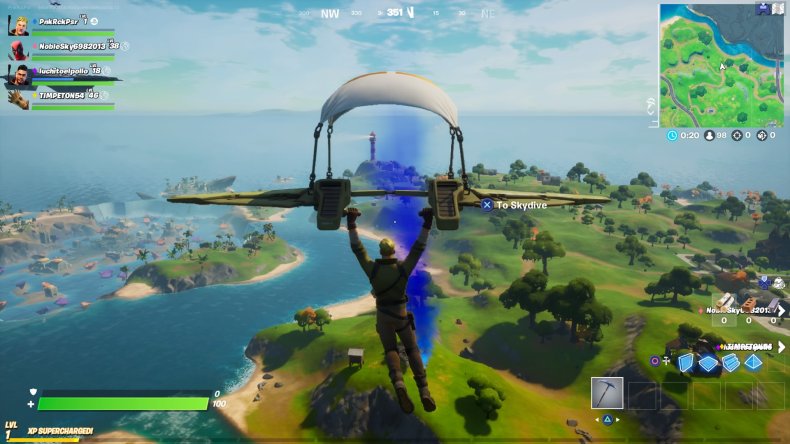 In case that's not enough of an indicator for you, Quinjet Patrol Sites are also marked as white plane icons on the mini-map as well.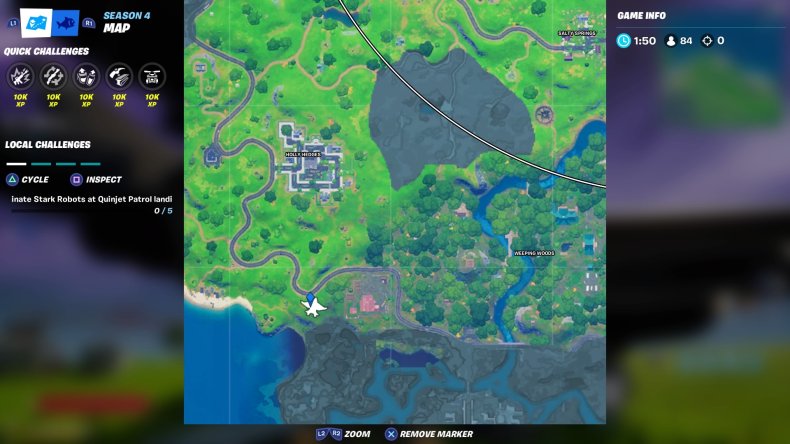 How to find the Loading Screen picture for Wolverine Week 2
In order to complete the Wolverine Week 2 Challenge, Battle Pass owners must visit one of these Quinjet Patrol Sites. We'd advise doing so in Team Rumble, as Quinjet Patrols in other queues are surrounded by Stark Robots. If you complete this challenge in Rumble you won't have to deal with any added distractions.
Once you land at a Quinjet Patrol Site you'll notice the aircraft looks like this. Our image was taken after a bad mix-up with some robots, but you don't have to deal with those if you don't want to.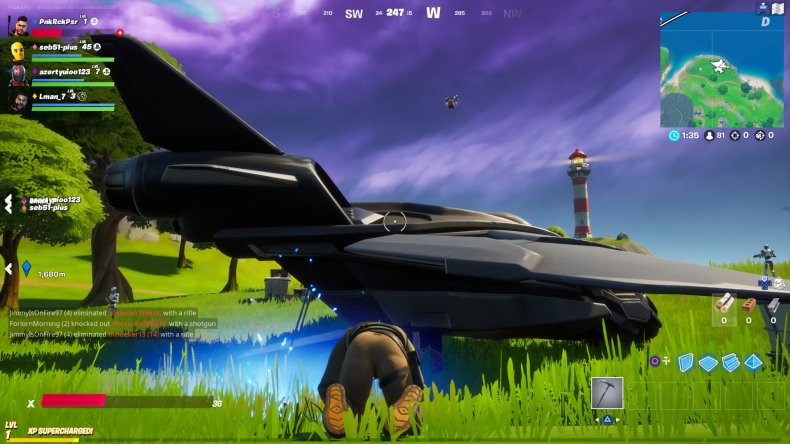 To get the Loading Screen picture, simply board the back of the Quinjet and snag the Loading Screen on the wall. In fact, even in the event a Quinjet gets destroyed in the heat of battle, the Loading Screen will remain floating in mid-air for you to take. Just press the button to search, and this easy Wolverine Challenge is done.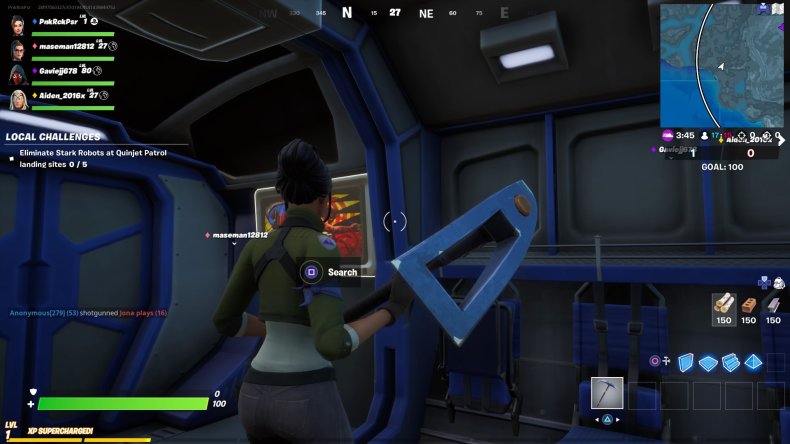 This week's reward is the Adamantium Loading Screen you just collected. It's basically pointless, but completing this challenge means you're one step closer to unlocking Wolverine later in the season.
Fortnite Week 2 Challenges
Finding a Loading Screen at a Quinjet Patrol Site is just one task on a larger list of Week 2 Challenges that debuted in Fortnite Thursday morning. Here's the full rundown of objectives for those who've yet to scope them out at the in-game Challenge Table.
Search Chests at Salty Springs (seven)
Eliminations at the Authority (three)
Dance on top of different Sentinel Heads at the Sentinel Graveyard (three)
Destroy Boats at Craggy Cliffs (seven)
Bounce on different Dog Toys at the Ant Manor (four)
Ride a Motorboat Under different colored Steel Bridges (three)
Search S.H.I.E.L.D. Chests inside Quinjets (seven)
Find the Loading Screen picture at a Quinjet Patrol Site [Wolverine Challenge]
That's all you need to know about Fortnite's Week 2 Wolverine Challenge.
Fortnite is available now on PS4, Xbox One, Switch, PC and Android.
Were you able to find the Loading Screen picture at a Quinjet Patrol Site? Which Week 2 Challenge is your favorite? Tell us in the comments section!