'Fortnite' Reboot a Friend Guide: How to Get Points for Free Rewards
Fortnite's Reboot a Friend program is now live through April 26, and you may be wondering what this promotion means for you and your Squad. In this no-nonsense guide, we'll explain how the Reboot a Friend feature works, detail its rewards and outline the best strategies for getting points quickly. Want some new skins for your cosmetic Locker? Here's what you need to know.
What is Reboot a Friend in Fortnite?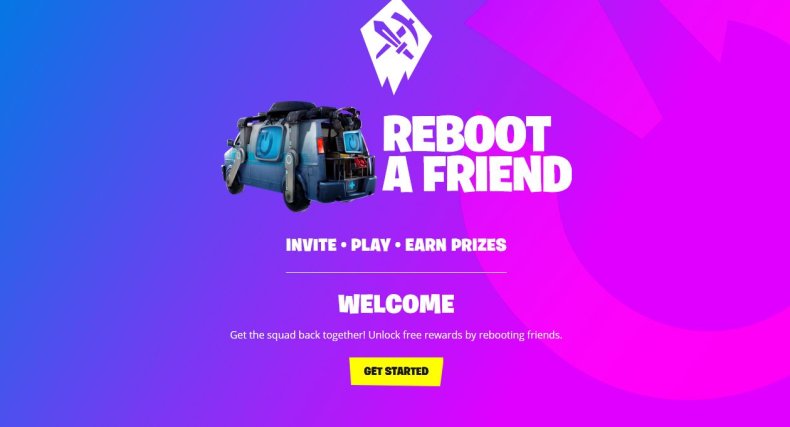 Fortnite's Reboot a Friend promotion pops up from time to time, and it's designed to bring lapsed players back to Fortnite through the promise of free rewards. The goal is to find up to three friends who haven't played Fortnite in the past 30 days and then bring them into a game. The more you play with them, the more points you stand to earn, and those points can be used to unlock a series of rewards. Those who don't have any friends who qualify for a full reboot can get the rewards too—it will just take a lot longer to do so.
How to sign up to Reboot a Friend
Signing up to Reboot a Friend is as simple as heading over to Epic's official Reboot a Friend website. Once you get there, click the "get started" button and log in using your Epic Games account. Using PlayStation Network or Xbox Live may work as well, but those options tend to be a bit more finicky.
Once you log in you'll be greeted with a dashboard featuring three panes, one each for your three rebootable friends. To reboot them, press the yellow "reboot" button, find their name amongst your friends list and press "reboot" once more. Add additional friends through this exact same method.
How to earn points and get rewards
Once your three rebootable friends have been added, you can start earning points by playing with them in a single squad or in separate matches.
100 points per friend: Play a single match with one of your three rebooted friends.
10 points per friend: For each subsequent match with one of your three rebooted friends or a match with any other person on your friends list.

In other words, those who don't have any friends to reboot can still earn points, they just won't have the benefit of starting off with those huge 100-point bonuses listed above.
Here are the rewards you can earn by taking part in the promotion.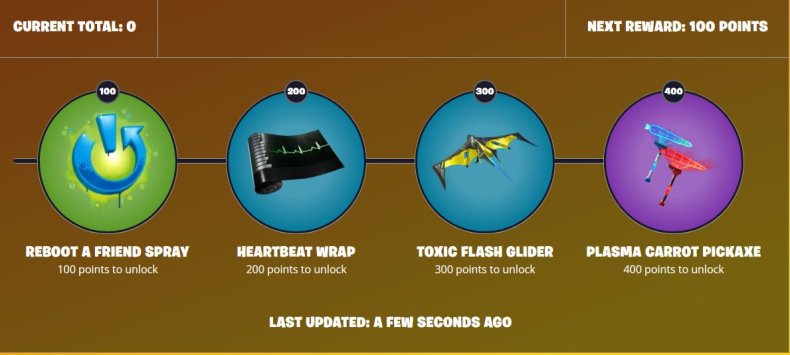 Reboot a Friend Spray: 100 points
Heartbeat Wrap: 200 points
Toxic Flash Glider: 300 points
Plasma Carrot Pickaxe: 400 points
Given these requirements, all you have to do is reboot an additional friend to unlock the next reward. Once you've rebooted three players, simply play a handful of matches with others to finish off anything you may have missed. That's all you need to know about the April 2021 iteration of Reboot a Friend in Fortnite.
Have you taken advantage of Reboot a Friend in Fortnite before? Which reward are you most excited to earn? Tell us in the comments section!