'Fortnite' Rift Tour Walkthrough: Where Are the Rift Tour Posters?
Fortnite has recently added three limited-time quests for players to complete in the lead-up to an Ariana Grande concert.
What Is the Rift Tour Event?
The Rift Tour is a virtual gig, taking place this weekend and headlined by Ariana Grande, that you can attend on Fortnite island.
Similar to the recent Easy Life show, this event will take advantage of its video game setting to offer players unique ways of interacting with each other and the musical performance itself. Meanwhile, there will also be a variety of unlockables that you can earn by attending the concert, or by shelling out some V-bucks in the item store.
Newsweek has already broken down everything you need to know about this concert, including a list of the different showtimes and all the cosmetics that are up for grabs.
Rift Tour Quest Walkthrough: Interact With the Rift Tour Posters
To build anticipation for the Ariana Grande show, Fortnite has been updated with three new quests that are explicitly themed around the upcoming concert.
One of these limited-time missions asks you to "interact with the Rift Tour posters" that have been scattered around the island. There are five possible sites at which you can find these materials, those being the alliteratively named "Corny Complex," "Retail Row," "Lazy Lake," "Misty Meadows" or "Believer Beach."
All you need to do to complete the quest is walk up to any one of these posters and hold down the interact button (whichever control you use to pick up weapons and open chests). Upon doing this, you will then be rewarded with a "Rift-Sterpiece" spray.
To help you with the quest, Newsweek has prepared the following guide with the poster locations.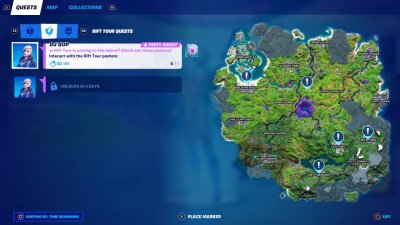 Rift Tour Quest Walkthrough: Believer Beach Poster Location
A poster can be found plastered on a west-facing brick wall, next to some payphones at Believer Beach.
If you head to the second "B" in the landmark's name on the map, you should be able to find it quite easily. Make sure to watch out for enemy players here, as this has become quite a crowded spot since the debut of Fortnite's "Invasion" season.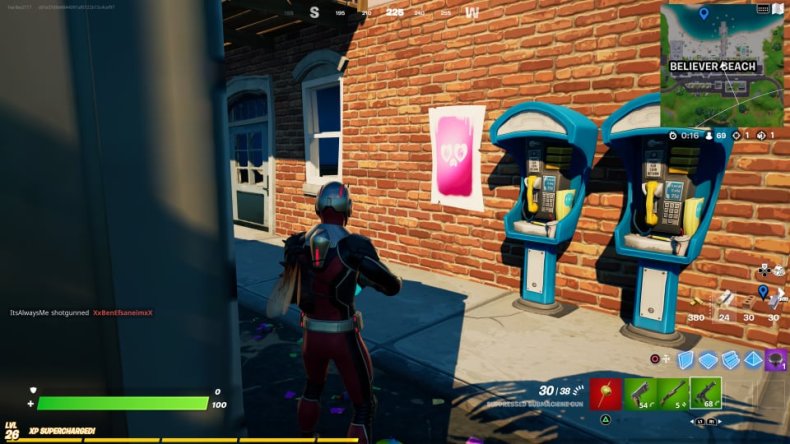 Rift Tour Quest Walkthrough: Corny Complex Poster Location
To the west of Corny Complex, you will find an outdoor movie theatre.
At the southernmost fence of this area, a Rift Tour poster is hung on the side of a makeshift concessions stand.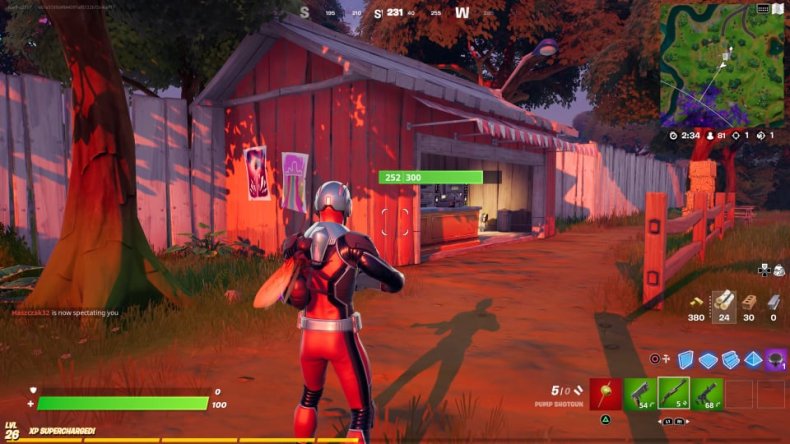 Rift Tour Quest Walkthrough: Misty Meadows Poster Location
Misty Meadows is one of the trickier places to find a Rift Tour poster, mainly because it is a bustling hub of activity that tends to attract a lot of rival players (especially when an abductor ship is looming overhead).
Still, you can find one of the interactable objects here if you head to the top of the "A" in the word "Meadows". The poster is tucked away near the exit of a building.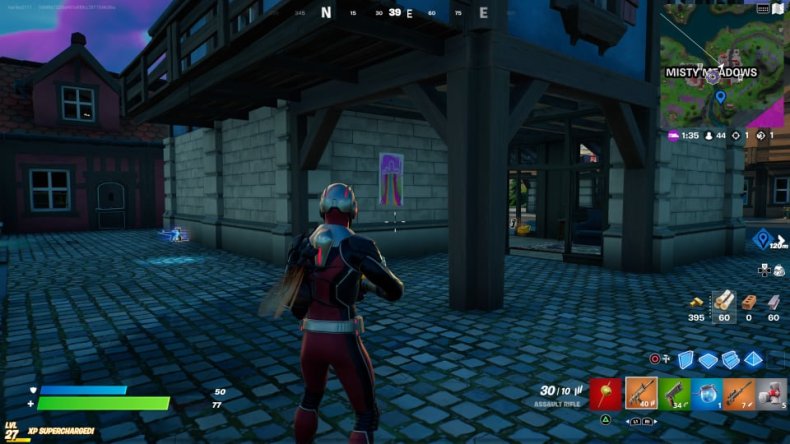 Rift Tour Quest Walkthrough: Retail Row Poster Location
The Retail Row poster can be found just to the north of the second "R" in the landmark's name on the map.
It can be found near the entrance to the "Noms" grocery store.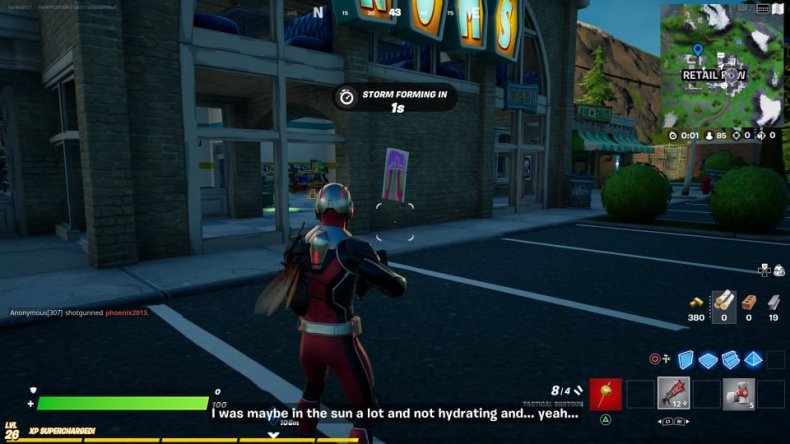 Rift Tour Quest Walkthrough: Lazy Lake Poster Location
Lazy Lake is already covered in advertisements for various cars, which makes finding the Rift Tour poster here feel a bit like you are looking for a needle in a haystack. Nevertheless, you can find it a little courtyard just above the "Y" in "Lazy."