'Fortnite' Ryu and Chun-Li Skins Leak, 'Street Fighter' Pickaxe and Back Bling Revealed
Fortnite's Item Shop updates Saturday at 7 p.m. EST, and with it arrives a series of Street Fighter-themed bundles featuring skins for Ryu and Chun-Li. That news was leaked by dataminers Friday afternoon and was swiftly followed up by an official reveal from Epic Games shortly thereafter. Now, however, we finally know what every cosmetic included with the bundles looks like. In other words, here's a sneak peek at the Back Blings, emotes, Pickaxes and Glider featured in the set.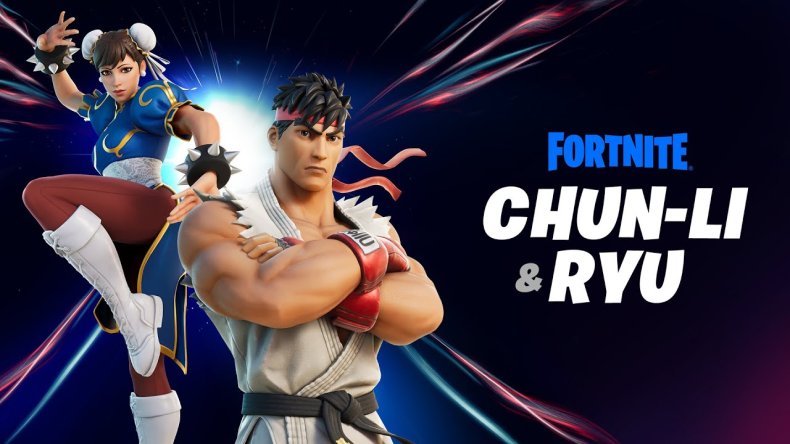 As referenced in the tweet below, this leak arrives courtesy of Fortnite dataminer ShiinaBR, with assistance from D3LAT3. It suggests Fortnite's upcoming Street Fighter bundles include two character Outfits, two Back Blings, two Pickaxes, two emotes and one Glider. The skins will presumably be sectioned off for individual purchases for those who only want Chun-Li or Ryu, but there will also likely be a mega-bundle that includes every item shown in this picture.
Unfortunately, despite the clear skin leaks, we won't know precise V-Buck pricing until the listings are officially live.
As far as the cosmetics themselves, however, they're designed to tug at the heartstrings of retro and modern Street Fighter fans. Alongside the two base character skins, players will have the option to purchase an arcade machine Back Bling, Ryu stage sign Pickaxe, E. Honda Glider, Travel Bag Back Bling and more. As many fans have pointed out, one frustrating truth is that the Hadouken and Shoryuken emotes appear to be built into these specific skins. That means your other characters like Peely and Jonesy probably won't be able to make use of Capcom's iconic moves.
This fairly complete leak arrives mere hours after Epic Games officially debuted a trailer and travel log segment for the new skins. As those who follow Fortnite closely will know, Chun-Li and Ryu aren't the first major video game characters to make their way to the Battle Royale Island during Season 5. After all, Kratos from God of War and Halo's Master Chief were privy to their own V-Buck bundles as well. We're not quite sure how these two new characters fit into the established hunter theme of Season 5, but they're coming nonetheless.
It's also worth noting that these skins are a great way to hype up the upcoming launch of Street Fighter V Season 5. The new fighter pass launches Monday and offers players access to Dan, Rose, Oro, Akira and more over the course of the season.
Fortnite is available now on PS5, PS4, Xbox Series X|S, Xbox One, Switch, PC and Android. The Item Shop refreshes daily at 7 p.m. EST.
What do you think of these Street Fighter skins making their way to Fortnite? Will you be purchasing the Ryu or Chun-Li bundle? Tell us in the comments section!