'Fortnite' Search Hidden T in Dockyard Deal Loading Screen Location Challenge Guide
Fortnite players may be searching for the hidden T in Week 4's Dockyard Deal Loading Screen. In this no-nonsense guide, we'll tell you where to find it, how to analyze the image and how to make the secret letter appear in its designated location. Read the full details below.
Fortnite Dockyard Deal Challenges
In order for the hidden T to spawn in its correct location, players must first complete eight of the challenges listed below. Once that task is finished, players will unlock the Dockyard Deal Loading Screen. Unlocking the image tells players where the hidden T can be found, and it also makes the special object appear in-game. Collect all these "FORTNITE" hidden letters, and you'll get a special Battle Pass skin at the end of the season.
Eliminations at Pleasant Park or Dirty Docks (three)
Search chests at Dirty Docks or Salty Springs (seven)
Deal damage with Sniper Rifles to opponents (250)
Jump a Motorboat through different flaming rings (three)
Deal any damage to opponents by shooting exploding gas pump (one)
Visit the Boat Launch, the Coral Cove, and the Flopper Pond (three)
Deal damage to enemy structures with Explosive Weapons (200)
Deal damage to opponents from above (250)
Land at Weeping Woods, Lazy Lake, and Pleasant Park (three)
Explosive Weapons Eliminations (two)
Search the hidden 'T' found in the Dockyard Deal Loading Screen (one)
This guide focuses entirely on locating the hidden T, but a few of the other objectives, like visiting the Boat Launch and Coral Cove, may also prove difficult. Overall, however, many of Week 4's challenges are pretty straightforward.
Fortnite Hidden T location
Once you've completed eight of the Dockyard Deal Challenges, you'll unlock this Loading Screen. While it may be hard to see, the hidden letter T is tucked above the smaller of the two street lamps on the scaffolding to the right. To get the T, players must go to that exact spot.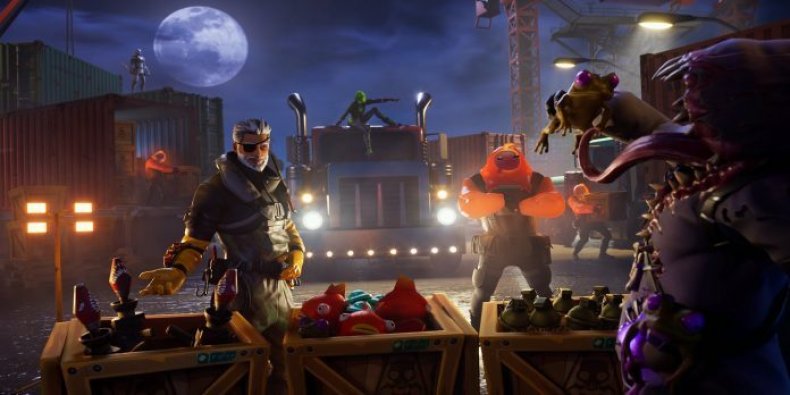 On the Chapter 2 map, the hidden T can be found in the southwestern part of Dirty Docks.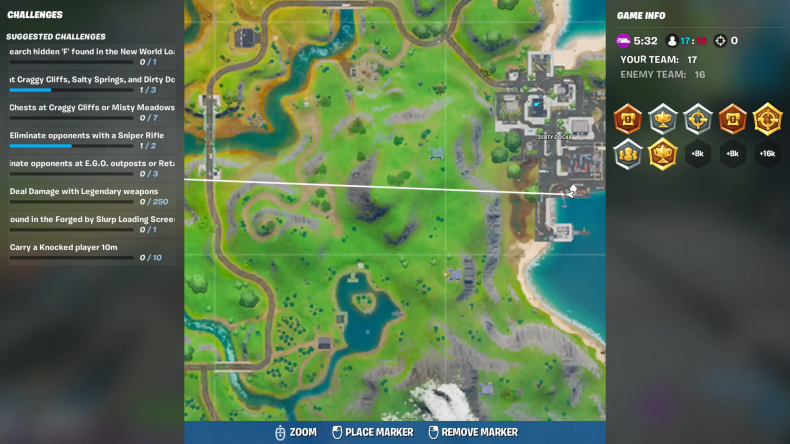 This is what it looks like when you land there. That's all you need to know to find the hidden T in Fortnite's Dockyard Deal Loading Screen.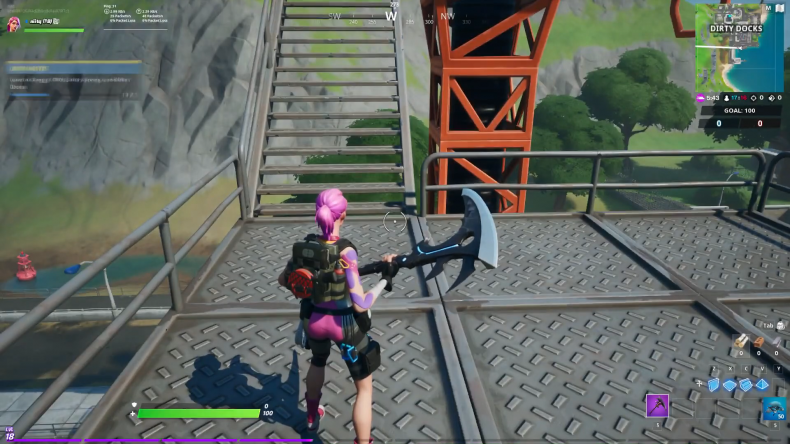 Fortnite is available now on PS4, Xbox One, Switch, PC and mobile.
What are your thoughts on the Dockyard Deal Challenges? Were you able to find the hidden R in the Loading Screen? Tell us in the comments section!
'Fortnite' Search Hidden T in Dockyard Deal Loading Screen Location Challenge Guide | Newsgeek