'Fortnite' Season 2 Doomsday Live Event Countdown Timer & Date Appear
Fortnite fans have discovered a new countdown timer in the Battle Royale lobby that presumably reveals the date and time of the game's highly anticipated Season 2 live event. Assuming the timer is correct, the so-called Doomsday event is set to kick off May 30 at 2:05 p.m. EDT.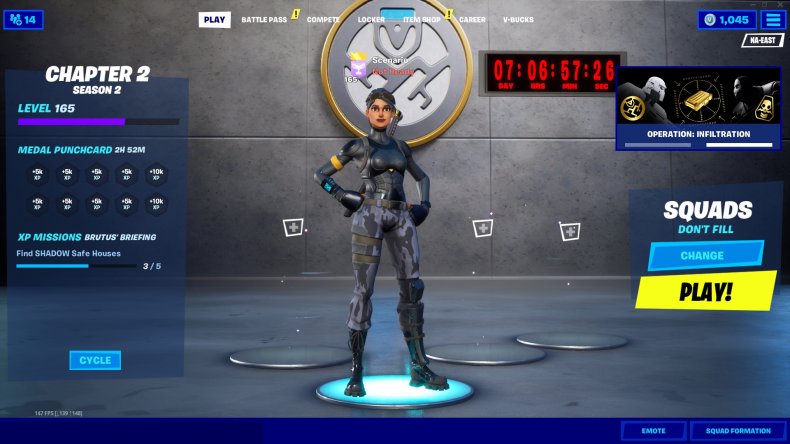 Currently the timer is visible in two locations including the main lobby screen and on Midas' desk in his Agent room. Leaks suggest a third countdown timer is expected to hover above the Agency at some point, but that may happen closer to the start of the actual event.
Regardless of where it appears, the new countdown confirms that big changes are coming to Fortnite just one week from today. What those changes may be technically remains a mystery, but leaks and in-game developments reveal a lot about the kinds of happenings players can expect to see. Talk of Fortnite's Doomsday event began in mid-April with the debut of Midas' Agent room and the appearance of suspicious hatches around the Agency. The presumed device has been sitting in Midas' room for a bit, but it may move to another spot on the map as the newly confirmed event date draws near.
Regardless of the specifics of how the Doomsday event plays out, players can expect major news over the next few days and through the start of Season 3 on June 2. Fortnite Season 3 was delayed in the middle of April, but teasers of the next Battle Pass have already surfaced. Without spoiling more than we need to, let's just say something is about to happen to the Chapter 2 map that fans have been predicting for quite some time.
Fortnite has established a seasonal tradition of offering major live events leading up to the debut of significant updates. From rocket launches to taking the entire game offline for several days at a time, the community-focused strategy remains one of the most effective ways to keep fans engaged with new developments both before and after they happen. It remains to be seen if this Doomsday event lives up to fans' lofty expectations, but, with the appearance of this new countdown, Epic is getting the festivities started pretty early.
Fortnite is available now on PS4, Xbox One, Switch, PC and mobile.
What do you hope to see from the Doomsday event? Will you be watching when the countdown timer elapses May 30? Tell us in the comments section!