'Fortnite' Season 7 Battle Pass Skins: Show Your Festive Cheer With Ice King
Fortnite Season 7 has officially begun and snow has started to fall over the map. An iceberg has slammed into the island, bringing an army of snowmen and their bearded leader into the battle royale. The trailer features Crackshot in a Rudolph the Rednosed Reindeer homage, giving us our first real glimpse as to what this new season will bring. The Season 7 Battle Pass is also live, meaning users can purchase the new Battle Pass and get access to a bunch of awesome skins.
Fortnite Season 7 Battle Pass Details
Like every season, there are 100 tiers you can earn by completing missions and earning experience. Epic Games has really gone out of their way to make these skins worth your time, adding in tons of extra details and cool features. Four skins evolve as you level up your Battle Pass and get stronger. We have seen skins like this in the past, but never this many in one package. It's nice to be able to unlock an evolving skin at rank one.
Here are all the skins available in the Season 7 Fortnite Battle Pass:
Lynx- "Who needs nine lives when one is enough?"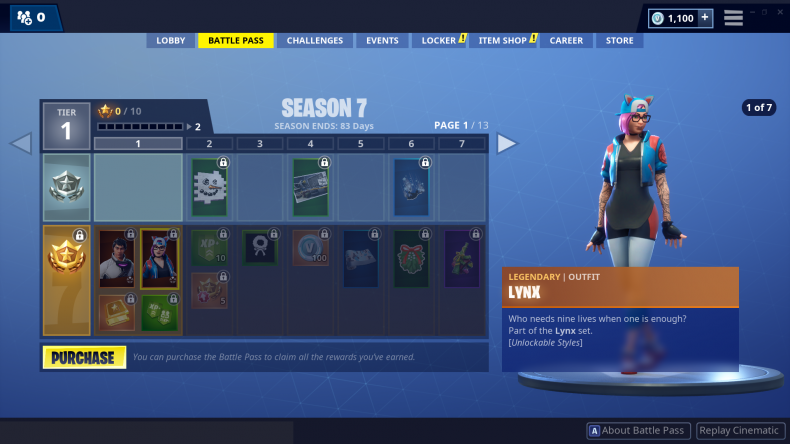 This feline cosplayer starts out at tier one with cat ears and not much else. As you start to experience and complete missions, she starts to earn her stripes and a full-body catsuit.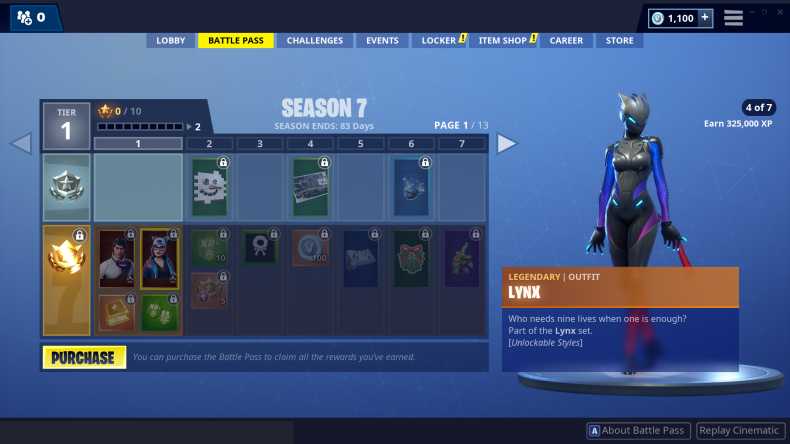 Zenith- "Peak performance at every elevation."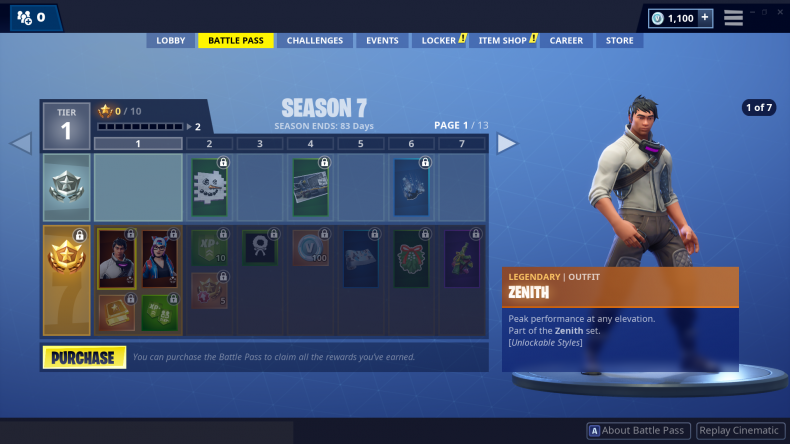 Starting out as a dude in a fairly standard outfit, he starts to gain more mountain climbing gear as you level up. At max rank, he's covered in head to toe in a furry wardrobe, complete with hood and visor, and can have his color changed.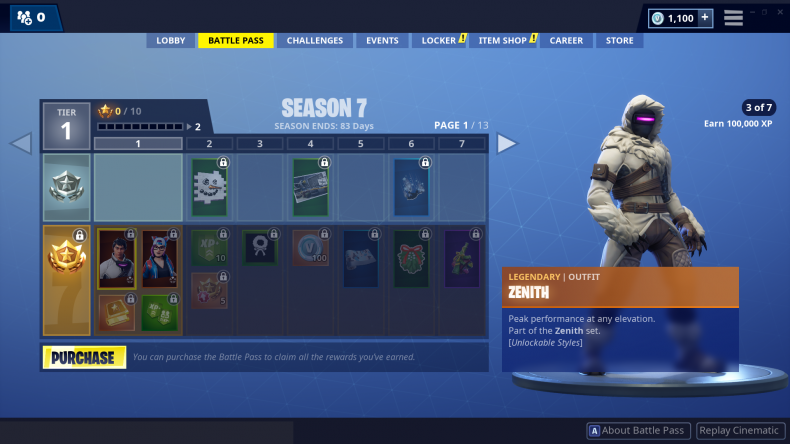 Hamirez- "Give her a wheel and she'll be your best friend."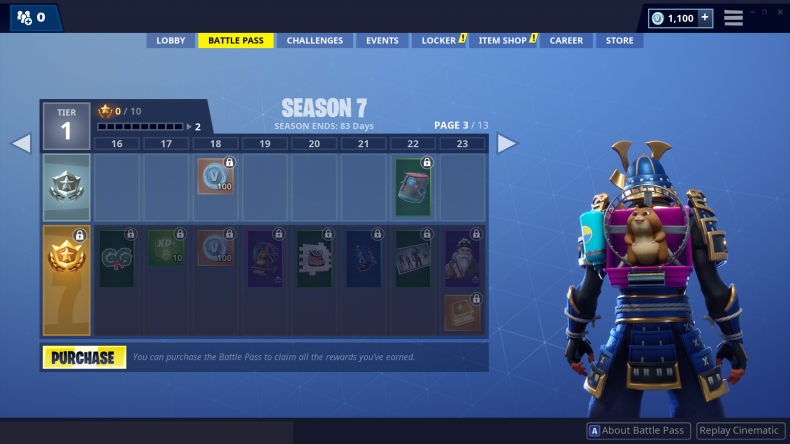 Now this hamster isn't technically a skin, but she was too cute to ignore. Just look at how happy she is in her little wheel!
Sgt. Christmas- "You don't want to be on his list."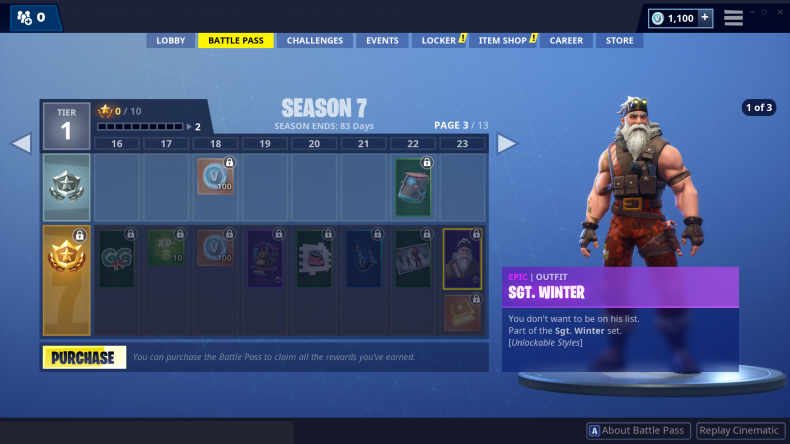 Jolly Saint Nicholas, who unlocks at rank 23, has been through the Fortnite war, suffering as a result. He starts out sleeveless and angry, looking like a Holiday-themed G.I. Joe commando. As you level up, he gets different head options, like that of a Santa snowman or of a llama. He's my favorite of the bunch and may actually force me to start grinding in this game.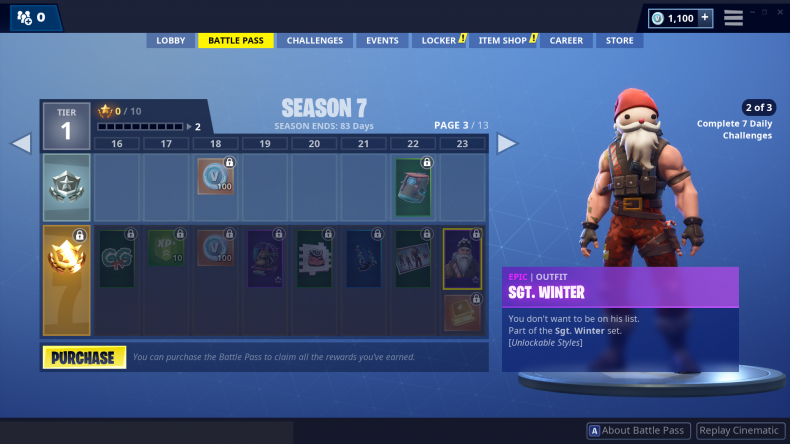 Powder- "Catch the air and kiss the sky."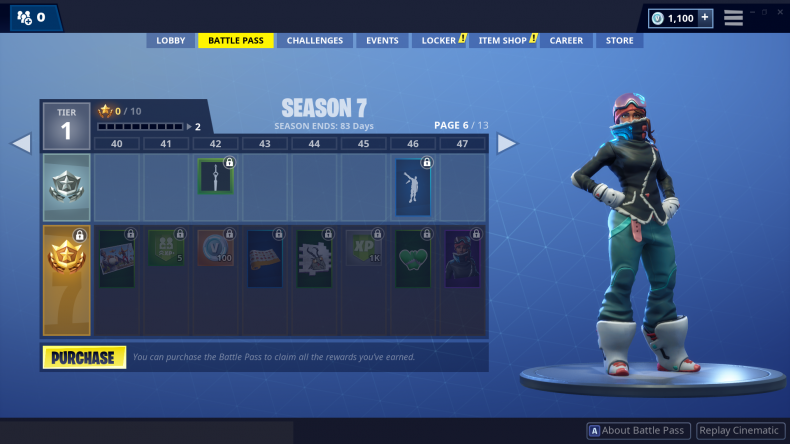 This rider on a mission unlocks at tier 47, continuing the winter sport theme.
Trog- "Trog fight good!"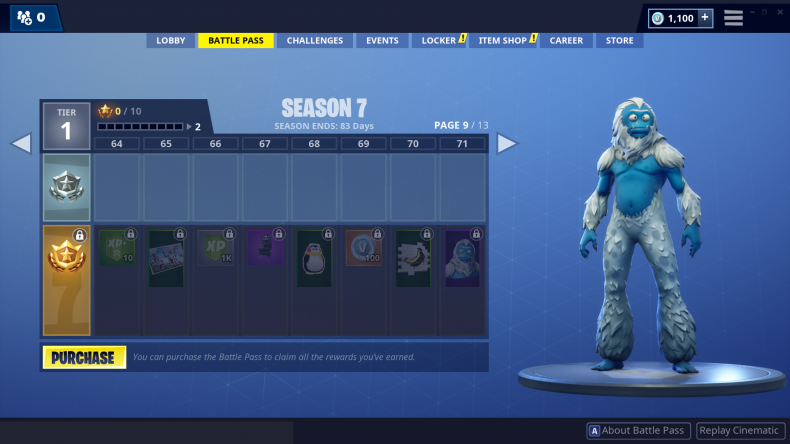 Trog is a tough yeti who unlocks at tier 71.
Onesie- "Smash that snooze button!"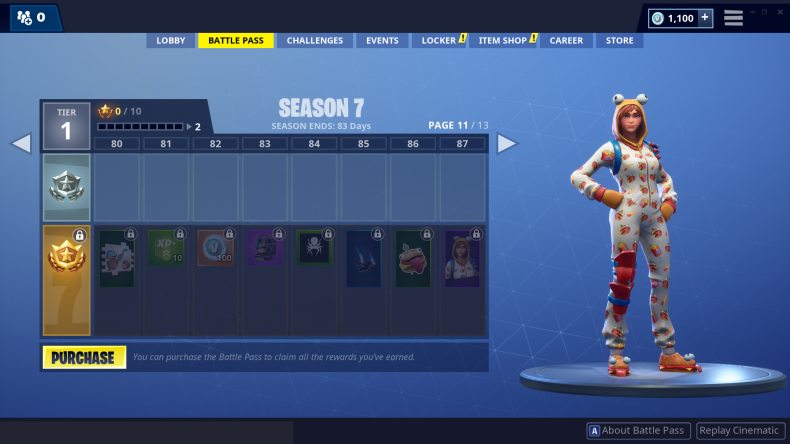 Originally leaked by data miners mid way through Season 6, Onesie has found her way into Fortnite . Unlocking the skin is done at tier 87, which could take awhile.
Ice King- "All hail the ruler of ice and snow."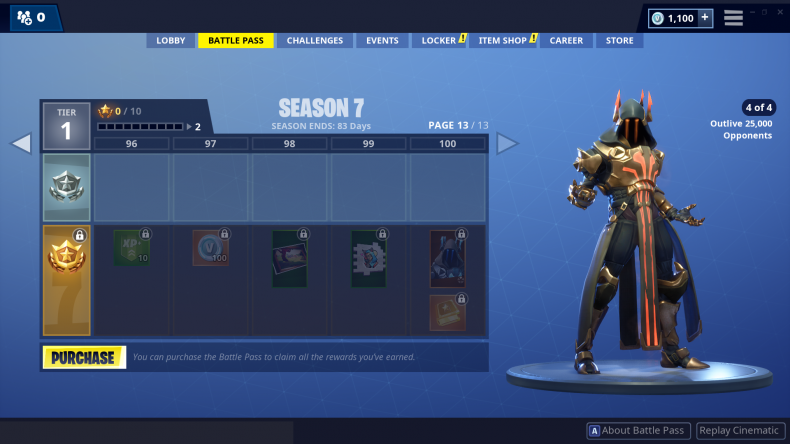 The ruler of the iceberg unlocks at tier 100. He's front and center in all of the marketing for Season 7, which he rightfully deserves. That skin screams badass and would make a perfect action figure. He also comes with multiple different color options.
Which of these skins is your favorite? Tell us on Twitter at @RealNewsgeek.