'Fortnite' Ice Storm Event Countdown Appears on TVs, Date & Time Revealed
Fortnite fans have discovered that in-game TVs now display a countdown timer in addition to the Weather Warning message that started broadcasting Wednesday afternoon. Assuming the time is accurate, fans can expect something major to happen around 2 p.m. EST January 19. While it's not confirmed to necessarily correlate to the Season 7 Ice Storm itself, we imagine it will trigger some stage of the event.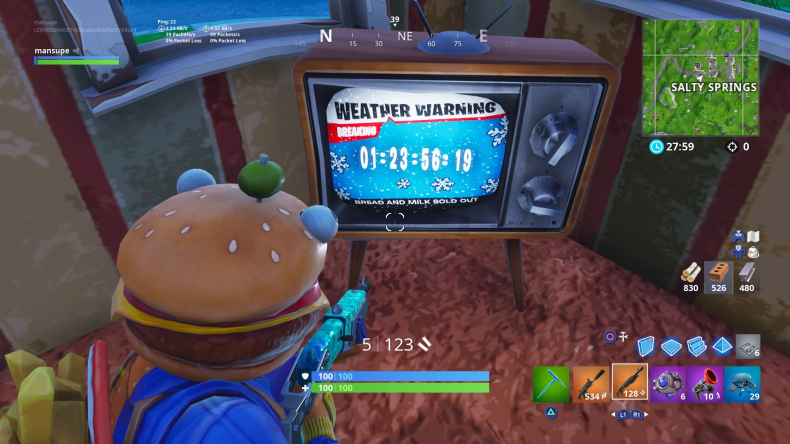 Talk of an Ice Storm taking place in Fortnite began Tuesday with the release of the game's 7.20 client update. Included amongst its new features, players discovered a massive, chilly sphere had appeared over Polar Peak. The strange sight led dataminers to conduct some digging of their own, and what they found appears pretty conclusive. Apparently the Ice King resides in this sphere, and he uses the powers of a magical orb to alter the Battle Royale map.
As for what those changes might be, most fans agree the entire map will likely be enveloped in snow. There may also be a new PvE enemy to contend with as well, as associated Ice Storm Challenges make reference to dealing damage to something called the Ice Legion. By attacking Ice Legion members with different weapon types, players will have the chance to unlock the Winter's Thorn Glider and Blue Metallic weapon wrap. The countdown expiration time is presumably when all or some of these changes would take place.
It's also possible this new countdown timer could be one of many leading up to the event. Epic does have a history of rolling out its seasonal changes in small chunks, so it's possible there may be varying stages of the sphere's destruction. However, if this event is anything like the death of Kevin the Cube last season, changes might also happen live as this countdown timer slowly elapses.
Regardless of how Fortnite's Ice Storm event plays out, we'll do our best to keep you posted on everything.
Fortnite is available now on PS4, Xbox One, Switch, PC and mobile. The Weather Warning countdown is live on all platforms.
What are your thoughts on the active countdown displaying on Fortnite's TVs? Are there secrets to the Ice Storm event that we don't know about? Tell us in the comments section!