Fortnite Fortnitemares Challenges dropped Saturday morning, and one of the new objectives asks players to eliminate Shadow Midas. In this guide, we'll reveal where Shadow Midas is located and offer some basic tips for what to do when you find him.
Just like the previous Fortnitemares Challenges, this one must be accomplished in the Solos, Duos or Squads Fortnitemares queue. Bosses like Shadow Midas don't spawn in Team Rumble under any circumstances, so don't waste your time with that mode. Now, with that disclaimer out of the way, let's get to the proper guide.
Shadow Midas location
Unlike Wolverine who has a very wide spawn radius, locating Shadow Midas is actually pretty easy. He always spawns at the Ruins location, which is the new name for the Authority compound found at the center of the map.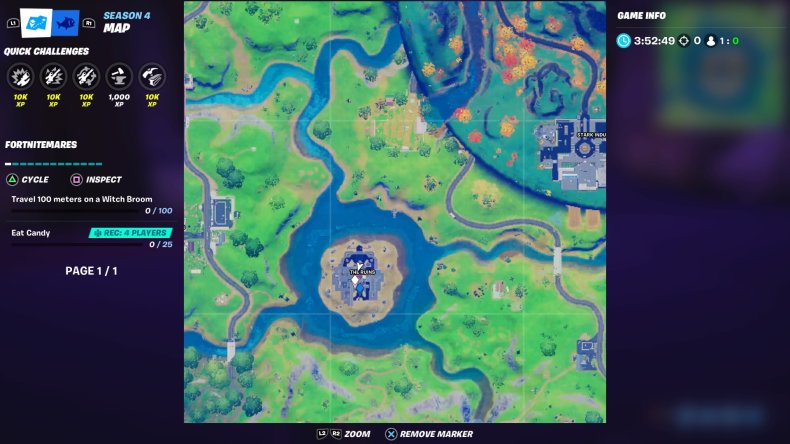 He generally shows up anywhere close to or inside the compound in high-traffic areas, making him simple to spot. We found Shadow Midas just inside the main entrance, but others have located him in stairwells or in the outside areas near doorways. There's not an exact science for his spawns, but you truly shouldn't have trouble finding him after a match or two. As seen in the screenshot below, Shadow Midas looks noticeably different from his Henchmen, thanks to his bright glowing eyes. He also doesn't have a trademark Henchmen white suit, either. When you find Shadow Midas, you'll know it's him.
How to eliminate Shadow Midas
Now that you know where to go to find Shadow Midas, the next step is to prepare to take him down. Look for any decently powerful AR or SMG, because odds are your encounter will likely be indoors. As long as you have enough ammo for the job, eliminating Shadow Midas shouldn't be much of a concern. For those who prefer a more distanced approach, we've also seen Shadow Midas defeated by a sniper when he's standing outside.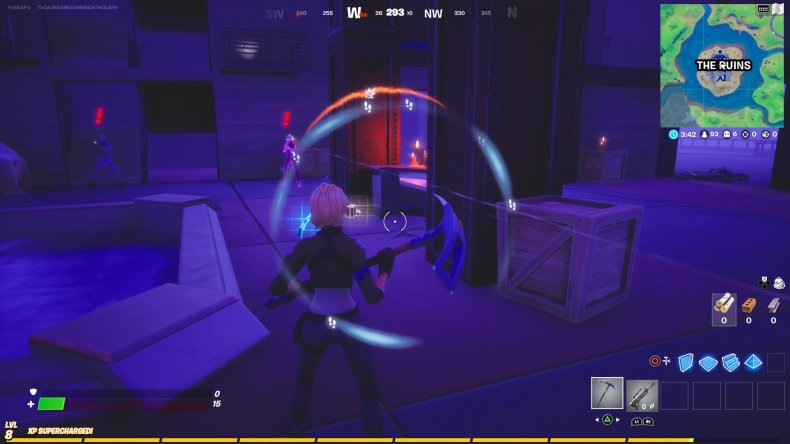 As far as the actual battle is concerned, the only real strategy you need is to keep on shooting. He doesn't charge you or have any unconventional attacks, so just unload a few clips until he drops. If you have enough firepower, you can just keep blasting to stun lock him into submission. It's also possible to eliminate Shadow Midas as a Shadow if that's the situation you're presented with. Just go in with a full bar of health and slash away. After he's eliminated, you'll have the option to pick up or consume the Mythic Shadow Midas' Drum Gun.
Fortnite Fortnitemares Challenges
Eliminating Shadow Midas is just one challenge on the list of tasks players must complete to get all the free rewards earned during Fortnitemares 2020. Check out the full list of known challenges below, as uncovered by dataminers. All currently available challenges can be seen at the in-game Challenge Table.
Become a Shadow
Travel 100 meters on a Witch Broom
Eat Candy
Deal damage with a Possessed Vehicle
Detect Players as a Shadow
Eliminate Shadow Midas
Eliminate Shadows as Player
Visit different Witch Shacks
Consume Legendary Loot as a Shadow
Fortnite is available now on PS4, Xbox One, Switch, PC and Android.
Did you eliminate Shadow Midas? Was this the toughest Fortnitemares Challenge yet? Tell us in the comments section!