'Fortnite' Showtime Event Tracklist & Recap - Marshmello Party at Pleasant Park
Fortnite 's Showtime event has devoured Pleasant Park, and we're here to recap everything that happened the moment Marshmello took the stage. Get ready to Floss like nuts, because Battle Royale just became a rave. Epic has announced that those who'd like to see the performance again can watch an encore February 3 at 2 a.m. EST.
Marshmello's concert for anyone that missed it! from r/FortNiteBR
As the performance began, cheers erupted from the normally quiet area, while remixes of songs "Wolves" By Selena Gomez and Avicii's "Waiting for Love" filled the venue. The performance lasted about 15 minutes, while crowds of players used their favorite emote to show support for the music. As of now the event has not resulted in any major changes to the Battle Royale map or the debut of additional challenges, but we'll update this page with more details if something like that should arise.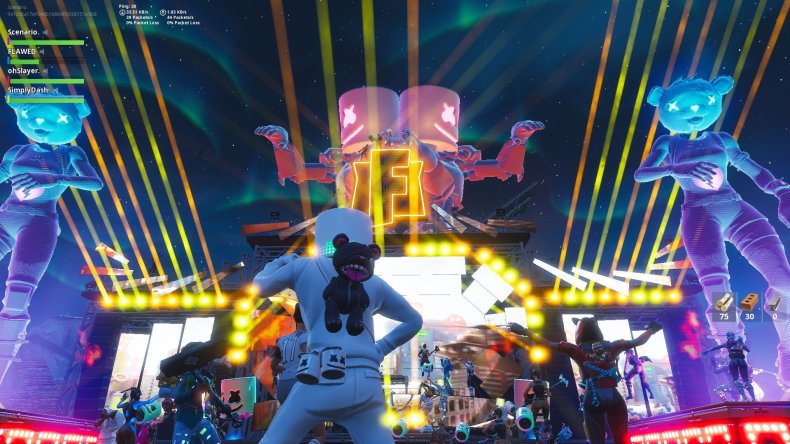 Epic began the festivities by quietly releasing the Showtime LTM in the hours before the show. Not focused on gameplay at all, the mode is essentially a safe space where players can go watch the performance without fear of being Eliminated.
Here's a special extended set list from the event:
"Wolves (Marshmello Intro Edit) [Mixed]" - Marshmello & Selena Gomez
""Poppin (Mixed)" - Rickyxsan
"Gassed Up (Mixed)" - Jauz & DJ Snake
"The Drop (4B & Nvrleft Remix) [Mixed]" - Gammer
"Waiting For Love (Marshmello Remix) [Mixed]" - Avicii
"Check This Out (Mixed)"
"Want U 2 (Mixed)"
"Everyday (Mixed)" - Marshmello & Logic
"Power (Mixed)"
"Fly (feat. Leah Culver) [Mixed]"
"Light (Crankdat Re-Crank) [Mixed]" - San Holo
"Movin On (Mixed)"
"Alone (Mixed)"
"Chasing Colors (feat. Noah Cyrus) [Mixed]" - Marshmello & Ookay
"Flashbacks (Mixed)"
"Pop Dat (Mixed)" - 4B & Aazar
"Behemoth (Mixed)" - Svdden Death
"Reddy the Throne (feat. PsoGnar) [Mixed]" - Spag Heddy
"I Hold Still (feat. Slushii) [Mixed]" - Jauz & Crankdat
"Make It Pop (Mixed)" - Nonsens
"Deep Down Low (Mixed)" - Valentino Khan
"Giant Mouse (Mixed)" - AC Slater & Chris Lorenzo
"Jungle Bae (feat. Bunji Garlin) VIP (Mixed)" - Jack Ü
"Losing It (Mixed)" - FISHER
"Bomb a Drop (Mixed)" - Garmiani
"Party Up (feat. YG) [GTA Remix] [Mixed]" - Destructo
"Happier (Mixed)" - Marshmello & Bastille
Not all songs were played in their entirety during the event, but they're currently available as an Extended Set on iTunes.
Fortnite 's Showtime event arrives after two days of hype amd a small collection of Showtime Challenges. Since Thursday, players have been asked to land at the Showtime venue and other specific locations around the Battle Royale map to earn a Marshmello-themed Spray, emote and Pickaxe. A full Marshmello Outfit is also for sale in the Item Shop as well. Marshmello has had a history with Fortnite since winning the E3 Celebrity Pro-Am alongside Ninja this past June.
Fortnite is available now on PS4, Xbox One, Switch, PC and mobile. The Showtime LTM is available on all platforms.
What are your thoughts on Fortnite's Showtime event? Did Marshmello deliver a thrilling show? Tell us in the comments section!