'Fortnite' Skull Trooper Event Makes Challenges for Ghost Portal Easier
Fortnite fans are freaking out over the return of the Skull Trooper, and with it came the Ghost Portal Back Bling. The Ghost Portal could initially be unlocked by completing a specific set of challenges, but Epic has decided to make the process easier for the weekend via a special Skull Trooper Event.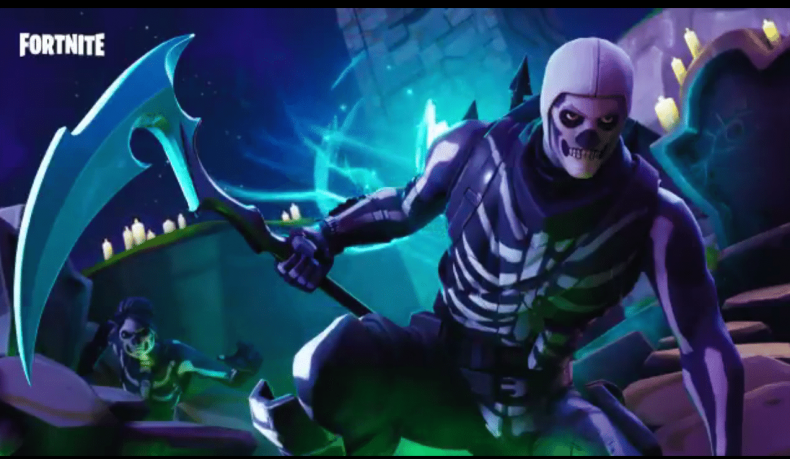 From Oct. 12 at 10 a.m. EDT through Oct. 14 at 11:59 p.m. EDT, players will be able to unlock the Ghost Portal by playing 20 matches (win or lose) during the event. Epic's official statement on the matter is below:
"We've observed the confusion around the Skull Trooper Challenge set and will be making adjustments to the pack in next week's v6.10 update. The goal with the Ghost Portal challenges was to provide you with a way to earn a cool Back Bling through your normal play.
"This weekend, we're running a Skull Trooper Event which will allow you to earn the Ghost Portal Back Bling faster by playing 20 matches (eliminated or win) over the weekend. Beginning Friday, Oct. 12 at 10 a.m. EDT and ending on Sunday, Oct. 14 at 11:59 p.m. EDT.
"You will receive the Back Bling and the challenges will auto-complete early next week."
The basic tenor of this message suggests some Fortnite players found the original Skull Trooper Challenges too difficult. We made a guide with tips to accelerate the process, but certain tasks, like playing 50 matches, were definately an unexpected grind compared to similar events in the past.
We assume players will still need to purchase the Skull Trooper set to unlock the challenges, but at least they'll permanently change even after the event ends.
In case you missed them, here are the original Skull Trooper Challenges:
Complete seven Daily Challenges
Play 50 matches
Play 14 matches with at least one Elimination
Search 10 Chests in a single match
Deal 1,000 damage to opponents in a single match
We'll update this page with more info if it becomes available.
Fortnite is available on PS4, Xbox One, Switch, PC and mobile.
Were you able to complete the Skull Trooper Challenges already? Will you be taking advantage of the Skull Trooper Event? Tell us in the comments section!