'Fortnite' Small Fry, Flopper & Slurp Fish Location Week 7 Guide
Fortnite Trick Shot Challenges went live on Thursday, and one of them asks players to gain health with a Small Fry, Flopper and Slurp Fish. In this guide we'll explain what those are and the best ways to find them.
The Basics of Fishing
In order to find a Small Fry, Flopper and Slurp Fish in Fortnite, you must engage with the new fishing feature found in Fortnite Chapter 2. You've likely gathered a Fishing Rod as floor loot or in Chests before, but they can also be found near large bodies of water in barrels like these. Just search near a dock or lakeside shack, and you should have no problem finding one. If you can't locate a rod, fish can also be caught by throwing projectiles into the water or by using a Harpoon Gun.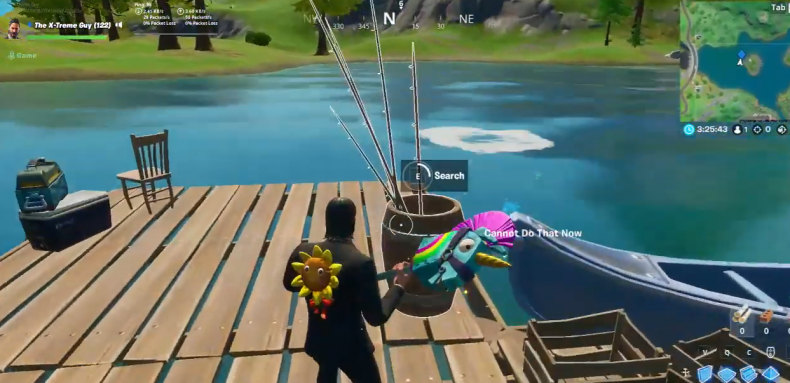 Provided you've found the Fishing Rod you're looking for, it's time to go fishing. Fishing can technically happen anywhere on the water's edge. Just press the trigger button to draw your rod, line up your cast and release the trigger to start fishing. Once it lands in the water, you'll know you have a bite when you feel a controller vibration or see the line start to pull. Reel it in by pressing the trigger again.
In order to get the rarest fish, which will be helpful for this guide, look for the white foam circles in large bodies of water like Lazy Lake. To see what that looks like, consult the Slup Fish screenshot below.
Fortnite Small Fry Location
For the duration of this guide, we'll be using Lazy Lake as our chosen fishing hole. That being said, Small Fry are the only fish type that can be regularly caught anywhere on the map, even outside the white foam circles. They have Common (white) rarity and look like this.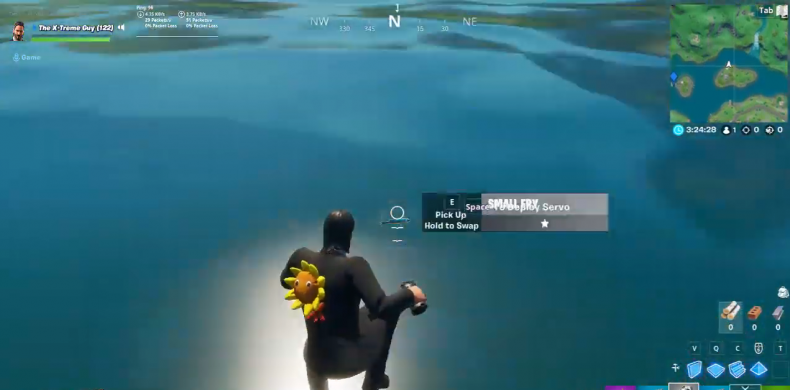 Consume it to get 25 health points.
Fortnite Flopper Location
Floppers have Uncommon (green) rarity, which makes them slightly more difficult to find. However, they're pretty plump and easy to spot in any body of water. You'll probably need to cast your line in a foam circle to lure one, though.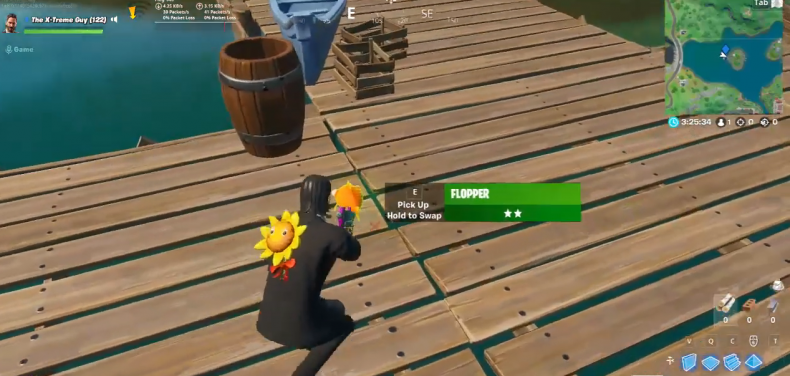 Consume it to get 50 points of health.
Fortnite Slurp Fish Location
The Slurp Fish is the rarest of the bunch. It's purple and thus has Epic (purple) rarity. It looks like this. You'll absolutely need to use a foam circle indicator to find a Slurp Fish, and it may even take a while to lure one. That being said, the fishing process isn't all that difficult to begin with.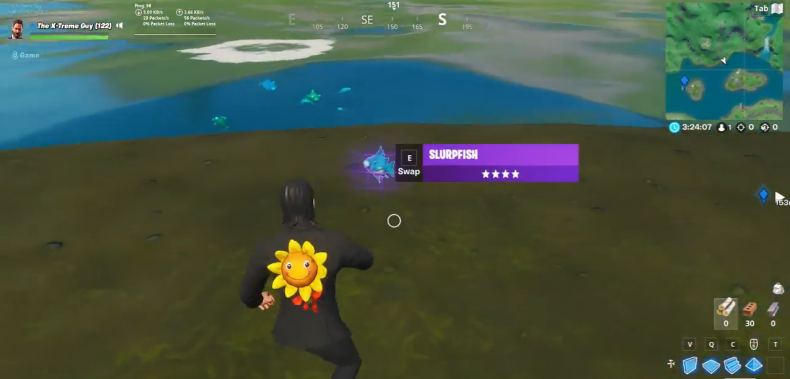 Consume it, and you'll get 50 points of Shields. Essentially all you want to do for this Trick Shot Challenge is consume all three rarities of Fortnite fish. That may be confusing for those who don't often fish in Fortnite, but the concept itself is rather simple.
Fortnite Trick Shot Challenges
The task of locating a Small Fry, Flopper and Slurp Fish in Fortnite arrives as part of the new Trick Shot Challenges. Read the full list of objectives below.
Eliminations while at 50 health or less (two)
Consume Foraged Apples at the Orchard (three)
Eliminations at Weeping Woods or a Landmark (three)
Dance at the Pipeman, the Hayman and the Timber Tent
Gain health with a Small Fry, a Flopper and a Slurp Fish
Eliminations with Pistols (three)
Visit Named Locations in a single match (three)
Damage with Shotguns (500)
Save yourself from fall damage by landing in a Hideout (one)
Heal yourself within 10 seconds after taking damage from an opponent (one)
Search the hidden "T" in the Trick Shot Loading Screen
Fortnite is available now on PS4, Xbox One, Switch, PC and mobile.
What are your thoughts on Fortnite's Trick Shot challenges? Were you able to find a Small Fry, Flopper and Slurp Fish? Tell us in the comments section!