'Fortnite' Stack Shack Location & How to Catch a Weapon Week 6 Guide
Fortnite Week 6 Challenges have just gone live for Season 3, and one of the most obtuse tasks asks players to catch a weapon at Stack Shack. In this guide, we'll tell you where Stack Shack is located and what you must do once you get there.
Where is Stack Shack in Fortnite?
Stack Shack isn't a named location on the Season 3 map, but it's pretty easy to find once you know the general area of where to look. As marked on the map below. Stack Shack is located on this little island northwest of Holly Hedges and southwest of Sweaty Sands. We'd advise going here when you start a match, as building up to the island across the water might be a bit challenging.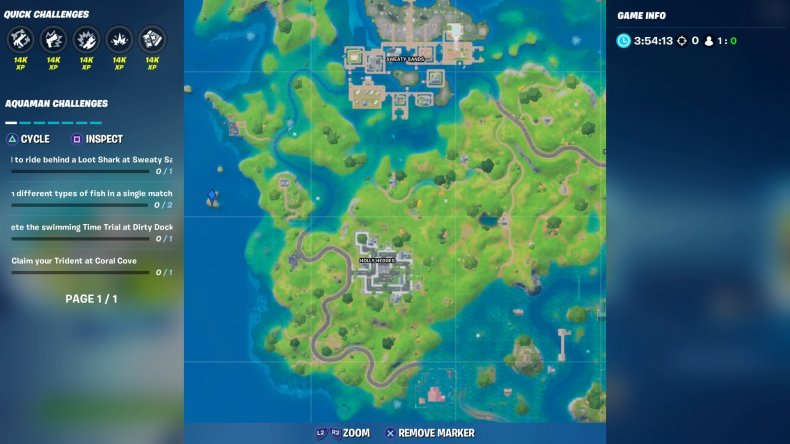 The location itself looks like what's pictured below. When you land there, a Landmark message will pop up confirming you've arrived at Stack Shack. If you've never seen this small island getaway before, now you know where it is.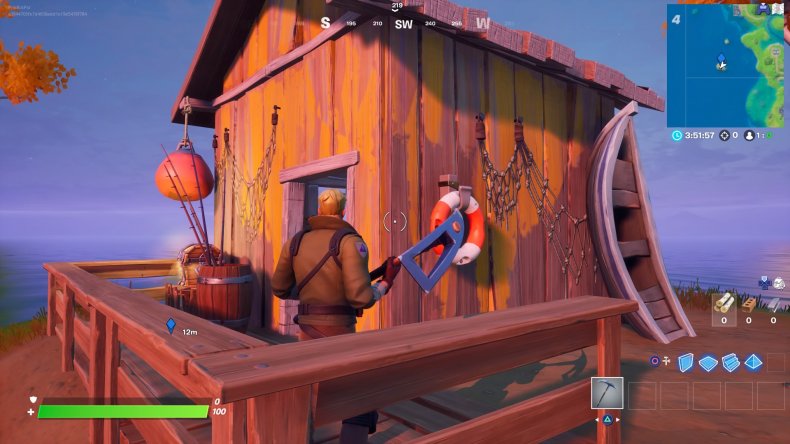 How to catch a weapon
The phrasing "catch a weapon" may sound a bit weird at first, but it relates to something players have been able to do throughout Chapter 2. All the challenge wants you to do is fish a weapon out of the water while standing on the Stack Shack island.
As seen in the image above, the Landmark is outfitted with Fishing Poles you can loot from the barrel. Although, you may need to stop at an alternate location like the Sweaty Sands pier if the pictured spawn has already been depleted.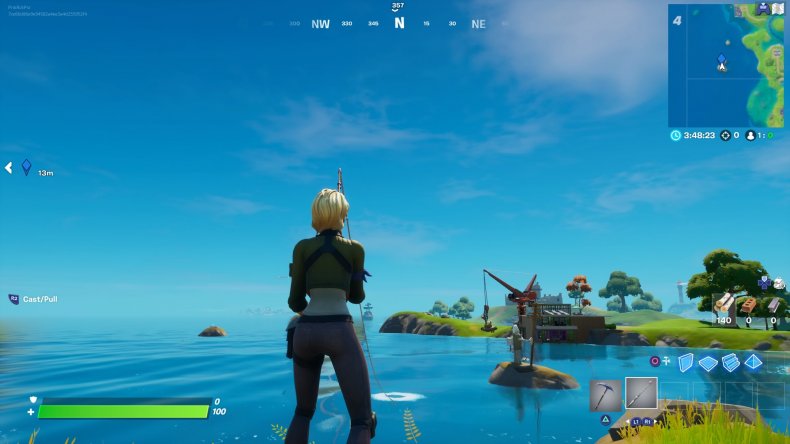 All you've got to do is get a Fishing Rod, cast it with the trigger on controller and aim it at the white foaming circles all around the island. When you feel a small vibration, simply pull the trigger again to pull out your reward. More often than not you'll probably land a fish or some rusted junk, but eventually you'll get a weapon of some kind. Just keep trying at different foam circles and you'll get what you seek.
Fortnite Week 6 Challenges
Catching a weapon at Stack Shack is just one objective on the larger list of challenges for Week 6. Here are all the new challenges for those who may have missed them at the in-game Challenge Table.
Deal damage at Rickety Rig (500)
Eliminations at Pleasant Park (three)
Land at the Authority and finish top 25
Catch a weapon at Stack Shack
Search Chests (10)
Search Chests (100)
Search Ammo Boxes at Salty Springs (seven)
That's all you need to know about catching a weapon at Stack Shack in Fortnite.
Fortnite is available now on PS4, Xbox One, Switch, PC and mobile.
What do you think of the Week 6 Challenges so far? Were you able to catch a weapon? Tell us in the comments section!